2015 was the first year in which the announcement of the 100GW target by 2022 started having an impact. While this announcement was made in 2014, the target was only formally passed by the cabinet in June last year. As a first step towards achieving this target, close to 7GW of state and central policy projects were allocated just in 2015. Of this 7GW, a capacity of 1.2GW was allocated under National Solar Mission (NSM), while 5.9GW was allocated by states such as Telangana and Tamil Nadu who tendered 2GW each.
In terms of annual installations, the solar market in India almost doubled to 2GW in 2015 as compared to 0.8GW in 2014. In 2015, the southern states of Tamil Nadu, Telangana and Andhra Pradesh emerged as the fastest growing sub-markets, removing the western states of Gujarat and Rajasthan from their mantle.
Another important trend emerging is the sub INR 5/kWh tariffs, which is the new normal for solar in 2015. In the first two rounds of NSM phase II bids in Nov-Dec 2015, projects were won at INR 4.63/kWh. It will be interesting to see how tariffs will evolve in 2016 and whether project developers can get sufficient returns with levels between INR 4.60-5.00/kWh.
A similar pace of activity is also expected in 2016, however, there are hurdles that will rise with increasing solar capacities in India.
Some of the key issues are:
Incompetent grid and transmission infrastructure
In 2016, it is expected that another 4.8GW of new capacity will be added. However, Indian grids and transmission infrastructure is incompetent to absorb such bulk solar capacities. Furthermore, 80% of this new capacity will be added by southern states (Tamil Nadu, Andhra Pradesh, Telangana and Karnataka) where grid curtailment is already very high, reaching up to 15% in select locations.
It is also important to note that in other developed countries like Germany, which meets almost 7.5% of its power from solar in a year, there is a robust grid infrastructure and its gas based generation assets help in balancing the grid. India, on the other hand, does not have a robust grid and also has a very limited ability to balance it with other continuous sources of power generation. Clearly India's ambitious solar plan would require upgrades of transmission networks at a massive scale.
Project delays
Another important concern is the rising number of project delays in the solar sector. Out of a total 1,485MW of capacity allotted under state tenders from October 2011 till September 2014 (whose expected commissioning time is by December 2015), nearly 50% (680 MW) has been delayed or partially lost for various reasons. Out of this 680MW, it is expected that almost 10% of the projects are completely stalled. Clearly 50% is a big number and if this trend continues then the government will surely fall short of its targets.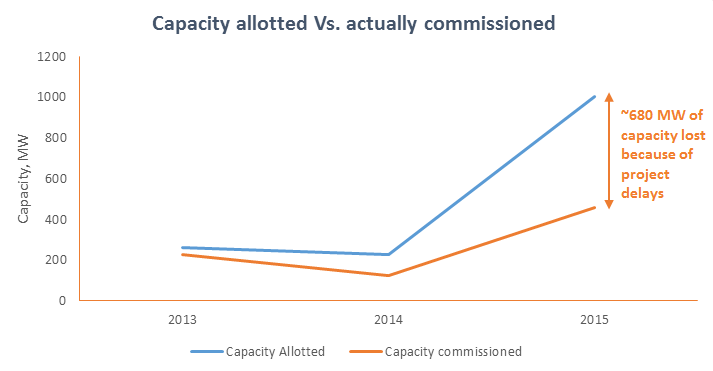 Project financing
Banks in India are not actively supporting solar PV projects, and the interest rates charged by them are also very high because they already have a high exposure to power sector debt, which is underperforming. So it is still not clear how these winning bids at INR 4.63/kWh will be financed. If it will be mainly from private investors then what about the IRR expectation from such projects? It will be interesting to see how tariffs will evolve and whether project developers can get sufficient returns with levels between INR 4.60-5.00/kWh.