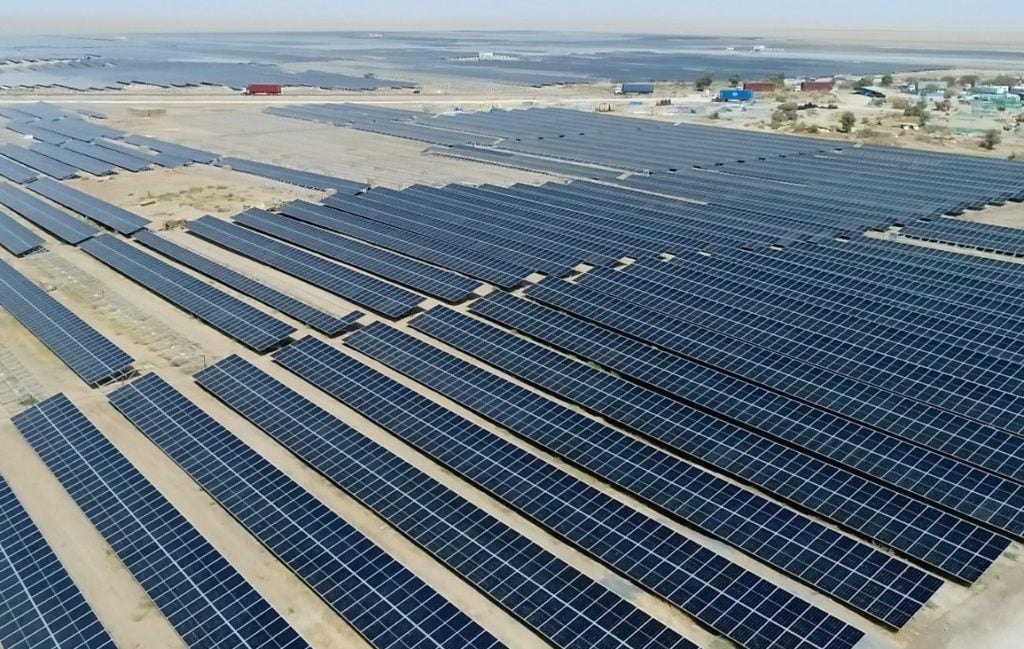 India's solar sector is in a tricky place at the moment, with module price inflation, manufacturing incentives and geopolitical events causing disruption to the industry, pushing up average tariffs and lowering returns on solar investments.
That was the key take away from JMK Research's webinar on the sector, held 26 May, that followed the release of its report into the impact module prices and the country's basic customs duty (BCD) on solar cells and modules was having on utility-scale tariffs.
Five speakers from various points in the value chain gave their insight into the problems the Indian market faces, from project cost inflation, to a lack of regulatory clarity, to emerging technology trends.
When it comes to utility-scale projects, a number of factors have converged to push up costs and cause tariffs to jump. India recorded its lowest solar tariff of INR1.99/kWh (~US$0.03/kWh) in December 2020 but, since then, the lowest winning tariffs in utility-scale solar tenders increased by an average of 22%, JMK's report noted.
This upward movement is attributable to "an increase in project cost and risk". Project costs have risen because of India's BCD (currently at 40% for modules), its approved list of module manufacturers (ALMM) being too limited, higher commodity prices, the war in Ukraine and lockdowns in China, said Shantanu Srivastava, energy finance analyst at the Institute for Energy Economics and Financial Analysis (IEEFA), which co-authored the report.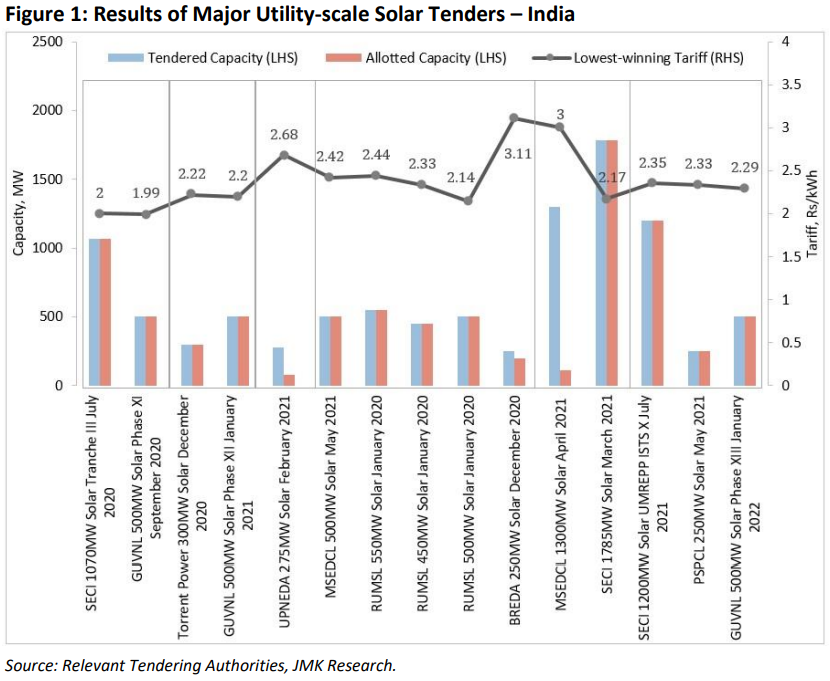 Srivastava said that returns on equity (ROE) for large PV projects in India were now at around 12%, with higher module prices a key driver, and that utility-scale tariffs would continue to edge upwards moving forward.
Crisil, a S&P Global company, recently showed that module price increases, higher raw material costs and logistical challenges have pull down the ROE for 25GW of India solar projects, with 5GW of those at particularly high risk with an ROE of just 7%.
Srivastava said many developers were looking to mitigate rising module costs by stockpiling but this was also causing inflationary pressure and that the current supply crunch looked likely to extend into 2023 alongside higher tariff prices.
This was corroborated by Srini Viswanathan, CEO of developer Vibrant Energy who said the company rushed last year to secure module supply given the introduction of the BCD this April. While he welcomed the idea of building out a PV manufacturing base in India – the purpose of the BCD – Viswanathan said the 40% level was too high and that he expects the ALMM to be expanded.
Indeed, the report noted how "a substantial chunk of projects that are likely to be commissioned by 2024 would not be able to procure domestic modules due to lack of availability, amid growing demand in all solar segments."
With the supply of domestically produced modules being relatively low, set against sky high demand, one developer even mooted an export ban on Indian modules. Gaurang Sethi, head of bidding at Azure Power, said the modules could fetch more in the European and US markets and therefore steps should be taken to ensure that supply is ringfenced for the Indian market.
One way to mitigate the higher module costs and a lack of availability was by improving the efficiency of projects through new technologies, better system design and greater use of trackers, Viswanathan noted.
Technology to play a 'maximising role' in project output
In the context of a module supply shortage and higher costs, technology will play a major role in maximising plant output, JMK said.
"For example, if a developer opts for imported bifacial modules along with a single-axis tracker, about 20% to 22% generation gain can be achieved and this in part can compensate for higher tariffs," its report explained.
And the is an observable trend towards bifacial modules in India, said Viswanathan and Pradeep Kumar, managing director of LONGi in India, adding the company saw India as a key market moving forward despite the BCD and India's desire to reduce reliance on Chinese PV imports.
Kumar said that bifacial modules made the most sense for large and medium-scale PV plants in India given they maximised output and reduced the levelised cost of energy for projects. LONGi has shipped 7.5GW of modules to India so far and last year 85% of shipments were bifacial, he added.  
"India has already accepted that this [bifacial] is the technology of the future," he said, adding that heterojunction technology (HJT) would also turn out to be an important technology in the country in the years to come.
But LONGi is not backing any one single technology, choosing instead to keep its options open. "HJT will be something that many people will be focusing on in the near future but investing so much in [any one] new technology now might not yield the best immediate returns," he noted.
On the manufacturing front, Kumar said that in order to meet its climate and solar goals, India would still need to import significant amounts of solar products from abroad in the foreseeable future as well as establishing its manufacturing base as he suggested the BCD on cells should be dropped entirely to allow for greater assembly in India.