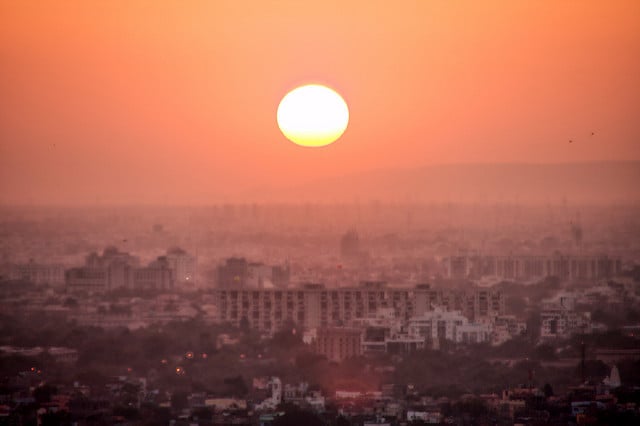 UPDATED: Indian solar prices have continued their downward spiral, this time with record low bids of INR2.62/kWh (US$~0.04) from Phelan Energy Group and Avaada Power in the state of Rajasthan.
Solar Energy Corporation of Indian (SECI) made a total of 250MW available at this particular section of the Bhadla Solar Park, the infrastructure of which is being built by Indian conglomerate Adani.
The winning bidders were as follows:
| Developer | capacity (MW) | Tariff (INR/kWh) |
| --- | --- | --- |
| Phelan Energy Group | 50 | 2.62 |
| Avaada Power | 100 | 2.62 |
| SBG Cleantech | 100 | 2.63 |
The dip below the three rupee mark is highly significant with Jasmeet Khurana, associate director, consulting at Bridge to India taking to Twitter to announce that solar is now cheaper than average power puchase cost (APPC) in India.
SBG Cleantech is a joint venture between Japan's Softbank, Taiwan's Foxconn and India's Bharti Enterprises.
The industry was shocked by low bids for a levelised tariff of INR3.30/kWh At Rewa, Madhya Pradesh, in February. Prices dipped further with Solairedirect's winning bid of INR3.15/kWh for 250MW(AC) in Andhra Pradesh last month.
Now they have dropped significantly further. The massive levels of oversubscription (3.25GW) for this tender did signal that the records were likely to break again in any case. SECI's next tender at Bhadla, for the 500MW section built by IL&FS was also hugely oversubscribed (5.5GW).
Jasmeet Khurana told PV Tech: "Industry was expecting Bhadla tariffs to be lower than INR 3.15/kWh, i.e., the lowest tariff discovered in the NTPC tender in Kadappa. That would have been explainable as Bhadla had lower solar park charges and a higher irradiation than Kadappa.
"We wouldn't have been surprised if the tariffs fell to as low as INR 2.85/kWh. However, it seems that developers in India always find a way to surprise you.
"If prices continue to fall at the same rate, solar-plus-storage will be a genuine alternative to thermal base load sources in the next 3-4 years."
Ali Imran Naqvi, head, strategic consulting, Gensol Consultants, said: "The audacity with which the bidders have raced to grab a portion of the offering by SECI might seem to be churlish but is, certainly, emblematic of some refined sensibility of the Indian solar and financial markets.
"The manner in which Phelan, a South African IPP, has gatecrashed into the Indian market is saddled, concomitantly, with questions and expectations. The reason why we say this is because our analysis reveals that the quoted tariff (INE2.62/kWh) has some really deep financial as well as technical moorings; for example, the EPC cost needs to be around INR20 million per MW DC (or USD 0.3 million per MWp), keeping in mind that 27.7% AC CUF is achievable at Bhadla with a DC overloading of 38%, to pull off a sub-9% equity IRR. This kind of cost is an oasis of illusion at the moment, but cannot be ruled out.
"Only time will tell as to who will get the better of whom – a refined sensibility or churlish audacity."