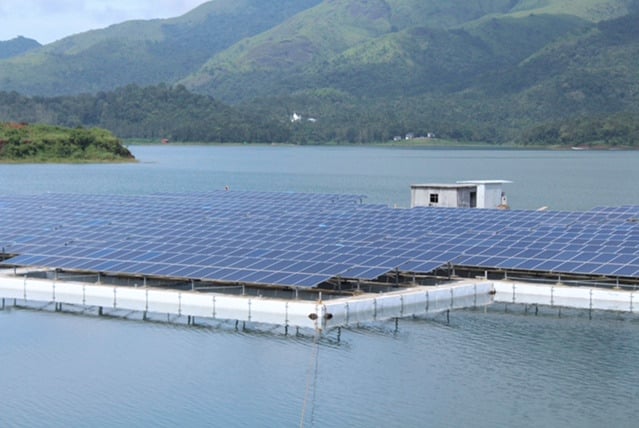 The largest floating solar plant in India, standing at 500kW capacity, has been completed in the state of Kerala.
The project for Kerala State Electricity Board (KESB) was built by Trivandrum-based firm Adtech Systems at the Banasura Sagar reservoir in Wayanad.
M.R. Narayanan, chairman, Adtech Systems, told PV Tech that the main challenge for the project was a water level variation of 21 metres between summer and monsoon seasons, so the firm had to design special anchoring systems to ride the variations as well as high speed wind conditions.
He said that the project used modules from Telangana-based manufacturer Radiant Solar. It also used 32kW sting inverters made by ABB.
The floats were designed with ferrocement, which involves applying reinforced mortar or plaster over layers of metal to create a hollow structure. Narayanan said ferrocement makes the project very stable.
He added: "Our company has been specialised in making ferrocement platforms and floating structures for the last 20 years. The ferrocement platforms are guaranteed for 50 years life."
Since the project was completed Adtech has received enquiries for more than 50MW of other floating PV projects, Narayanan added.
Floating solar projects can often generate more power than ground-mount solar systems due to the water body's cooling effect on the modules. They can also preserve water levels through shading.
Solar Energy Corporation of India (SECI) is also planning two 10MW floating PV projects in Kerala and Andhra Pradesh with the floating structure and anchoring designed by Arka.
NETRA (NTPC Energy Technology Research Alliance), the R&D arm of Utility NTPC, installed a 100kW floating solar plant at Kayamkulam, also in Kerala, in March.