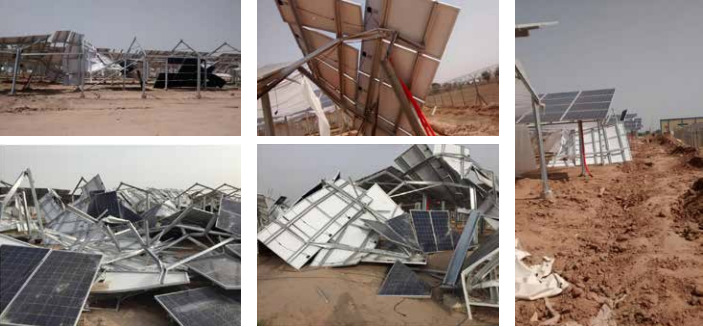 Just after analysts had said India's solar quality control standards lacked both clarity and investment in testing labs, the Ministry of New and Renewable Energy (MNRE) has brought forward the enforcement date in an attempt to ensure that quality control benefits the industry as soon as possible.
Instead of the original 5 September date, the Quality Control Order shall now come into effect for PV modules from 1 April this year, except for the fire test requirement, which will be effective from 1 July 2018.
As consultancy firm Bridge to India said on Monday day in its weekly release, poor quality is the "proverbial elephant in the room" for the renewables sector, particularly for solar PV. The consultancy has also welcomed MNRE intervention, which is long overdue. However, it also noted that the new policy is critically lacking in investments in testing infrastructure, such as labs and lacks clarity on requirements for individual components.
Ironically, MNRE said that only after it had reviewed the preparedness of test labs in consultation with the Bureau of Indian Standards (BIS) and existing test labs, did it decide to bring the enforcement date forward.
Vinay Rustagi, managing director of Bridge to India, told PV Tech: "The industry has been crying for more clarity on implementation timelines of the Quality Control order. This latest clarification from MNRE shows that the order is being rushed without necessary facilities in place and betrays lack of proper planning or coordination between government agencies."
Going into more specifics about the testing arrangements and inverters, MNRE's notification stated: "For supplies from 1.04.2018 to 30.06.2018, the representatives of the manufactures would submit samples to an authorised lab for testing and give a self-certification that the module adheres to the prescribed standards. In case the sample fails to conform to the Indian Standards, the project developer will be penalised.
"For inverter testing, test labs have been requested to obtain approval of BIS by 31.03.2018 for testing invertors of capacities up to 100kW and by 1.09.2018 for capacities more than 100kW."
India in the past has had a reputation for lower quality, but as the National Solar Mission (NSM) rolled forward, onlookers started to feel more confident about overall quality with ever more prestigious players entering the market. However, tighter and tighter margins caused by increasingly intense competition has meant developers have had to squeeze costs in almost every area, sometimes to the detriment of quality. Bridge to India referred to "ample anecdotal evidence" in this regard.
It's also worth noting that just after the Solar Photovoltaics, Systems, Devices and Components Goods Order was floated in August 2017, PV Tech had conversations with multiple developers who felt that it had little use, given that the testing requirements were extremely similar to IEC standards, a point that Bridge to India has also raised. Ultimately the consultancy said that effective implementation requires setting up of modern testing facilities throughout India, which will take time.
Last November, PV consultancy the Photovoltaik-Institut Berlin (PI Berlin) formed a subsidiary based in Delhi due to a high demand for laboratory testing and quality assurance in solar projects and equipment. Meanwhile, in September, Mahindra Susten launched what it claimed to be India's first mobile PV lab in advance of the quality standards and due to some third-party solar projects reportedly seeing significant module performance drops across the country. Nonetheless, testing infrastructure overall in India has been deemed wanting.