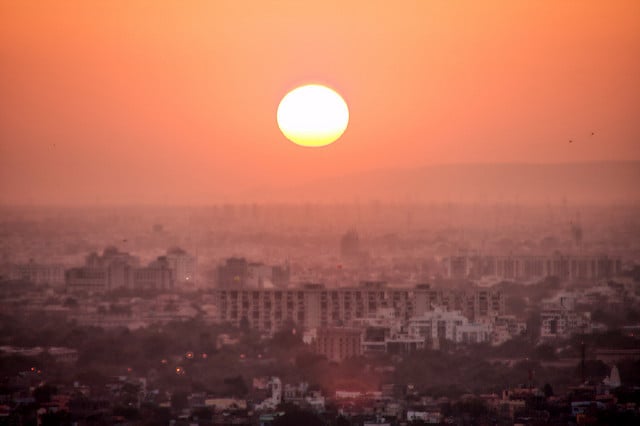 Even though monkeys were allegedly wreaking havoc on India's solar rooftop systems last year, 2016 was remarkable for the Indian PV sector. With solar taking 1% the nation's electricity share and India set to become the world's third largest market in 2017 , Bloomberg New Energy Finance has proclaimed that 'solar is king of Indian renewables'. Add the completion of the world's largest solar plant to these accolades and you have a good indicator of the South Asian giant's ambitions. Even India's biggest oil, steel and mining companies are getting on board the solar rush.
2016's biggest moments:
10GW installation milestone: India hit 10GW of solar deployment, catapulting it into the top league of worldwide markets and proving that the 100GW by 2022 solar target set by the government is no joke. Energy minister Piyush Goyal recently reminisced that the "whole world laughed" at India when it set the target, but the doubters could well be blushing in five years' time. There's a long way to go, but the signs are very positive.
Lowest ever tariff: Right at the start of 2016, the unending plunge of Indian solar tariffs came to a head with finland's Fortum winning capacity at 4.34 rupees per unit – still the lowest ever large-scale Indian PV tariff. Prices haven't breached this level for the rest of the year, but they stayed low and perhaps allayed initial fears about unrealistic bidding. Analysts predict utility-scale projects to go under four rupees very soon, while rooftop PV has already hit three rupees, albeit with heavy subsidies.
Reduced module prices, stemming from overcapacity in China, will also have come as relief to the most aggressive developers.
First ever curtailments: Tamil Nadu and Rajasthan saw India's first ever curtailments of solar power – something which Bridge to India expects to hit several more states in the next two years. As a result, the energy ministry wrote to the regulator asking them to prioritise solar over thermal power. It remains to be seen whether this request will be honoured.
On the plus side, Tamil Nadu is now host to the world's largest solar plant, developed by Indian conglomerate Adani, standing at 648MW. It is worth noting that, from almost zero involvement two years ago, Adani has stormed its way to the front of the pack of solar developers in terms of capacity deployed and its pipeline across India.
Rooftop hits 1GW: Previously hiding in the shadows of the large-scale solar revolution in India, rooftop PV has finally made its mark by hitting the 1GW milestone – far larger of course than the entire solar deployment of most countries. Grid parity, solar's golden ticket, has also been reached for commercial and industrial consumers in most parts of India. A US$625 million boost from the World Bank will also help India maintain its steep year-on-year growth in this segment, even though analysts expect the nation to fall well below the 40GW target for 2022.
Demonetisation chaos might help solar: Narendra Modi's controversial demonetisation scheme, which triggered uproar and praise both at home and abroad, led to unrest on the streets and outrageous queues at the banks. However, it might also have helped the country's ailing Discoms claw back some of their huge backlogs of payments. Electricity consumers were able to pay outstanding power bills with the soon to be redundant 500 and 1,000 rupee notes.
Some analysts think that UDAY, the governmant rescue package to help Discom's enormous debts, is working, while others feel it has made no visible impact so far.
India loses WTO trade case: Despite India reserving a mere 5% of its enormous solar targets to be built using domestically sourced equipment, the US still won out in its trade case brought to the World Trade Organisation against India's local content rules. As if India's PV manufacturers weren't already under the hammer trying to compete with the reducing module prices from China, the Indian government's reltiavely small protectionist policy was outed.
Still, it hasn't stopped a whole tranche of tenders still utilising the Domestic Content Requirement (DCR) rules.
The GST threat: A Goods and Services Tax Bill (GST), which puts all Indian taxes under one umbrella, was introduced. This was much to the delight of businesses across India, but solar developers will be concerned as many incentives from Central government are due to be removed under the GST.
Costs of Importing of solar equipment could go up drastically, but this would actually help India's own manufacturers. In light of this, note that Chinese module suppliers now have an 87% market share in India, according to Mercom Capital Group.
Other moments: Besides the top seven big moments, there was plenty more heavy-hitting news.
The 20GW solar parks policy was doubled to 40GW
A 'Solar Zones' policy was approved for 10 zones of 10,000 hectares each, incorporating land for both PV projects and solar manufacturing facilities.
Solar Energy Corporation of India (SECI) released 300MW of tenders for solar capacity with 15GWh battery storage in Karnataka and Andhra Pradesh.
NTPC was awarded Asia's first integrated solar thermal contract in India
The demise of SunEdison sent shockwaves across the solar industry, but after months of rumours around potential buyers, Greenko has now bought the majority of the bankrupt company's Indian assets. One of the originators of Indian solar, Welspun Renewables, was also bought by Tata.
2017 speculation:
The government has bold expectations ahead, planning 12GW of deployment in 2016/17 followed by 15GW and 16GW in subsequent years. Bridge to India also predicts utility-scale project tariffs to breach four rupees in early 2017.
However, poor planning in the early years might come back to bite as quality becomes an increasing talking point in the industry. Future grid constraints also need to be alleviated with strong efforts in the Green Energy Corridor and transmission space.
What does this all mean for the solar industry? The targets are huge and the incentives are set, but the last year saw 90% of tendered capacity go to Indian companies. Have the foreign firms got scared? Are they too busy developing the capacity they won in 2015 with tight deadlines? Or are the Indian conglomerates about to dominate with their vertically integrated PV platforms, spanning manufacturing, development and EPC capabilities?
Whatever the case, progress has been immense, while 2017 looks set to be another success story for India's clean energy revolution.