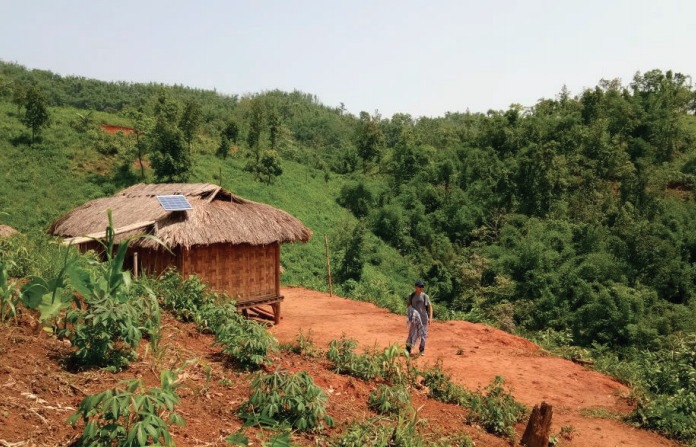 The Indian government caused quite the buzz last week when it announced the US$2.5 billion 'Saubhagya' scheme to provide electricity access to all households by December 2018. That's 15 months to bring power to 304 million people across the country, most of whom live in rural areas.
Details of the scheme's implementation are still forthcoming, but representatives of the decentralized renewable energy (DRE) sector in India are cautiously optimistic. Surely, the thinking goes, such an ambitious goal will require all hands on deck, and embracing all solutions, whether they be centralized grid extensions or decentralized approaches such as solar home systems and green mini-grids.
However, according to official statistics on the current rate of rural electrification, achieving 24×7 household coverage will take many years, not months. DRE solutions are not only much faster to deploy and able to avoid a one-size-fits-all model by scaling with demand, they are also delivered by nimble, technology-savvy private enterprises that understand the rural customer, something state-owned distribution companies (Discoms) do not.
"The cost of solar is falling at a rate where it will turn into a cost-saving proposition vs. the grid for many customers," said Piyush Mathur, CEO of Simpa Networks, a leading solar company in India largely serving rural homes and businesses. "At that point, customers will start to make an affirmative choice to go solar, and use the grid as back-up."
But that assumes two things: 1) support by the government for decentralized grid solutions that is on par with centralized solutions and 2) that the DRE sector has the capacity to answer the call if and when it comes.
A new report released last week by DRE industry representative Clean Energy Access Network (CLEAN), offers insight into the answers to those two questions.
CLEAN's first annual 'State of the Sector' report, which covered the Indian fiscal year of April 2016 to March 2017, aims to be a benchmark for the sector, will track on-going performance and identify future needs.
Based on data in the report, the decentralized electricity access sector in India is still quite nascent: in the financial year 2016/17, it deployed 206 small energy grids (including mini-grids), 92,000 solar home systems (SHS), 3.6 million solar lanterns and 1,300 solar water pumps. In addition, the sector also deployed 144 'productive use' projects, which power agricultural processing, small-scale manufacturing and cold storage.
And although companies surveyed for the report said that they expected their need for finance to increase threefold over the next three years, the total amounted to just INR3.8 billion (US$59 million).
But sector leaders pointed out that growth requires enabling policy, which in turn will unlock much needed capital.
"There are two large issues," said report author Surabhi Rajagopal. "There is an emphasis on a single approach, namely grid extension where DRE becomes an anomaly. And we are still not able to talk about a level playing field as far as subsidies are concerned" between centralized and decentralized solutions.
Added Krishan Dhawan, CEO of the Shakti Sustainable Energy Foundation: "Decentralized energy is not a standalone solution, but an integral part of supply solution and should be considered inter-operable, a complement not supplement."
Access to affordable, long-term debt remains the biggest barrier to growth for the sector, followed by onerous collateral requirements, the report found. It said that more than half of companies surveyed are borrowing at over 12% interest, with few getting terms above 6 years.
Several DRE debt facilities are in the works in India, which will be able to offer financing at more favorable rates, with longer time horizons.
According to some estimates, the energy access opportunity in India will be US$48 billion a year by 2030. Will the public and the private sector be able to come together to seize that opportunity and develop a fully integrated power system that fully leverages both decentralized and centralized solutions? Time will tell.
'Power for All' director William Brent also recently blogged about Mitsui & Co., a major Japanese industrial conglomerate, forming a Joint Venture (JV) with leading India mini-grid developer OMC Power to expand their mini-grid business into Africa.