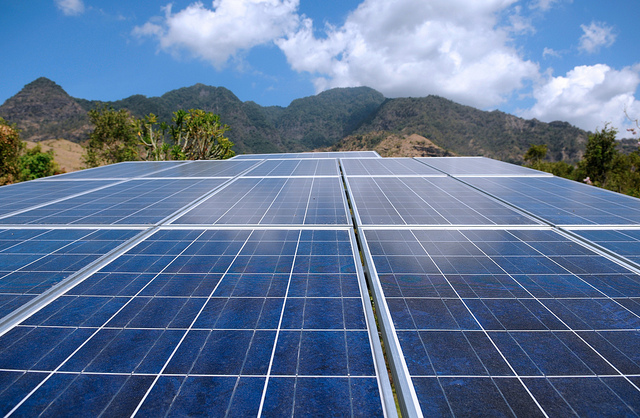 Indonesia's first ever feed-in tariff (FiT) for solar PV projects should generate attractive project returns in Java-Bali and Sumatra, according to a Bloomberg New Energy Finance (BNEF) research note.
BNEF expects rates of returns in these two regions, which both have better grid infrastructure and potential project sites than other regions, of around 14-18.8%, said BNEF. Other regions regions may struggle to obtain such attractive rates.
Indonesia has seen very few support mechanisms for solar except for a half-baked solar auction process for 140MW in 2013, which only saw 14MW awarded. As of 2015 Indonesia had just 84MW of utility-scale solar capacity deployed. However, the Ministry of Energy and Mineral Resources (MEMR) introduced the country's first ever FiT for solar in July this year to help kick-start the development 250MW of PV.
The original auctions were stopped in 2014 after being declared unconstitutional by the Supreme Court, Maggie Kuang, analyst at BNEF, told PV Tech. The Indonesian Solar Module Manufacturer Association (APAMSI) filed a lawsuit against auctions arguing that solar developers were not using enough local content; therefore violating Industry Ministry regulations. The criteria for the auctions also lacked clarity and were ineffective in attracting good project developers, adds Kuang.
Under the new decree, projects will have 20-year power purchase agreements (PPAs) and the tariff rates will range between US$0.145-0.25/kWh depending on project location. Java has been allocated the highest capacity of 150MW but the lowest tariff, with individual project sizes capped at 20MW.
At a wider level, Kuang said that if the developers in the far eastern part of Indonesia can keep project capex at around US$1.3 million/MW, they will be able to generate returns of more than 10%. However some project developers believe they will not be able to achieve such returns due to the quality of infrastructure in Indonesia at present.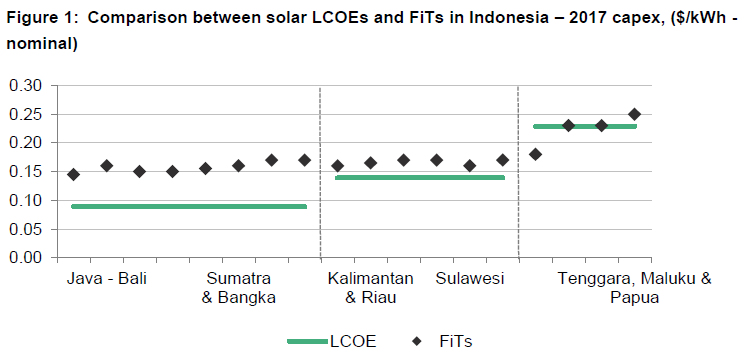 Developers will need to complete <10MW projects within 12 months and >10MW plants within 24 months to avoid triggering penalties of between 3-8% in the first year of delay.
To qualify for the FiT, developers will also need to have 43.85% of their solar project content sourced from domestic manufacturers and service providers based on the current Industry Ministry regulation.
However, it is not clear how local content will be precisely measured and to what extent it will prevent developers from using imported solar modules and inverters. After further clarification, if the local content rule will suppress imports, domestic capacity will need to be ramped up over the coming year as there are just 90MW of domestic manufacturing capacity at present, equal to just 36% of the FiT capacity quota.
Nevertheless, the time leading up to construction is expected to be at least 16 months from the day that registration opens, so there is time to generate this capacity, according to BNEF.
Kuang says that the FiT rates will be proportional to the amount of local content in the project. For example, if a project had half the required percentage of local content, then its FiT would also be reduced by half.
BNEF also calculates the levelised cost of energy (LCOE) for PV in Indonesia to range from US$0.89/kWh to US$0.229/kWh. "In terms of future capacity forecasts, it is very hard to say at this stage because the policy is not implemented yet," adds Kuang. "Assuming the policy implementation starts from end-2016 or early-2017, around 200MW in Java, Bali and Sumatra are likely to be built over the following three years as the project economics in those regions support."
Following the interview, Indonesia's energy and mining minister Arcandra Tahar was dismissed after reports that he had dual citizenship for the US and Indonesia.
When asked to comment on the effect this might have on the solar ambitions on Indonesia, Kuang wrote: "It will have little impact on the direction that Indonesia is taking on developing renewables."
In 2015, international downstream player Conergy said it would build Indonesia's first utility-scale PV plants and closed deals for another 228MW of projects across Southeast Asia.
Returning for a fourth year, Solar & Off-Grid Renewables Southeast Asia 2016 is the distinguished, must-attend event for solar PV companies looking to secure profitable business across the booming Southeast Asian market. Co-location with our established Solar Finance & Investment conference provides an additional day of bespoke content and offers a deeper dive into issues around clean energy financing and long term capital investments across the region. Click here for more information and to register.