Hello and welcome to PV Tech's coverage of the opening day of Intersolar Europe 2021. The return of a live exhibition for Europe's solar industry was warmly welcomed, with thousands flocking to the Messe München for the exhibition's opening day.
PV Tech's editorial team is reporting live from the event, bringing you all the news, views and insight from the show floor. We have also collaborated with Intersolar Europe organisers Solar Promotions to publish a special edition of PV Tech Power to commemorate the show, which you can download entirely free of charge here.
---
Trina demos Elementa battery storage system
Trina Solar was at Intersolar for a soft launch of its utility-scale Elementa battery storage system, which it said could reduce companies' capex costs by at least 5% versus its top five mainstream competitors.
The company wants to become a one-stop solution for developers, providing everything from modules to operations and maintenance (O&M) to storage, said the company's head of overseas storage, Terry Chen.
Chen said clients would opt for the Elementa system over perhaps more established storage equipment because of a faith in the Trina brand, its "unique" technology, simplicity of installation and customer service.
Elementa is a "fully-integrated and modular smart storage solution with a simple plug-in concept" that means operators can connect multiple units flexibly, which Chen said enabled the easy scaling up on energy projects. Its standardised design and factory-installed configuration helps reduce installation times by up to 70%, he said.
Elementa has a hard launch planned for the start of 2022.
LONGi takes n-type to Europe
LONGi's bustling stand at Intersolar was showcasing a suite of modules to exhibition attendees, including its new Hi-Mo N n-type module.
While it has already been launched at this year's SNEC, this was the module's first exposure to the European market. The Bifacial panel has lower manufacturing and transportation costs and can reduce balance of system (BOS) expenses.
The Hi-Mo 5 was awarded the 2021 Intersolar award in the Photovoltaics category in July this year.
LONGi, like most module suppliers, has been beset by rising module prices, causing clients to pull orders and trying to renegotiate delivery contracts.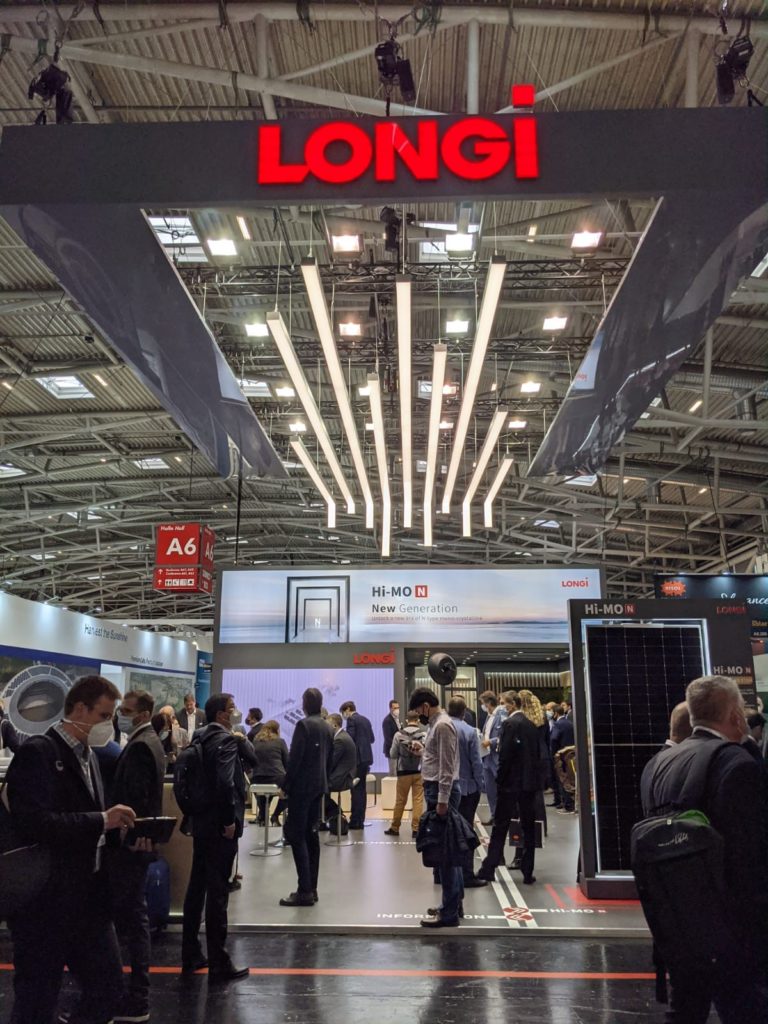 Suntech: Soaring module costs are delaying projects
Chinese module manufacturer Suntech said that its utility-scale clients have been postponing many projects because of rising module costs.
As a result, the company does not make any promises to clients regarding the future price of modules and instead analyses every contract on its production capacity at the time. A Suntech representative at Intersolar said they did not expect the situation to be resolved until after H1 2022.
So far, the company has supplied 4.5GW of modules this year, which is less than in 2020. Again, material prices, logistic issues and energy supply have hamstrung production.
Meyer Burger makes Intersolar debut as a module manufacturer
Making its Intersolar Europe debut as a module manufacturer, Meyer Burger said it is sold out of modules until Q4, with plans to more than triple its production next year.
Meyer Burger has supplied 400MW so far this year and plans to ramp up production to hit 1.4GW next year. 1GW of this will be made for the German market, with 400MW coming from its new production facility in the US.
Demand for the company's products come as module prices have soared due to higher material and transportation costs, alongside increasing trade restrictions between the US and China. It has ambitious growth plans and aims to service more of the European and US market in the coming years, said head of communications Anne Schneider.
While it has been in talks with all level of government – German state level, federal level and the EU – it has not received any additional support based on its renewables credentials and has not benefitted from any money via the European Green New deal, said Schneider.
Instead, its growth plans thus far have been funded by a suite of small investors from Switzerland, where the company's technology is designed.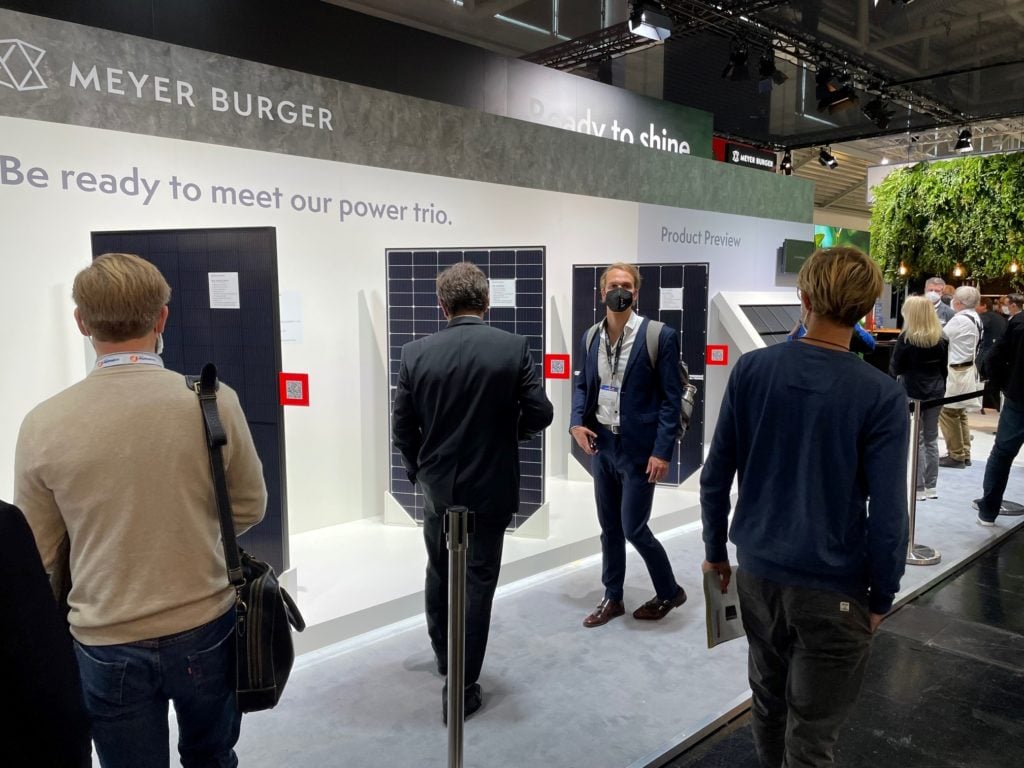 EPCs and developers feeling the pinch
It will come as no surprise that engineering, procurement and construction (EPCs) companies have been feeling the pinch since the price of modules has soared, with most having to delay projects and renegotiate contracts in the light of the higher costs.
A Baywa r.e. representative told PV Tech that a lot of the company's projects have been pushed back and clients are having to be flexible given the tightness in the supply chain.
The same goes for German developer Belectric, which said many of its module shipments had been delayed or renegotiated due to the rising costs. Nonetheless, it would still be able to complete its 172MW Tramm-Göthen project in Mecklenburg-Western Pomerania, Germany. It is expected to come online at the end of this year.
And its not just EPCs who are feeling the crunch. Polish installer Rawicom has had many of its contracts pushed back as projects fail to get of the ground or are delayed. It said that module prices were causing its clients to delay their planned projects, which has a knock-on effect down the entire chain.
A different perspective of the show floor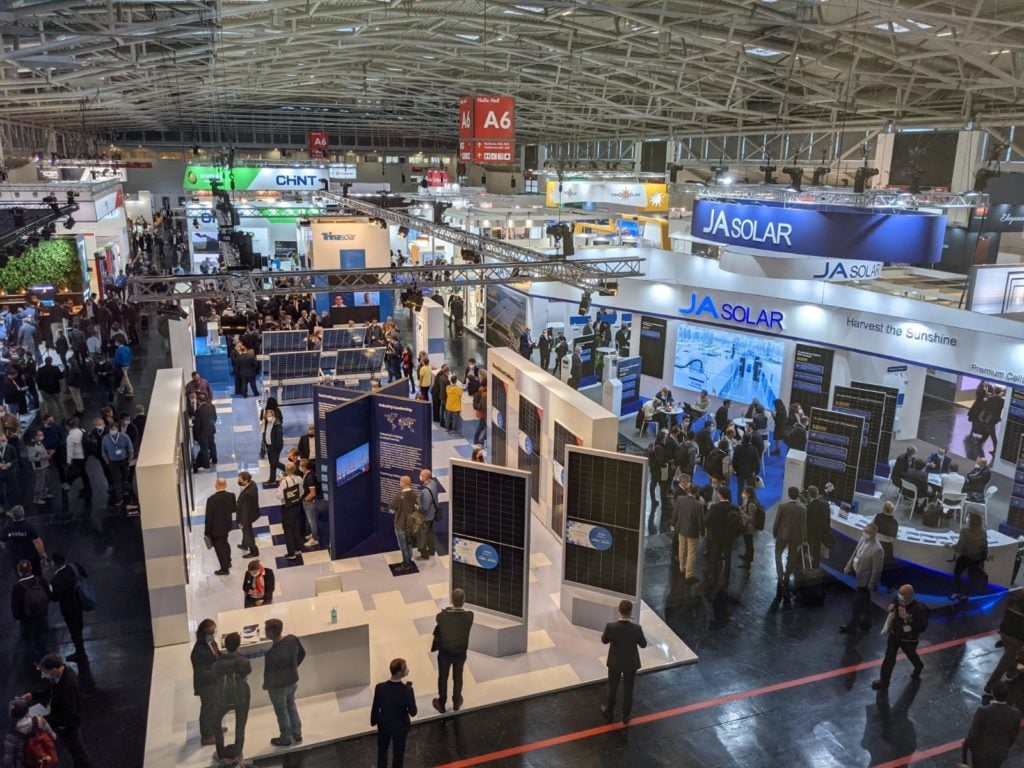 German MP seeks help and collaboration from solar industry
A late addition to the panel discussion on European solar manufacturing (see below, or here) was Timon Gremmels, an MP for Germany's Social Democratic Party who addressed the audience as his party seeks to negotiate a coalition government. He spoke of the need for Germany to accelerate significantly its solar PV deployment in order to reach its 2030 decarbonisation targets. With negotiations between parties to form a government, which includes the Greens, taking place over the coming weeks, Gremmels called on the solar industry to come forward and provide hints and suggestions as to the policies and initiatives needed to hit Germany's target of installing some 15GW of new solar per year on the way to having a total installed capacity of 150GW by 2030.
Calls for standardisation in floating PV
Also at the conference today was a series of talks exploring the performance of solar PV in new systems design, which featured topics such as shading, 'foldable' solar solutions and, of course, floating solar. Giving the presentation in lieu of Dr Josefine Helene Selj of Norway's Institute for Energy Technology was VDE Renewables' Boris Farnung, who discussed the need to standardise certain facets of floating solar PV development, including component selection, in order to bolster the bankability and insurability of projects. Previous attempts at standardising floating solar developments stalled, and while there are renewed efforts around this, it could be three to five years before standardisation takes hold, Farnung said. Nevertheless, more defined programs and standardisation from a corporate perspective could help increase the insurability of FPV projects.
Meanwhile, Farnung also provided an update on the future work in the IEA Task 13 relating to floating solar. Future focuses will be;
Performance of floating solar systems, including the collection of existing operational data
A global survey of floating solar technologies for different conditions, such as lakes, nearshore, offshore waters
Loss mechanisms that differ from ground-mounted solar installations
Meta study of documented degradation modes, and
O&M of floating solar, including new challenges, soiling mitigation and the increased importance of autonomy.
A message of sustainability
One thing that is absent from the show floor, or at least its aisles, this year is the carpet, with Intersolar Europe deciding not to install it, saving some 12,000 square metres of material that would have gone to waste after. As the signs on the show floor illustrate, this is equivalent to 45 tennis courts of roughly 25% of the land taken up by Windsor Castle.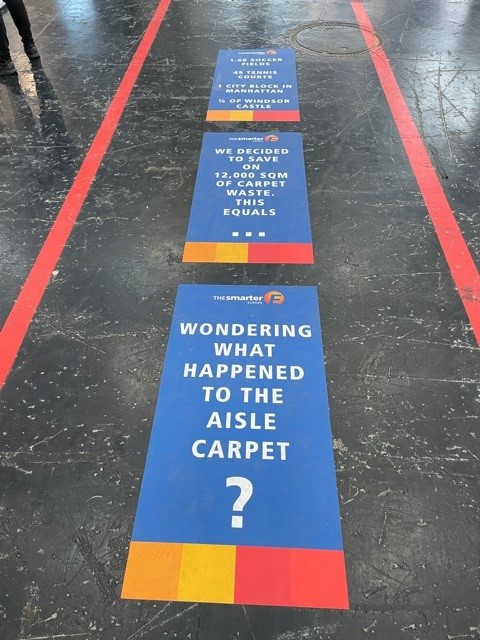 Speed and scale critical to Europe's solar manufacturing renaissance
As manufacturers pack the show floor, Intersolar Europe's accompanying conference has brought together representatives from the upstream to discuss the continent's hopes of reviving a solar manufacturing sector.
We heard earlier how establishing scale at speed will be critical to those ambitions, with SolarPower Europe – which hosts the high-level industry forum – establishing a target of 20GW of domestic manufacturing in Europe by 2025.
You can read more from that panel discussion here.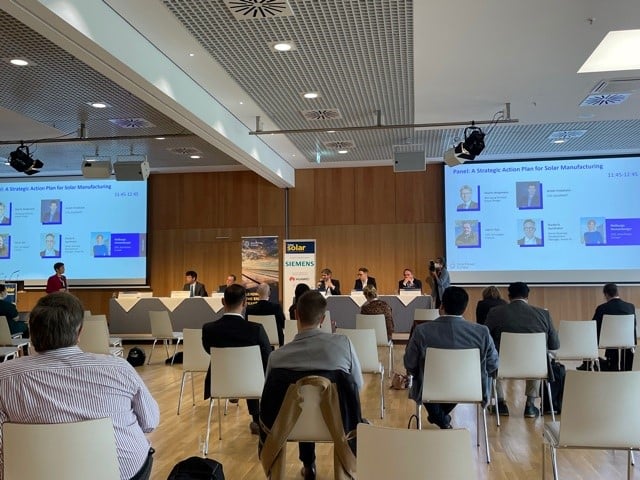 Overwhelming interest and expectation
After something of a protracted start – COVID-19 requirements meant for a long way for some to enter the exhibition today – Intersolar Europe 2021 is thriving and perhaps busier than most would have expected!
Welcome to Intersolar Europe Restart 2021! At our conferences, you will find out everything about markets, technologies, and financing of PV projects. We wish you an exciting exhibition with interesting discussions and new insights.🌞💚#TSEEU21 pic.twitter.com/GoMyy4mRJl

— Intersolar (@Intersolar) October 6, 2021