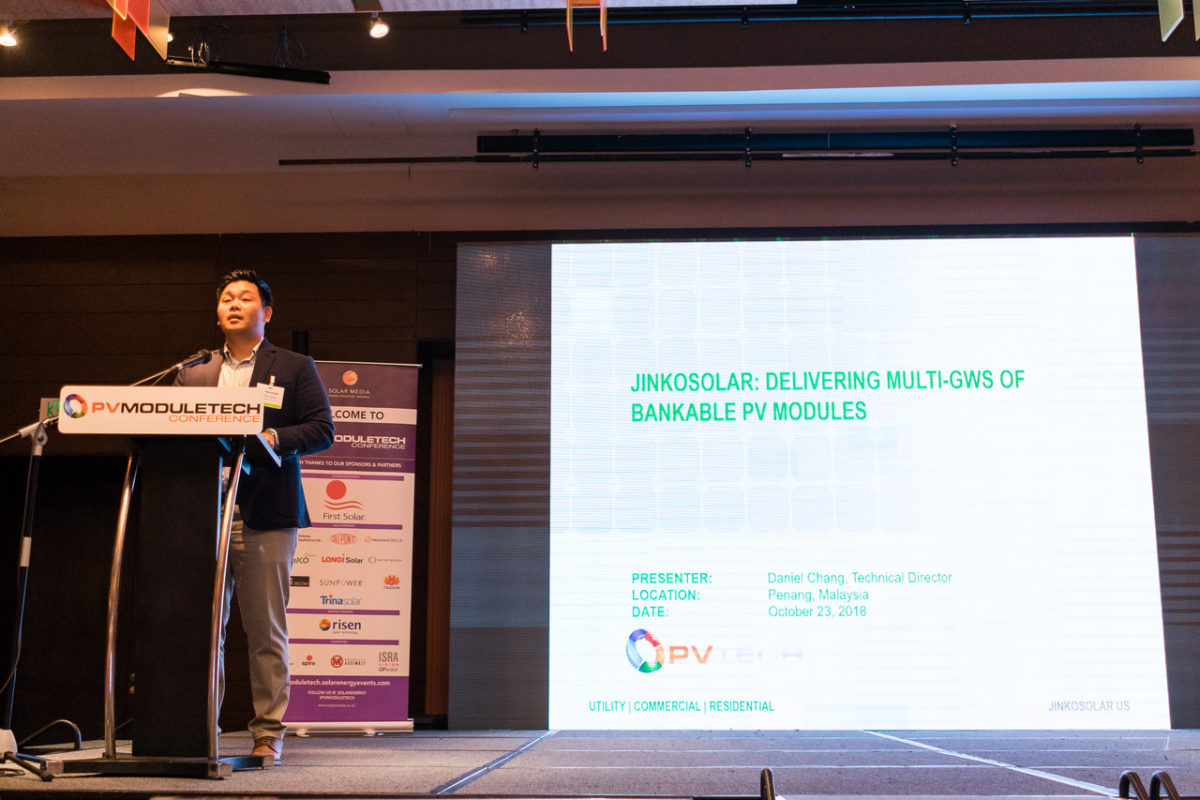 PV Tech caught up with Daniel Chang, technical director at major China-based PV manufacturer JinkoSolar, to discuss the performance of installed PERC products, new testing regimes, what consumers are asking for and how to release new modules to market.
Are you seeing strong evidence of PERC module performance in the field and what are the challenges today?
Daniel Chang: Yes, there has been a strong upsurge in the past 2-3 years in the deployment of mono PERC PV modules in the field as the price disparity between multi and mono technologies has been converging. In terms of performance specifically, we have seen solid performance of mono PERC PV modules in the field. There has not been any major "mono PERC specific" performance related issues in the field. I think the main challenge today is what happens before these mono PERC PV modules are sold and deployed. By this I mean during the bidding and tender process where these modules are vetted by the owner engineers and independent engineers hired by the financiers. There are a few well-known IE's that are still stuck in a conservative mind-set when it comes to light-induced degradation (LID) and mono PERC. Through highly developed oxygen content control and LID recovery through hydrogenation processes, the historical issue of a high rate of mono PERC LID has been resolved today. We as Jinko put a strong emphasis on third-party testing and we have testing data to demonstrate that LID is no longer at the high rates that the IE's think today. This is the main challenge right now for mono PERC to be further proliferated in the industry.
What can module manufacturers do to mitigate risk for the end users?
Module manufacturers can do more to get further involved in the aspects of how their modules are installed and used by the customers with respect to the BOS. Like I mentioned at PV ModuleTech I think today's focus should be on installation methods by the racking and tracker manufacturers. Especially with the development of new building codes (for rooftop) and electrical codes there has been a drastic increase in racking and tracker offerings with various unique and creative benefits. Many of these manufacturers focus on reducing SKUs and part number to minimize the racking/tracker cost for the customer.
Sometimes what happens is there is a lack of material or 'structural integrity' that can keep the module held in a way that it won't affect the silicon cells in the module. Cells are fragile. With the typical 25-year warranty that is offered by the module manufacturers, it is more important than ever for module manufacturers to look closely on how the modules are installed because they will be the ones on the hook if and when a warranty is filed at year 24.
You mentioned in your presentation that light and elevated Temperatures Induced Degradation (LeTID) is a hot topic right now. Do you foresee any more new types of tests becoming essential/unavoidable in the near future?
Yes. LeTID lab tests are maturing rapidly and even starting to be accepted by some major independent engineers as representative of the degradation to be expected in the field. We expect that developers' qualification requirements will include a test leg probing LeTID so it may be considered to be unavoidable in the future. I think this is what I can talk about today in terms of the foreseeable future.
What can module manufacturers do to improve the success of new modules?
As third-party testing and bankability studies have become a norm in today's market, I think module manufacturers can benefit greatly from a more regimented go-to-market process when launching new modules. What I mean is manufacturers can benefit greatly by 1) listening closer to the markets and what they are asking for 2) conducting a robust financial calculation (for example a simple NPV analysis to understand the total cost for the existence of this product during its full lifecycle) to determine if and when this product should be launched and 3) creating a clear end of life plan and succession plan for the next product.
I have seen first-hand at various PV manufacturers how much investment (both in terms of monetary figures as well as man power) module manufacturers have put into R&D. Hiring the best minds from the best universities who work long hours in R&D labs to achieve that extra decimal point of efficiency improvement. I think the work of the "solar R&D team" would go a lot further by investing in hiring the best minds in product management and financial engineering just as the best minds are hired to get that extra percentage point of solar cell efficiency.
Adding another perspective, sometimes it's not all about releasing the highest efficiency module. Some utility-scale customers value other aspects of the module. One example would be the ability to string more modules in a single string. This is highly dependent on the location, Voc, and the temperature coefficient…not necessarily the efficiency. BOS and manpower optimization is a trend that we see as one of the top focuses by both utility and residential-scale customers.