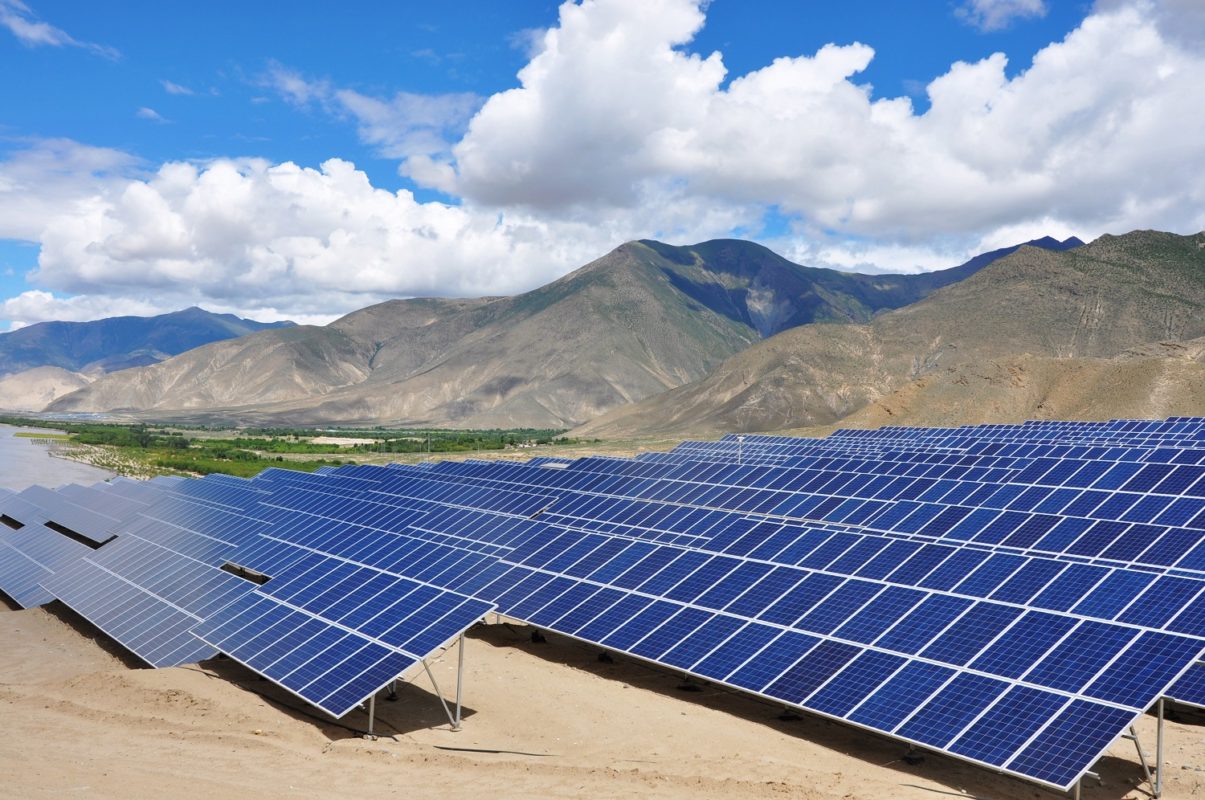 A recent press release from the PV cell and module manufacturing arm of China-based GCL Group (Golden Concorde), GCL System Integration Technology Co has claimed several important metrics (shipments and capacity) that would not only catapult the company into the top-10 manufacturer rankings for 2015, but also potentially prepare the company for membership of PV Tech's 'Silicon Module Super League' in 2016.
GCL System Integration Technology Co, more recently referred to as GCL Systems, is also part of GCL Group's downstream EPC and project developer operations, though different to the separately publicly listed GCL New Energy that is also involved in PV power plant development.
Indeed, the PV manufacturing roots of GCL Systems come from GCL Group's acquisition of bankrupt PV module manufacturer, Chaori Solar.
New claims
GCL Systems' recent statement makes three main claims:
1. PV module shipments for 2015 are forecast at 2.5GW to 2.7GW .
2. That the company had the sixth highest PV module production capacity in China, with an internal capacity for module production reaching 3.7GW, including 3GW of high-efficiency modules.
3. That it expects its in-house capacity for module production will continue to grow and exceed 6GW in 2016.
PV module shipments
Based on GCL Systems' financial filing of its 2015 first-half-year results it had shipments of 753MW and sales of around US$559.2 million. Almost 2GW of shipments would be required to meet its forecast in the second half of 2015. And not all revenue can be attributed to module sales.
In its third-quarter 2015 results, GCL Systems reported revenue of around US$331.9 million, but did not disclose shipment figures or provide shipment guidance for the full year.
Previous financial filings (pre-2014) by Chaori Solar had indicated it had 300MW of solar cell capacity and 500MW of module assembly capacity.
According to PV Tech's research, after the acquisition by GCL Systems, the former Chaori Solar facilities were expanded in 2015, including a further 220MW of solar cell capacity bringing the total to 520MW and a further 300MW of module assembly capacity to give a total nameplate capacity of 800MW per annum.
An obvious aspect of GCL Systems' first-half-year shipments in 2015 indicates shipments were running ahead of capacity by almost a factor of two, according to our modelling. As PV Tech has previously highlighted, several of the leading 'Silicon Module Super League' members (Trina Solar, Canadian Solar and JinkoSolar) were guiding shipments in 2015 higher than internal nameplate capacities, supplementing output with third-party modules to meet demand. It should not be regarded as unlikely GCL has been doing the same.
Based on GCL Systems' financial filing of its 2015 first-half year results, no forecast of full-year shipments was given and it would seem that subsequent financial filings also make no reference to a full-year forecast.
Interestingly, GCL Systems' first full-year 2015 shipment forecast mentioned in the press release was actually cited to have first been reported on Chinese language PV media website, Solarbe, in an article releasing the website's expected top 10 module manufacturer rankings by shipments in 2015.
Solarbe's rankings, like the top 10 rankings PV Tech released in January 2016, take module shipment guidance ahead of official shipment figures released by companies when reporting fourth quarter and full-year results or until releasing annual reports.
Although the Solarbe figures are not the most up to date (upward and downward revised forecast ranges) from some of the key companies ranked, GCL Systems is reported to be ranked seventh given the confirmation by the company to the Solarbe figures in their press release.
It should be noted that GCL Systems had previously reported in financial filings that it had acquired a 30% shareholding in Solarbe in 2015, the first transaction of its kind we believe has taken place between a dedicated solar trade media organisation and a PV company.
It should also be noted that PV Tech had been in dialogue with GCL Systems over shipments and capacity expansions before the Solarbe figures and company press release was issued.
At this moment, PV Tech understands that GCL Systems is withholding official shipment figures for the second-half and full-year 2015, until issuing its annual report.
Of course should shipments and other criteria such as revenue support shipment claims then under PV Tech's ranking table, the company would also be included below First Solar and occupy the seventh position.
Production capacity
However, at the beginning of 2015, GCL Group, which is not publicly listed, had separately planned to set up two 1GW module assembly lines in Zhangjiagang and Chenguang, China in 2015. The plants were legally registered entities in January 2015.
Reports on GCL Group's website last year indicated that the Zhangjiagang facility officially opened in late May 2015 with the Chenguang facility cited to be operational later in the year but without any detailed timelines provided.
The second reported reference to these facilities was included in GCL Systems' 2015 first-half-year financial results, which noted that these facilities would be integrated with full ownership from GCL Group to GCL Systems. Reference was also given that as part of a reorganisation planned in June 2015 GCL Systems would have solar cell capacity of 1GW and 3GW of module assembly nameplate capacity, also indicating further solar cell expansions at the former Chaori Solar facilities of 480MW to match the claimed 1GW post-reorganisation and a further 200MW of module assembly capacity to bring nameplate capacity to 1GW.
At this point it is prudent to highlight that both the expansions at the former Chaori Solar facilities and the pair of 1GW module assembly plants would have to ramp up to these nameplate figures, which as far as can be determined at this time would not have happened in time to provide 3GW of module assembly cumulative capacity by GCL Systems said it had at the end of 2015.
Taking the example of the 1GW module assembly facility in Zhangjiagang, which officially opened in May 2015, it would technically achieve its nameplate capacity ramp by May 2016, bearing in mind that nameplate capacity is based on annual output. Similarly, The Chenguang facility would not reach its nameplate capacity ramp until later in 2016, based on it opening sometime later in 2015.
However, it is less clear what the timelines would be for the former Chaori Solar facilities to go from 300MW of solar cells to 1GW and 500MW of module assembly capacity to the 1GW figure due to lack of clarity around when expansions started but in general terms such expansions should have only started after the acquisition, indicating perhaps a March 2016 timeframe for the capacity expansion ramp to have been completed. Again, these are assumptions at this point due to lack of details in the public domain.
As can bee seen in the chart below, a rough ramp profile based on the above information has been created. There are obviously several moving parts to this ramp profile that could shift more or less capacity in or out of 2015.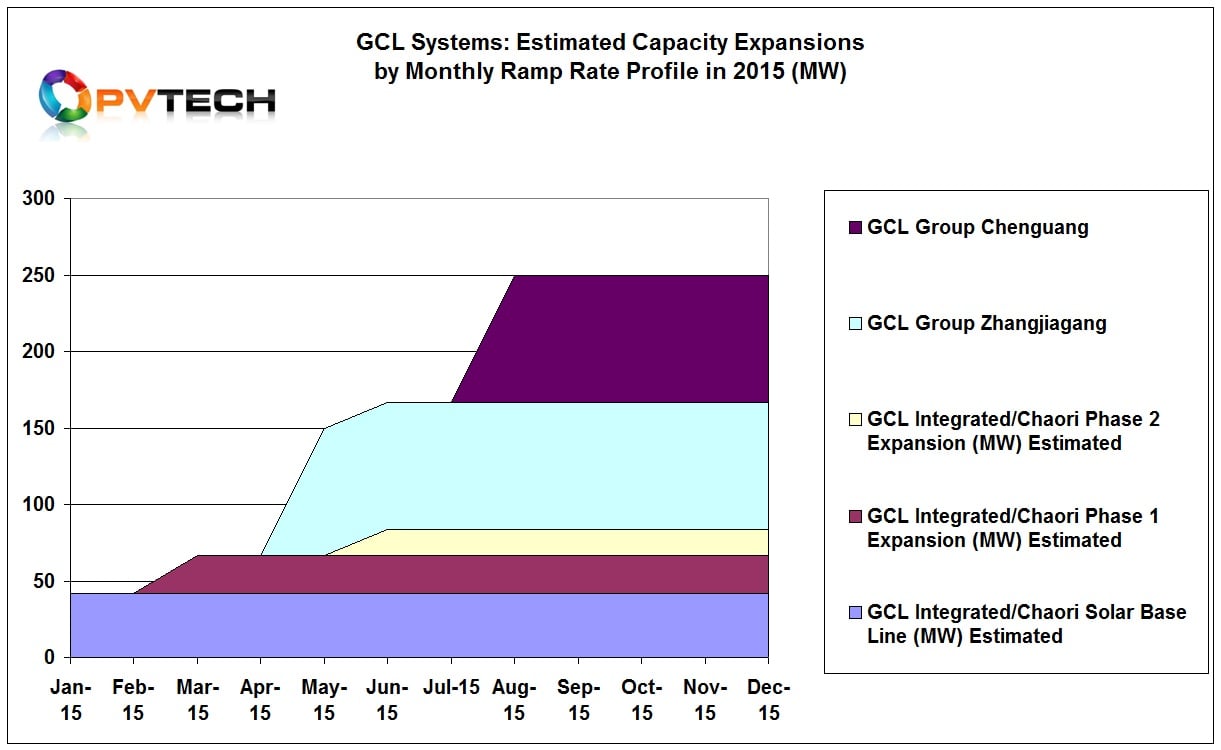 Without greater clarity, especially in relation to the 1GW Chenguang facility actually starting production, we have modelled this facility to have started ramping in August 2015. Issues also remain over whether the Zhangjiagang facility has a planned capacity of 2.35GW, rather than the cited 1GW. This higher figure has come to light in dialogue between PV Tech and GCL Systems, even though no official company statements have so far cited it. PV Tech has sought clarification on this and other points with the company.
The second chart below shows PV Tech's estimated cumulative capacity ramp of all the facilities covered above, indicating nameplate module assembly capacity could have reached around 2GW by the end of 2015. Again, these are not intended to be absolute figures but provide a guide to GCL Systems' possible nameplate capacity range by the end of 2015.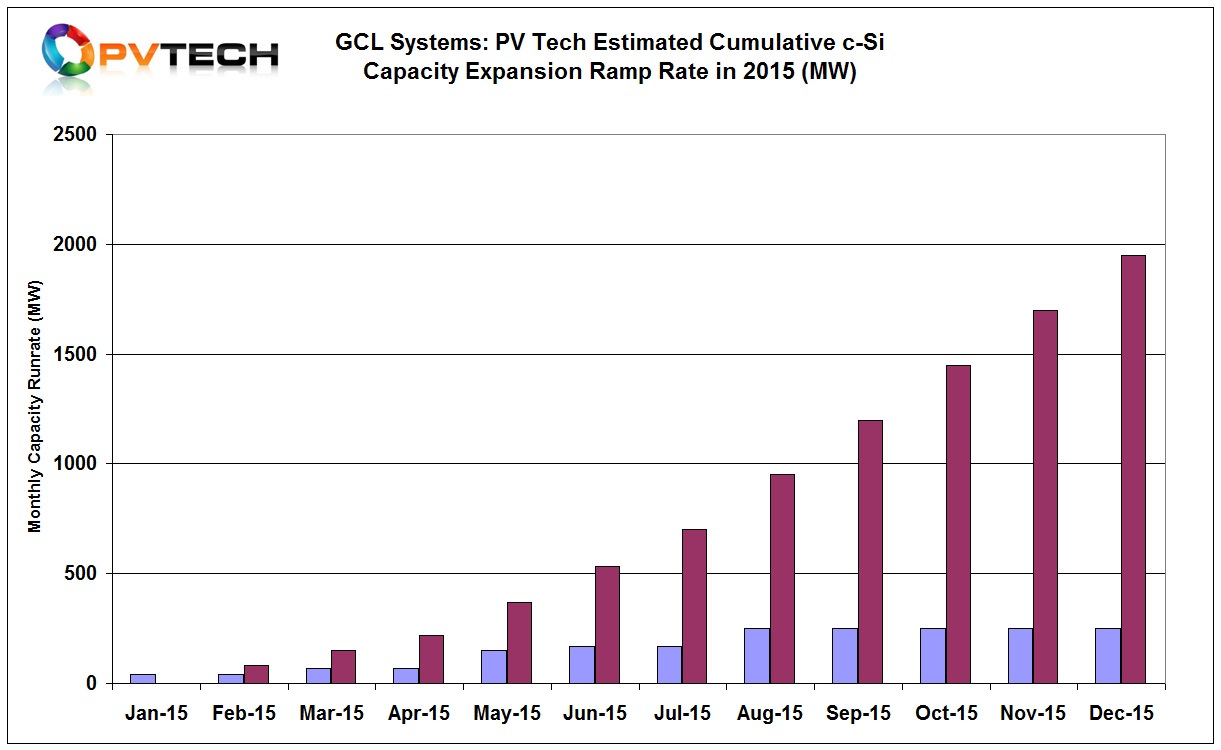 Without any further capacity expansion announcements, GCL Systems should have ramped to effective nameplate module capacity of around 3GW by mid-2016.
Another part of the total capacity conundrum is that GCL Systems would require around 1.7GW or more of external solar cells to match forecasted module shipments in 2015, bearing in mind it currently has 1GW through the expanded Chaori facility.
More expansions in 2016
The final aspect to cover is the claim of further expanding in-house module production beyond 6GW in 2016. It should be noted that no such plans have been announced in financial filings to date, except a recent announcement of an MOU joint venture between Golden Concord (GCL Group) and India's Essel Infra to invest US$2 billion in developing 5GW of module manufacturing capacity by 2020 in the Indian state of Andhra Pradesh.
Should 2016 shipment figures be in line with nameplate capacity in similar proportions to those of the current SMSL members, entry into the top classification of manufacturers would be assured.
However, barring further non-public financial support from GCL Group, expansion ambitions in 2016 should be more transparent through capital expenditure figures, capital raising exercises and shipment figures at the halfway point of the year.
Continued lack of transparency would put such expansion claims from 2015 and technically a doubling in capacity in 2016 under further scrutiny. PV Tech will report further details on this and other aspects of the company's manufacturing situation as they become available.