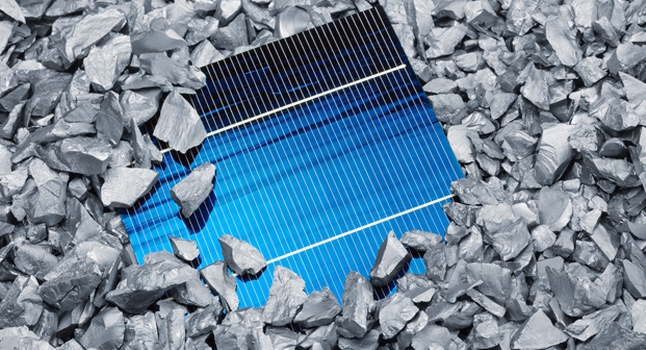 Despite record low polysilicon prices seen in January 2016 marking a clear oversupply, PV manufacturing capacity expansions and projected end-market demand could reverse the situation by the end of 2016, specifically in China.
That was the key message coming out of REC Silicon's fourth quarter financial conference call last Friday with a market outlook presentation from Kurt Levens, REC Silicon's VP, commercial.
Taking GTM Research's global PV demand forecast data as a 'middle ground' view, Levens highlighted that the global end market could reach 64GW in 2016 and climb to 78GW in 2017.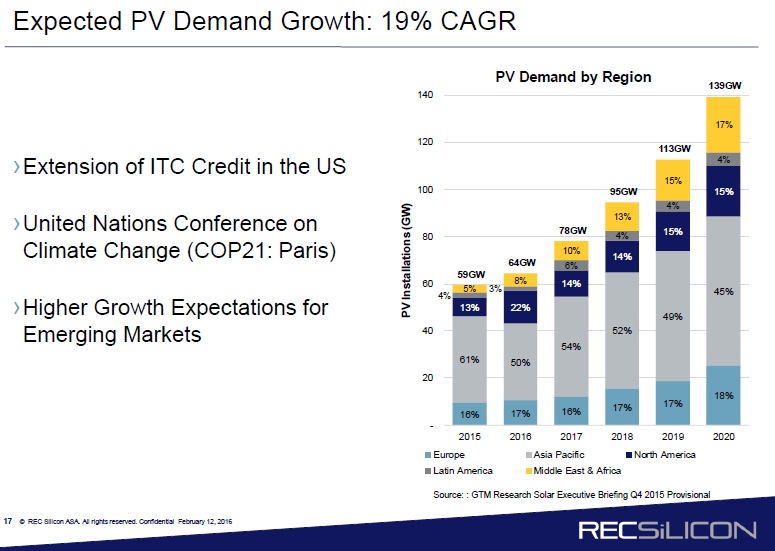 However, with the trade war with China yet to be resolved, access to the worlds biggest consumer of polysilicon for US-based producers, primarily Hemlock Semiconductor and REC Silicon, is effectively closed.
As PV manufacturing rises to meet end-market demand, excess inventory levels are expected to be depleted but only limited new polysilicon capacity is coming on stream.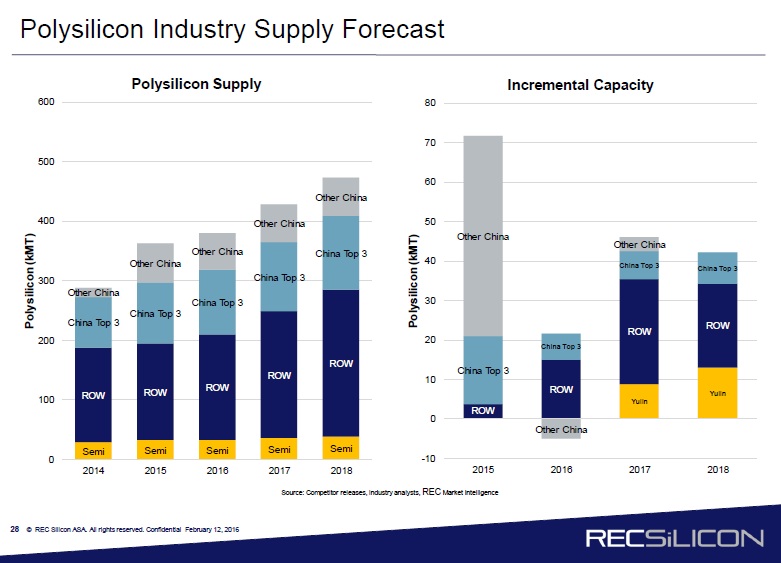 The demand in China has already meant polysilicon ASPs are higher there than in Taiwan or other Southeast Asia manufacturing bases such as Malaysia, Thailand and Taiwan.
REC Silicon noted in the chart below that as a result, producers such as Korea's OCI had shifted shipments away from Taiwan to China to capitalise on the better prices, critical when poly ASPs are at production cash cost levels.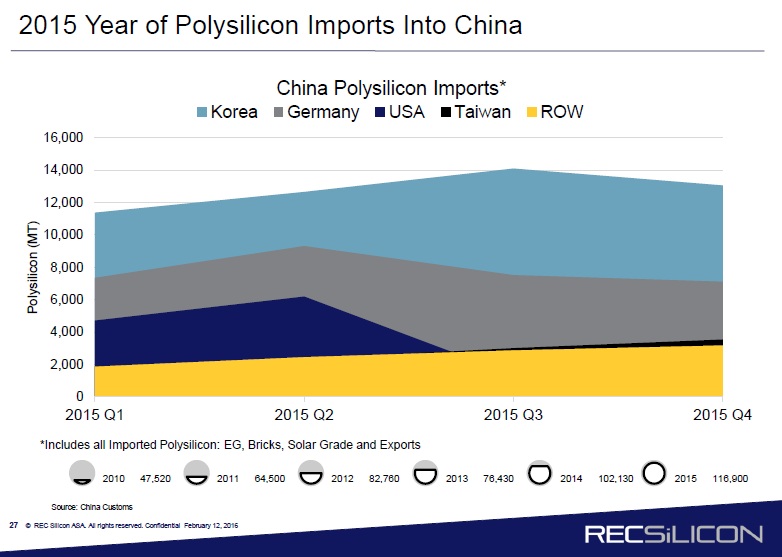 Available polysilicon supply, including the limited capacity expansions expected in 2016, were plotted on another REC Silicon chart (see below), promoting the idea that supply and demand would be very tight by year-end.
But moving to demand forecasts in 2017, the situation becomes increasingly disconnected, with polysilicon supply markedly below end-market demand to the tune of an estimated 28,000MT (approx).
With Siemens-based polysilicon plants taking an average of four years to build (FBR around 2.5 years), polysilicon supply shortages could be nearly 60,000MT in 2018, based on global PV end-market demand topping 95GW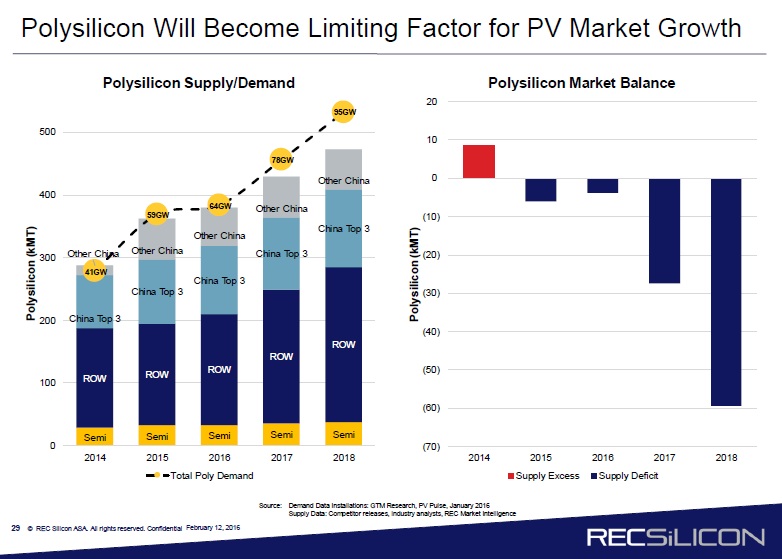 REC Silicon noted that polysilicon spot market ASPs had started to climb from record low levels since the start of February, which they inferred indicated the tight supply dynamics ahead for polysilicon availability in China.
However, as PV Tech has previously highlighted, some of the major Chinese PV manufacturers have started adding significant new capacity in SE Asia in 2015 and plan to add further meaningful gigawatts through 2016.
Although none of these expansions include ingot/wafer capacity as yet, potentially this in partnership with upstream suppliers could help alleviate possible shortages and ASP increases of polysilicon, as anti-dumping duties on US-produced polysilicon would not affect them.
The dynamics at play are simply not linear as idled polysilicon production in China due to uncompetitive production costs to ASPs could be resolved, tempting shuttered facilities to re-open.
Wacker Chemie has also started production at its new 20,000MT facility in the US and is not hampered by anti-dumping duties. The plant is also set up to be able to significantly add production capacity in much shorter timelines than historically would be expected.
Another factor that has yet to fully play out is how much idled ingot/wafer capacity still exists and how quickly an expected 5GW of new capacity is ramped in 2016.
At least 60GW of ingot/wafer capacity (including idled capacity) existed in 2015, but expansion plans have been limited to upgrades and debottlenecking, due to many producers struggling to be profitable as wafer prices have been kept at below cash cost levels on the former oversupply situation for around four years.
Clearly, REC Silicon may have a case that polysilicon supply in China could become critical in 2017, especially without an end to the trade war, while shortages outside China are less likely to materialise as quickly.
Although highly volatile and often misinterpreted, any meaningful polysilicon spot price increases in the first half of 2016 could be the precursor to shortages. Prices remain at very low levels just now but PV capacity expansions, coupled to end-market demand are on the rise.