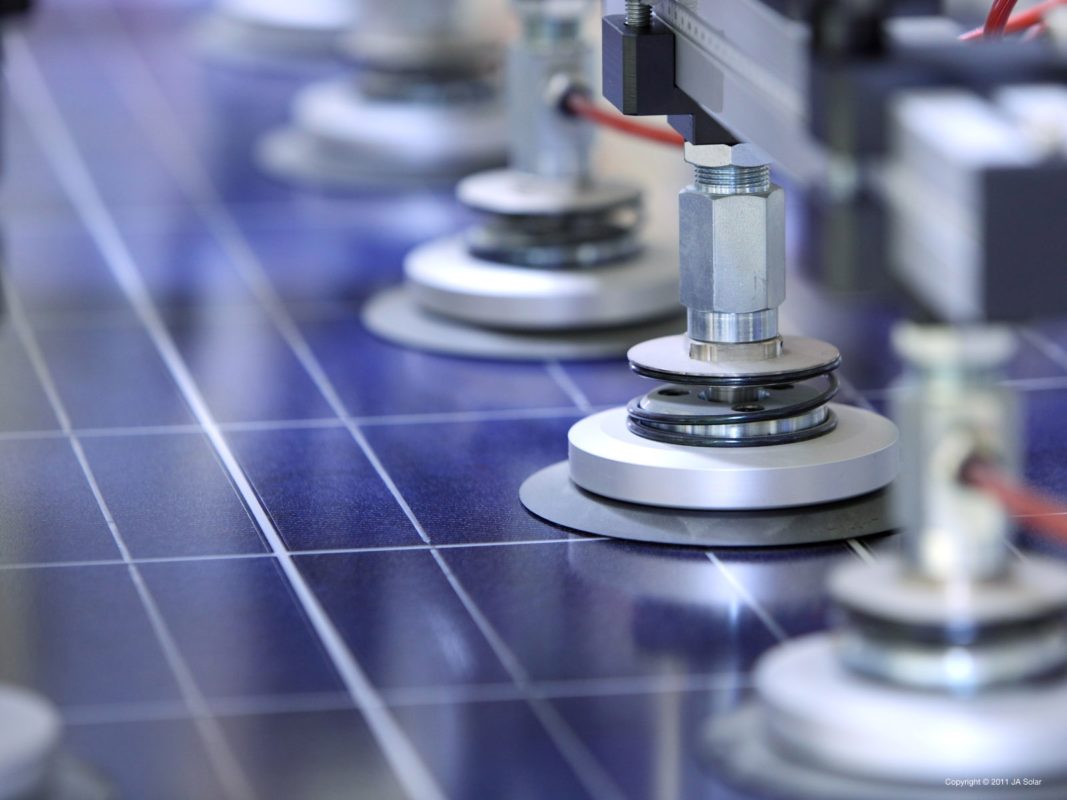 Silicon module super league member (SMSL) JA Solar is to provide 420MW of modules for China's National Energy Administration's (NEA) "Front Runner" programme which aims to promote the development of advanced solar PV technology by domestic suppliers.
The modules are to be used in the inaugural national advanced PV technology demonstration project that will take place in Datong, Shanxi province.
The programme is split into several large-scale demonstration projects; the first being the Datong project. Once operational, the facility is expected to generate 1.5 billion/kWh of annual energy through the grid. The entirety of the first phase of the programme has a total installed capacity of 950MW, for which JA Solar is providing 44% of the modules. Overall investment for this first phase is estimated at approximately US$1.6 billion, according to a statement.
JA Solar was selected last summer by the municipal government of Datong for the task due to its "advanced core technologies". The company recently started mass production at its new 1.5GW module plant in Xingtai, Hebei province earlier this month. The manufacturing giant is also to provide 370MW of modules to other investors in the demonstration projects, including China Three Gorges, China Huadian, China Power Investment, China Guangdong Nuclear Power Group, Beijing Energy Investment and Sungrow Power Supply.
Jian Xie, president of JA Solar, said in a statement: "The Front Runner programme is helping the Chinese PV equipment industry achieve many desirable goals. The programme promotes ongoing technological innovation, improved manufacturing processes, new and useful applications, and high standard for quality and testing. JA Solar is proud to supply nearly half of the modules for this first demonstration project in Datong. We intend to pursue further technology innovations that will contribute to the healthy evolution of China's PV and manufacturing sectors."
The programme was designed by the NEA to stimulate high-standards of equipment manufacturing and to promote the application of advanced PV products and industrial upgrading, due to a growing consumer demand for high-efficiency products. To comply, polycrystalline and monocrystalline modules must exceed a conversion efficiency of 16.5% and 17%, respectively. The overall attenuation rate over the life of the modules must not exceed 20%.
To this end, JA Solar submitted four products that met the criteria of the project: its conventional monocrystalline Cypress modules, polycrystalline Cypress modules, high-efficiency monocrystalline Percium modules and high-efficiency polycrystalline Riecium modules. The company plans to increase annual production capacity of the products being used in the programme to 1.8GW for monocrystalline and 2.3GW for polycrystalline products.
According to Asia Europe Clean Energy (Solar) Advisory (AECEA) Co's Frank Haugwitz, a few more provinces including Shandong, Anhui and Inner Mongolia are potential candidates to be included in the scheme for this year.