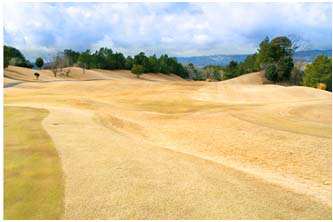 Another large-scale solar PV plant has been completed on a former golf course in Japan, a 51MW project built by financial services company Orix Corporation.
Completion of the third utility-scale project the Japanese company has built in Mie Prefecture south west of Tokyo was reported by newspaper Nikkei over the weekend. Orix first announced the project in June 2014 and development and construction appears to have held to the originally announced schedule. Its output it 53.01MW and feeds 42MW of power into the grid.
The project is built at the site of Toshin Lake Wood Golf Club, which closed at the beginning of 2014. Since Japan's feed-in tariff (FiT) driven solar market resulted in a boom in new large-scale installations throughout 2012 to 2014, shortages of land for 'mega-solar' (to use the Japanese vernacular) have seen developers using landfill, former theme parks, abandoned golf courses, the surfaces of reservoirs for floating installations and other repurposed sites to host their PV plants.
The latest facility was supplied with over 200,000 PV panels by Toshiba and inverters by Toshiba Mitsubishi-Electric Industrial Systems Corp (TMEIC).
Read 'Moving mountains', a report on how Japan's PV industry is overcoming land shortages and challenging terrain to site large-scale PV plants, first published in our journal PV Tech Power.