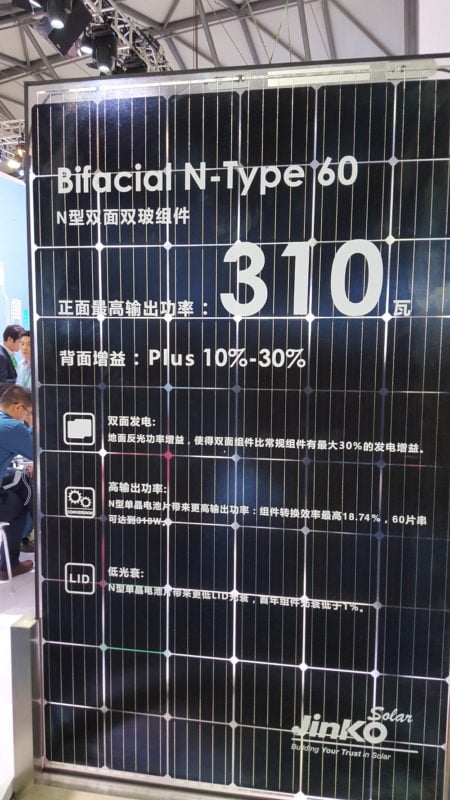 Leading 'Silicon Module Super League' (SMSL) member JinkoSolar has set further records by establishing new P-type and N-type PV module power ratings ahead of the largest annual industry exhibition, SNEC in Shanghai, China.
JinkoSolar said that it had set the record for a P-type monocrystalline module (60-cell) format peak power rating of 370W and an N-type monocrystalline module (60-cell) format peak power rating of 378.6W.
Both records were said to have been verified by TUV Rheinland (Shanghai) Co., Ltd.

Dr. Jin Hao, Vice President of JinkoSolar commented, "Every technological breakthrough results from a strong pioneering spirit and constant search for excellence. Companies with strong independent innovation capabilities are able to grasp opportunities in fiercely competitive markets and establish leadership. JinkoSolar always applies advanced technologies to large-scale applications rapidly to accelerate the popularization of PV applications."
The company noted that its P-type mono modules contain JinkoSolar's world record high-efficiency cells, which combined with low electricity loss technology reduces the module internal resistance and improves its fill factor to achieve the new performance record.
The N-type modules were said to use dual glass, deploying passivating contact technology to achieve high efficiency with front-side peak power reaching 378.6W.
JinkoSolar has recently reset the P-type monocrystalline cell conversion efficiency record at 23.95%, through a range of wafer to cell optimisation, notably its selective emitter (SE) formation.