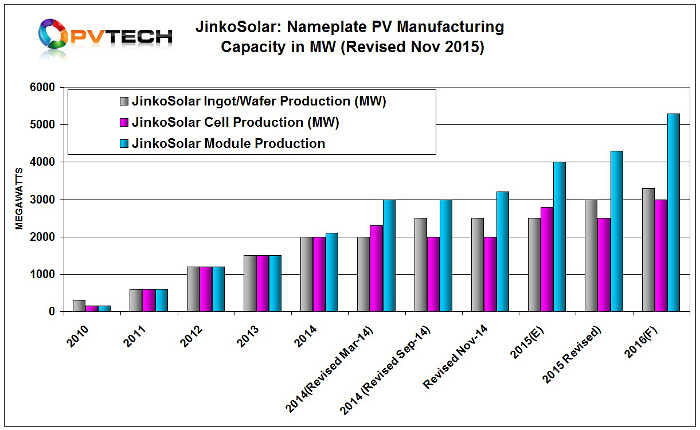 'Silicon Module Super League' (SMSL) member JinkoSolar said that capacity of ingot/wafer, solar cell and solar modules would be expanded further in 2016 to meet growing demand.
Reporting third quarter results in an earnings call, JinkoSolar's management updated preliminary plans to increase capacity. Its current ingot/wafer capacity of 3GW would be expanded by 300MW to 3.3GW by the first quarter of 2016, primarily by upgrading existing in-house equipment, the company said.
Solar cell capacity would also be increased by a further 500MW from existing capacity of 2.5GW to total 3GW by mid-2016. Management noted that a decision on how much of the additional capacity could be added in China and or overseas had not yet been made.
The company also noted that module capacity would be increased by another 1GW to reach 5.3GW by mid-2016.
JinkoSolar had in-house annual silicon wafer, solar cell and solar module production capacity of 3GW, 2.5GW and 4GW, respectively at the end of the first nine months of 2015 and would complete a 300MW module expansion before year-end, taking nameplate capacity to 4.3GW.