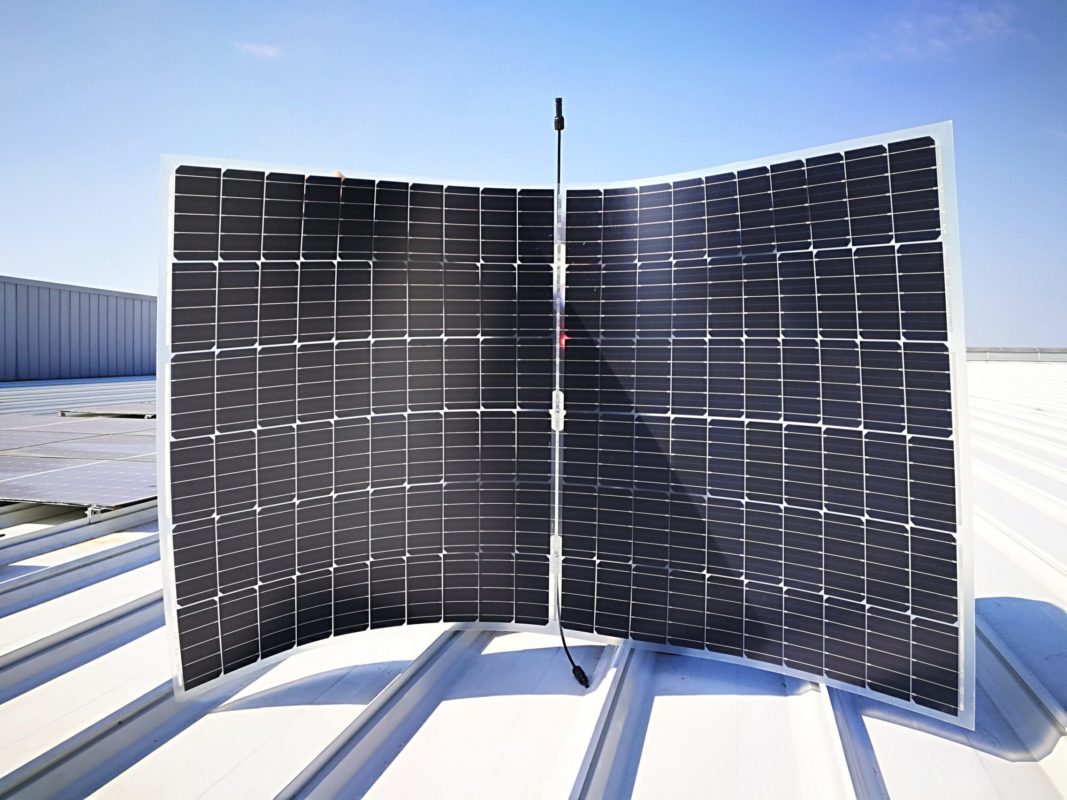 Jolywood (Suzhou) Sunwatt Co has launched two differentiated high-efficiency N-type mono PV modules. The new products, the JW-HT&HD Series 'Paving' module boasts a front power of 430W, efficiency of 20.5%, integrated power of 530W with efficiency of 25.4%, as well as a rear power gain of 30%. The JW-HF Series ultra-light flexible module weighs 3.75kg per sqm, due to the advanced composite encapsulation materials.
Problem
The need to reduce the levelized cost of energy (LCOE) continues to drive cell and module conversion efficiencies, while achieving cost effective manufacturing at scale. The adoption of large-area high-purity wafers and multi-cut cell configuration and bifacial cells further increase efficiencies.
Solution
The N-type monocrystalline high efficiency bifacial paving module developed by Jolywood uses flat ribbons to link up each cell, which is an innovative solution to avoid cells being covered by ribbons and narrows the distance between cells. This increases the module conversion efficiency and reduces the LCOE). Compared to modules with the same cells, the N-type monocrystalline high efficiency bifacial paving module have a typical power gain of 15W to 20W, increasing the conversion efficiency by 1.5%. In addition, the combination of the paving technology and the N-type TOPcon technology leads to a range of advantages for bifacial modules. Compared to monofacial modules, bifacial modules can generate an additional 10% to 30%. There is no potential induced degradation (PID) and zero light induced degradation (LID); the weak light response is better, according to the company. Due to the advanced composite encapsulation materials, the JW-HF Series Ultra Light Flexible High Efficiency Module has flexibility that is a match for curved modules. It also weighs 70% less than products of its kind.
Applications
The JW-HF Series can be used a variety of situations, such as a rooftop with low load-bearing capacity or the exterior of a building. The JW-HT&HD Series bifacial modules can be used for commercial rooftop and utility-scale projects.
Platform
The N-type TOPcon (tunnel oxide passivated contact) cell technology was developed at Fraunhofer ISE and is based on an ultra-thin tunnel oxide in combination with a thin silicon layer and enables excellent charge carrier selectivity, using high-quality wafers. Due to the higher tolerance to impurities as well as the lack of light-induced degradation (LID), the currently highest degrees of efficiency are achieved on N-type silicon.
Availability
January, 2019 onwards.