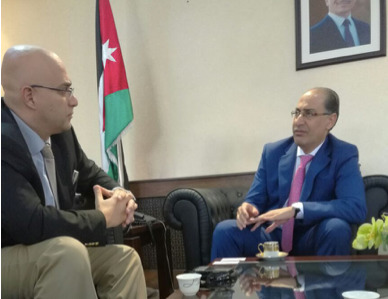 Jordan's Ministry of Energy & Mineral Resources (MEMR) plans to launch a 400-700MW solar and wind auction towards the end of this month
The tender will be Round 3 for solar energy and Round 2 for wind power.
In May 2015, four international companies were awarded 50MW solar PV projects under Jordan's Round 2 solar PPA tender.
A release from the Middle East Solar Industry Association (MESIA) said that the new round of renewables projects would be supported by a Green Corridor project, which is currently being developed by the utility National Electric Power (NEPCO) in the southern region to help integrate power generated by these wind and solar projects. The transmission project comes after the ministry cancelled a 400MW solar and wind tender in August 2014, citing too much stress on the country's grid.
Jordan has seen a number of utility-scale solar projects come online in the last month including RAI and Adenium's 20MW plant north of Amman in Mafraq, and a 22MW plant from Scatec Solar south of Amman.
Jordan aims to have 10% of its energy come from renewable sources by 2020.