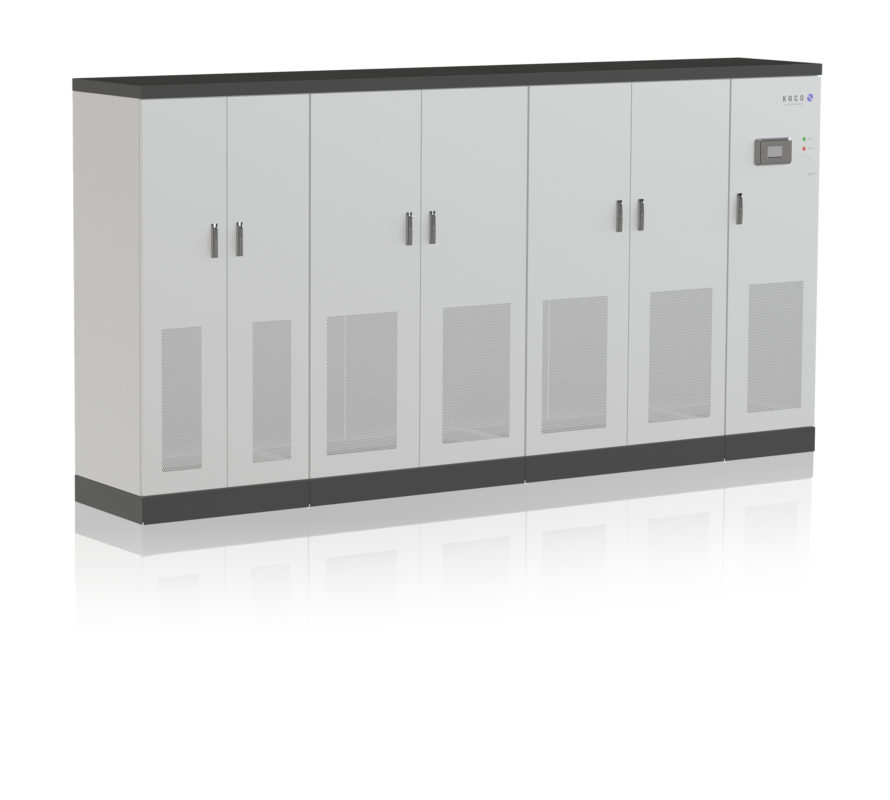 KACO new energy is launching the blueplanet gridsave 1000 TL3: a storage solution in the megawatt-class. The unit assists utility companies, distribution grid operators, EPCs and large companies to balance energy generation and consumption on the power grid.
Problem
PV power plant systems when combined with energy storage can provide improved resiliency to the electricity distribution system and most grid types in general. However, PV systems and energy storage solutions must be designed to meet static and dynamic grid support.
Solution
The blueplanet gridsave 1000 TL3 is a bidirectional battery inverter with a rated power of 1,000 kVA. By charging and discharging batteries it provides static and dynamic grid support in order to regulate the frequency. It thus contributes to keep the grid operating reliably at every second. The system also offers a 'Fault Ride Through' function that contributes to the stability of a grid, which could include a national grid, or the grid-tied power supply of a small town or industrial facility. The size of the storage system can be scaled to requirements. The inverter is course suitable for large-scale peak shaving and is compatible with conventional energy sources, just as it is with wind and photovoltaic. EPCs in particular, often aim at the implementation of a specific controller solution and are free when it comes to their own system design.
Applications
The blueplanet gridsave 1000 TL3 is compatible with all common battery technologies as well wind and solar PV and grid types.
Platform
The blueplanet gridsave 1000 TL3 communicates via Modbus and Sunspec. These, widespread, non-proprietory protocols and languages enable the use of a large number of control systems to regulate the battery inverter. Individual storage system requirements are available.
Availability
The system will be launched in the USA in the second half of 2016, followed by Europe.