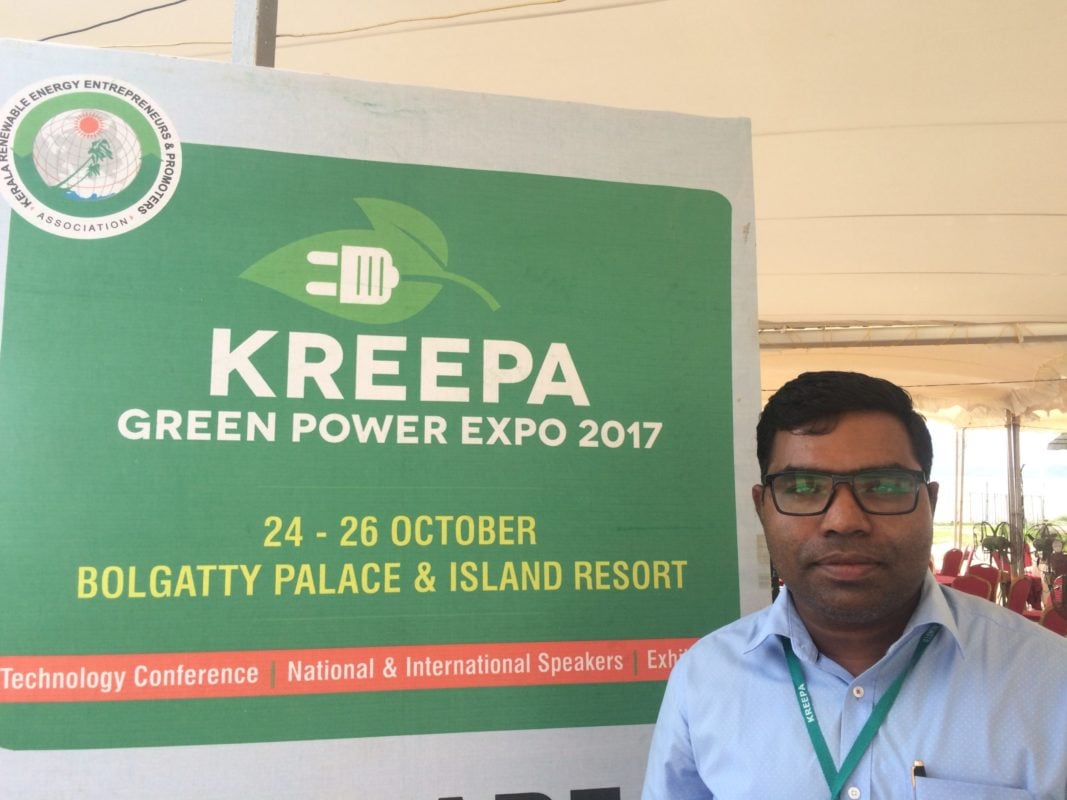 Kerala's solar industry is growing well, however it faces a burden in the form of a cap on the percentage of solar that can be added to any single transformer.
The Kerala State Electricity Regulatory Commission (KSERC) currently sets that percentage at just 15%. To put this in context, the corresponding percentage in Germany is currently set at 100%.
Speaking to PV Tech at the Green Power Expo 2017 in Kochi, organised by Kerala Renewable Energy Entrepreneurs and Promoters Association (KREEPA), Terence Alex, founder and CEO of Wattsun Energy, said that various parts of Kerala are feeling this pinch. In central Trivandrum for example, where there is a high demand from consumers looking to tap into solar, the 15% capacity has already been reached in many parts, blocking further growth.
Alex and other Expo delegates have been calling for KSERC to increase its cap up to 80%.
He also noted that other policy and government support is in place for Kerala to reach the goal of 250MW of solar by 2020 set by nodal agency ANERT and the Renewable Purchase Obligation (RPO) of 17% renewables in the same time frame, but the targets will not be reached unless the cap on solar for each transformer is lifted.
Kerala's rooftop solar goals set by KSERC are:
| Year | Target (MW) |
| --- | --- |
| 2015/16 | 4 |
| 2016/17 | 96 |
| 2017/18 | 100 |
| 2018/19 | 120 |
| 2019/20 | 140 |
| 2020/21 | 160 |
| 2021/22 | 180 |
| Total | 800 |
The state's overall potential for rooftop PV including, both domestic and institutional, is projected to be as high as 31GW.
In a KSERC order in 2016 it noted: "The Commission has to take all possible proactive steps to incentivize installation of solar energy systems including rooftop solar energy systems and to remove all disincentives and difficulties."
However the order also stated: "The total installed capacity of solar systems that can be connected to a distribution transformer without conducting measurement of the load on the feeder under it, shall be 15% of the transformer capacity. Connectivity exceeding 15% of the transformer capacity need be granted after conducting necessary studies relating to the load on the feeder."
KREEPA is gaining traction with the state nodal agency ANERT and the Ministry of New and Renewable Energy (MNRE), but responses from KSRC regarding changes to the 15% cap have been slow so far. Nevertheless, Alex said there is some confidence that the cap may be amended soon. However, he also said similar caps are experienced in many states across India.
KSERC originally set the 15% cap to gauge the response of the public. Despite appetite for more solar in big cities such as Kochi, Trivandrum and Thrissur, the percentage has not been increased yet.
KREEPA has a goal of having at least one solar panel on every roof in the state by 2022, as reported by PV Tech at the Expo.