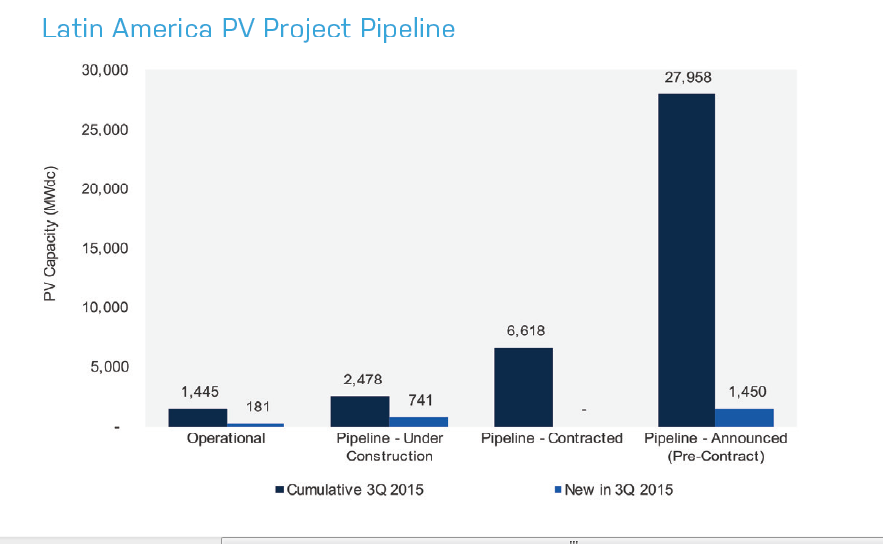 The Latin America region saw 181MW of utility-scale solar PV projects come online in Q3 2015, down 50% from the historic 363MW of installations in Q2, but still helping the market's ability to strengthen growth and move towards maturity in 2016, according to GTM Research's 'Latin America Q3 Playbook'.
Furthermore GTM has forecast that Q4 will be the largest in the region's history with a surge of 1.4GW installed.
In Q3, 1.45GW of projects were announced bringing the total Latin America project pipeline to 38.5GW. A further 74MW of PV entered the construction phase in the same period.

Mohit Anand, senior analyst, solar markets at GTM and author of the report, said: "The Latin American market as a whole represents a huge opportunity for PV. However, the complexities of local markets, financing and regulatory hurdles, and policy risk have all played a role in preventing solar development in the region from reaching its true potential to date."
GTM also identified Honduras, Chile, Guatemala and Brazil as key markets in Q3.
The leading PV developers were SunEdison with the most operational capacity at 318MW and Enel Green Power, which has 534MW contracted or under construction.
Another GTM statement said: "Latin America is the global frontier for unsubsidized solar markets. With high insolation levels and growing demand, it is positioned to be one of the most attractive regions on the planet for solar development."