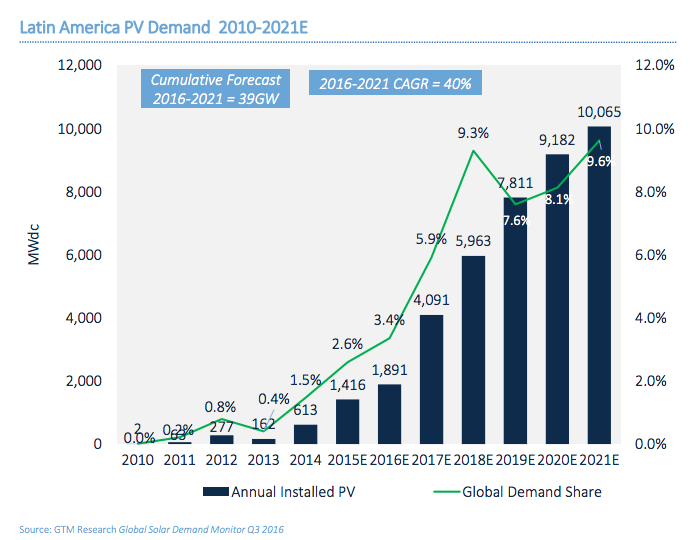 The Latin America region had installed 1.8GW of solar PV by the end of the third quarter this year, already up 400MW from 1.4GW in 2015, according to GTM Research's Latin America PV Playbook for Q3 2016.
This brings the region's cumulative total to more than 4GW with much of this deployment in Chile, a country that is expected to surpass 2GW by the end of this year.
The industry has progressed well, driven by auctions in Mexico and Chile where solar played a key role and tariffs continued to decline in line with trends across the rest of the world. Argentina had an "impressive breakout year" with auctions making way for 300MW of solar under the RenovAR programme. Moreover, national and regional development banks have established lines of credit in Argentina as project risk has been decreased by ratings agency Fitch.
Latin America is now expected to account for 3.4% of the global PV market this year, with this percentage significantly rising in 2017 and 2018 once the auctioned projects start to come online. Annual capacity additions are expected to double to nearly 4.1GW next year, up from 1.9GW in 2016.
Utility-scale solar is beating other forms of alternative energy on price in Brazil, Chile and Mexico, while international players are making significant investments in the region as they foresee high rates of return at present. The main challenges continue to be economic and currency risks as well as policy hindrances to project completions.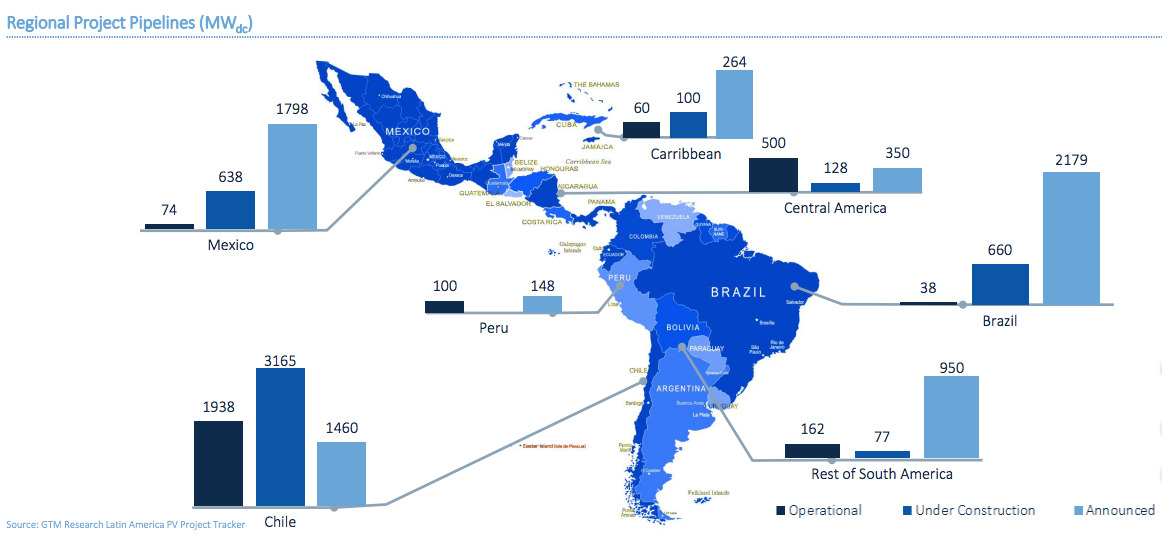 Chile to hit 2GW this year
After surpassing 1GW at the beginning of this year, Chile will soon reach 2GW. However, solar only received a small chunk of the capacity in Chile's largest ever power tender this year, but one successful developer Solarpack did put in one of the lowest ever solar tariffs.
The major interconnection between the SIC and SING grids which will be a huge boon to solar developers suffering curtailment in northern central regions is more than 60% complete.
Chile also plans to attract US$800 million of private and public sector investment in its solar sector over the next decade.
Mexico's 'strong' outlook
Mexico's impressive first energy auction was followed up with 2.4GW of solar in the September auction, with expectations that this technology can continue to win large capacities in years to come. It now has the largest contracted pipeline in the region.
The new energy transition law has taken effect introducing day-ahead pricing and a spot market. The International Energy Agency (IEA) recently predicted 30-40GW of solar in Mexico by 2040.
GTM also deemed Mexico as having the greatest potential for distributed generation given its recent energy market transition.
Other markets
Brazil was rated as having a "weak" solar outlook given its uncertain political atmosphere and contraction of the economy. Meanwhile, demand for electricity is falling year-on-year. Furthermore, the PV project pipeline has declined 20% due to project cancellations from the country's first ever PV auction. However, another wind and solar based auction is due to take place in December.
Even Brazil's growth in the distributed generation segment, following its ProdGD programme, was labelled as having only "a small amount of success".
Elsewhere, a Peruvian auction in March led to two PV project wins and since then at least one other contract has been signed with others in the making.
Colombia's commercial and industrial market is also progressing as the country has no state-owned utility and off-takers are needed.