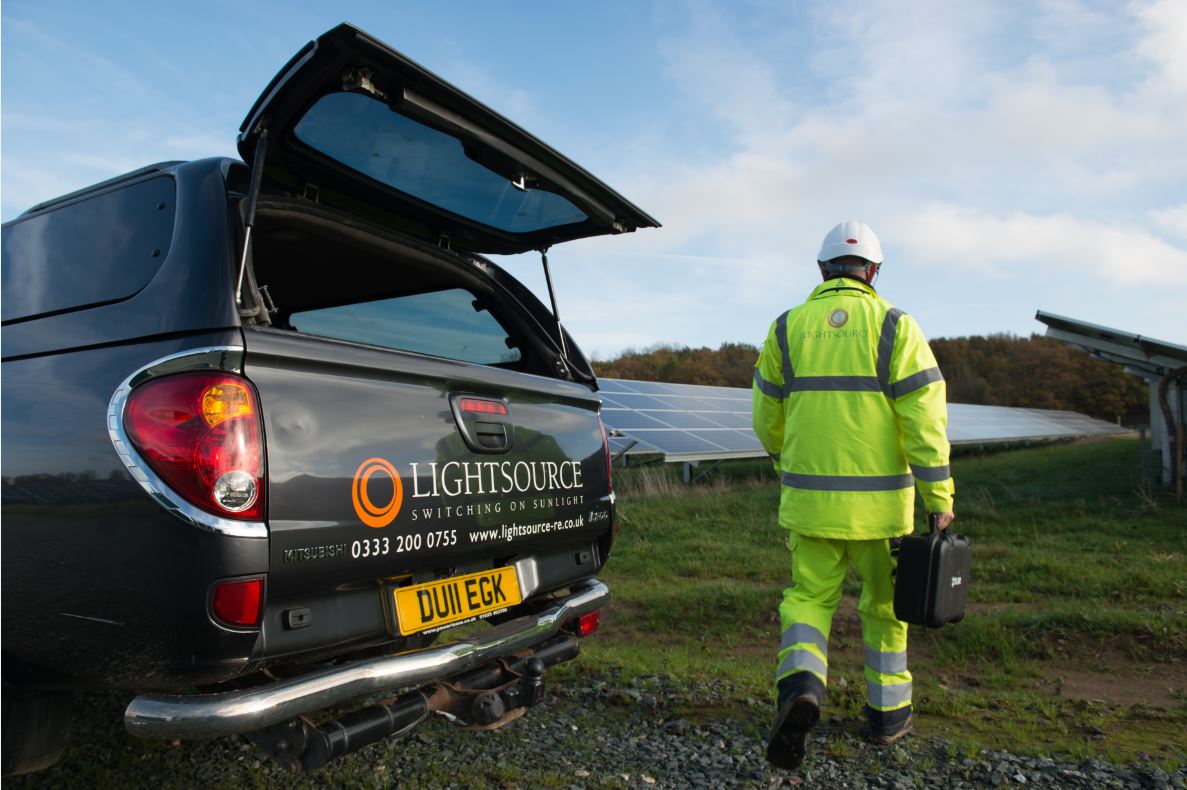 Lightsource BP has completed its first utility-scale solar farm in India after bringing online the 60MW project in Maharashtra, having won the contract through a competitive 450MW tender process completed in September 2016.
The solar farm in Wagdari was awarded by Solar Energy Corporation India (SECI) to Lightsource BP as one of just two contracts to be won by non-Indian firms, after it bid for one of the lowest levels of viability gap funding (VGF) support at INR1.96 million (US$28,800) per megawatt.
The project was financed in partnership with UK Climate Investments (UKCI), a joint venture between Macquarie's Green Investment Group and the UK's Department for Business Energy and Industrial Strategy (BEIS).
As the company's first project of this size in India, chief executive Nick Boyle said the completion of the project was "testament to Lightsource BP's ability to deliver".
Construction, photovoltaic modules, and technical expertise for the project were provided by Sterling & Wilson and LONGi Solar, which supplied 200,000 modules to the 97-hectare development. Project finance was provided by Rabobank.
Richard Abel, managing director of UKCI, added: "Official commissioning of the site is a major milestone towards providing clean electricity for around 20,000 homes in the Maharashtra region.
"UK Climate Investments is proud to have worked with Lightsource BP in their first solar project in India, bringing together private sector expertise and catalytic climate finance funding to support India's transition towards a low carbon economy."
Prior to the 43% acquisition of Lightsource by BP in December, the British solar developer had said it's work with UKCI would lead to the development of at least 300MW of new Indian PV projects, as well as the acquisition of operational assets.
This was followed in April with the launch of a fund management platform by Lightsource BP and Indian private equity firm Everstone Group, with the initial Green Growth Equity Fund (GGEF) targeting £500 million (US$710 million) to invest in green infrastructure in India.
UK exporting 'home grown expertise' as national deployment falters
The ongoing work has been singled out by the UK's energy and clean growth minister Claire Perry as evidence of the UK's ability to export its solar expertise to other markets such as India.
"I am delighted that UKCI is working alongside London-based Lightsource BP to leverage the UK's expertise in solar and support India's ambitions for renewable energy," she said.
"The UK has a track record of exporting our home-grown expertise to the rest of the world and this partnership is a perfect example of the public and private sectors working together to deliver our respective climate, development and growth objectives that will benefit the entire planet."
Once the most prolific solar developer in the UK, Lightsource BP has readily sought opportunities abroad along with a number of other British companies following the drastic scaling back of government support for new solar under the watch of Perry and her predecessors.
Since the closure of the UK's Renewables Obligation regime in 2017, and the previous cuts to the small-scale feed-in tariff (FiT), deployment under the FiT remains around 80% lower than before. Similarly, ground-mount solar installations in the UK have all but come to a halt as developers seek to bring forward subsidy-free projects. Meanwhile, large-scale solar remains the only form of renewable generation to be locked out of the Contracts for Difference auctions despite offering one of the cheapest forms of generation.
However, Perry hinted last month that the government's forthcoming post-2019 solar direction could deliver a "really positive" set of outcomes for the industry.