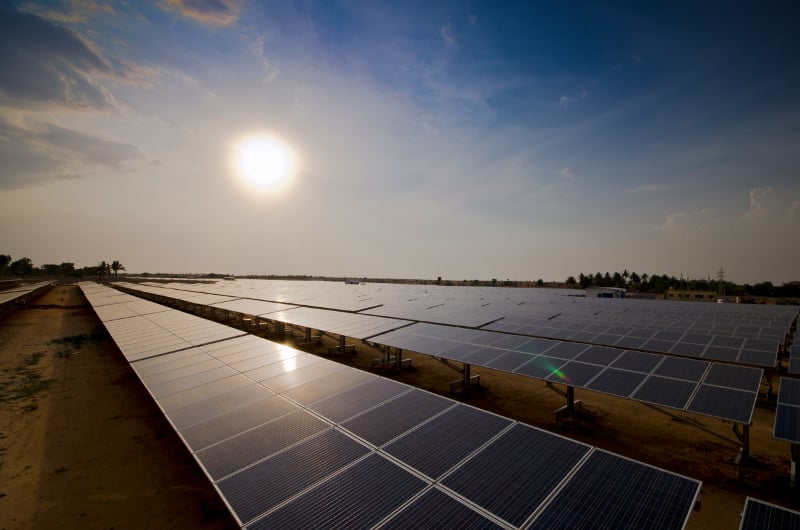 India's latest 400MW solar auction saw limited competition compared to recent tenders with just six bidders for the PV capacity in an Andhra Pradesh solar park.
Spain-based developer Fotowatio Renewable Ventures (FRV) has won its first project in India with 100MW, while the rest of the participants were Indian companies.
The Solar Energy Corporation of India (SECI) issued the tender with a fixed tariff of INR4.43/kWh (US$0.067) along with viability gap funding (VGF), which is a funding mechanism provided by the government of India.
The results were as follows:
| Developer | Capacity (MW) | VGF (INR/MW) | Tariff (INR/kWh) |
| --- | --- | --- | --- |
| FRV | 100 | 4.45 million | 4.43 |
| Acme | 150 | 5.5 million | 4.43 |
| Tata Power Renewable Energy | 100 | ~7.4 million | 4.43 |
| Azure Power | 50 | ~7.475 million | 4.43 |
RattanIndia and Renew Solar Power were the two developers who missed out on capacity.
Jasmeet Khurana, associate director, consulting at Bridge to India, told PV Tech that the bids saw limited competition and questioned whether investor appetite may have reached its limits.
Looking at the auction process, Khurana pointed out that FRV and ACME did not have to move their original bids. Meanwhile there were only bid adjustments to secure the third and fourth place in the bidding.
He added: "But otherwise there wasn't too much competition."
Accounting for the viability gap funding (VGF), Khurana said effective tariffs are still below five rupees per unit, as has been the case for most Indian solar bids since November 2015. However he said the Tata and Azure Power tariffs were actually "much better" than what was seen in a similar bidding process held the utility NTPC, which had mroe or less the same park charges and conditions.
SECI and IREDA changes
This week SECI announced on its website that it had asked the World Bank to provide US$200 million of funding to help its work on floating solar plant projects in Andhra Pradesh, Lakshadweep and Kerala as well as a 300MW hybrid project in Andhra Pradesh involving solar and wind energy.
PV Tech reported last year that SECI was planning to change its name to RECI in order to mark its transformation into a commercial entity but this name change appears to have to have been put on hold, despite the new focus on SECI's own projects.
Similarly the Indian Renewable Energy Development Agency (IREDA) is planning to become a green bank.
Khurana commented: "It is more of a nomenclature thing than anything else. They just want to call themselves a green bank so that they are able to raise funds, which are focused towards green projects."