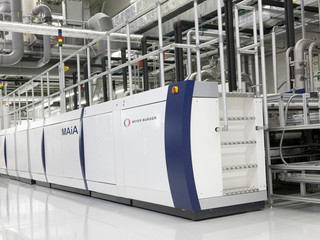 Leading PV manufacturing equipment supplier Meyer Burger said that LONGi Solar Technology, the PV module manufacturing arm of leading monocrystalline wafer producer LONGi Green Energy Technology has become the first customer of its double-side PERC (Passivated Emitter Rear Cell) coating platform, 'MAiA EVO'.
The integration of both front side anti-reflection coating and rear side passivation coating into a single processing platform for PERC cells is designed to reduce the complexity of production and lower operating costs. Tool(s) manufacturing footprint is also claimed to be reduced.
Li Zhenguo, President of LONGi Green Energy Technology said, "We are very satisfied with the performance of Meyer Burger's MAiA 2.1 and we strongly believe that the integrated MAiA EVO system is the ideal solution to further decrease our manufacturing costs and support us as we expand our production volume of highest quality PERC cells. The PV market is very competitive and an innovative solution like the MAiA EVO enables us to successfully remain ahead of the industry."
Meyer Burger noted that the first MAiA EVO tool was scheduled to be delivered, installed and commissioned during the second half of 2017. The company did not say if the order was for multiple units or provide financial information of the deal.