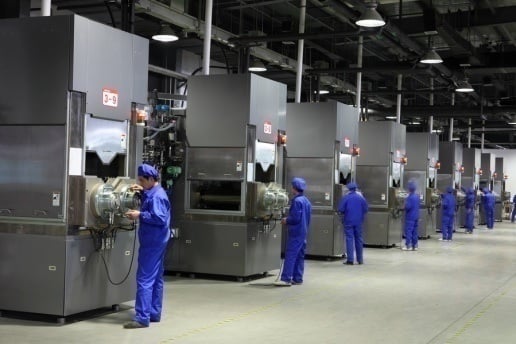 Leading integrated high-efficiency monocrystalline module manufacturer and 'Silicon Module Super League' (SMSL) member LONGi Green Energy Technology is believed to have entered into a Memorandum of Understanding (MOU) with Saudi Arabia's major commercial and industrial trading company, El Seif Group to establish a large-scale solar manufacturing infrastructure in the Kingdom.
PV Tech's understanding is that the companies are working on plans to promote and initiate a 'Solar-for-Solar" strategy to establish PV manufacturing operations in Kingdom of Saudi Arabia (KSA) to support the Kingdom's plans to install 200GW of solar power plants in KSA.
Importantly, the 'Solar-for-Solar" strategy incorporates building the manufacturing plants that would be powered entirely by solar energy to provide the lowest manufacturing carbon footprint.
This is not something new for LONGi as its manufacturing operations in Malaysia were already powered by hydro-electric power. The company also has renewable energy supplying its Yunnan province manufacturing operations.
The partnership could also lead to further manufacturing opportunities in the Middle East region, according to PV Tech's understanding.
Initially, the companies are understood to be undertaking various feasibility studies for collaboration in both the PV upstream and downstream sectors.

KSA has previously highlighted that its commitment to renewable energy, notably solar due to high-irradiance in the region included building a PV manufacturing ecosystem and complete supply chain to meet the specific environmental needs of the country and secure long-term jobs outside its traditional industries.