'Solar Module Super League' (SMSL) member LONGi Solar, a subsidiary of the world's largest monocrystalline wafer producer, LONGi Green Energy, will shortly have exceeded 13GW of module assembly production capacity after a new 5GW plant ramps in 2019.
The SMSL member has officially opened its latest 5GW high-efficiency monocrystalline module factory in Chuzhou, Anhui, China at a cost of US$328 million. Construction had started in May, 2018, while the 2.5GW Phase 1 project is being commissioned the second phase expansion is expected to come online in the next few months.
According to PV Tech's on-going analysis of global capacity expansion announcements, Longi Solar's total nameplate module assembly capacity should exceed 13GW in 2019, the highest amongst solar module manufacturers, including leading SMSL member JinkoSolar, which is expected to have around 12.9GW of nameplate module capacity in 2019.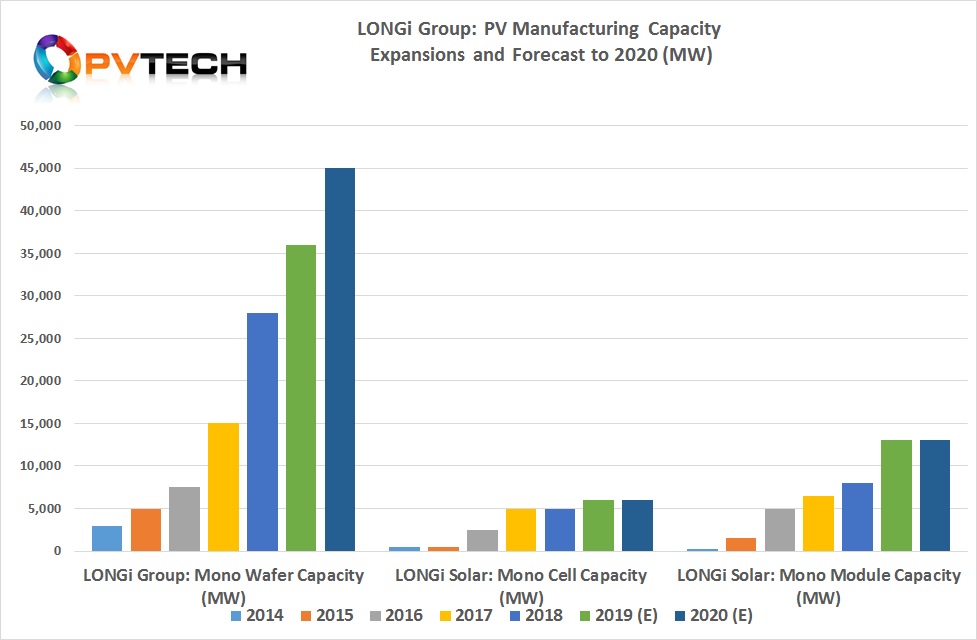 LONGi Solar's latest assembly plant is said to be fully automated and equipped with leading-edge equipment that will produce its Hi-MO3 bifacial mono half-cut PERC module and other next-generation products.
Li Wenxue, President of LONGi Solar, said, "In 2019, our company identified a gap between fast-growing global orders and our high-efficiency cell and module capacities. LONGi Chuzhou factory will greatly narrow this gap. Besides manufacturing, the factory will also facilitate the transformation of technological and technical achievements to the mass production of new products."
LONGi Solar recently announced plans to build a 1GW monocrystalline solar cell manufacturing plant in Kuching, Malaysia at a cost of US$125.5 million. The company already owns and operates 500MW monocrysalline solar cell and 500MW of module assembly production at the industrial park in Kuching.
Parent company, LONGi Green Energy had recently announced plans to invest approximately US$773 million in expanding monocrystalline ingot and wafer capacity at three sites in China, taking nameplate capacity to 38GW in 2019.
LONGi Green Energy has reiterated plans to expand monocrystalline silicon ingot and wafer capacity to 45GW by the end of 2020. LONGi accounted for 38% of global monocrystalline silicon wafer capacity in 2018.
Both Longi Solar and JinkoSolar are expected to update capacity expansion plans during the release for full-year 2018, financial results.