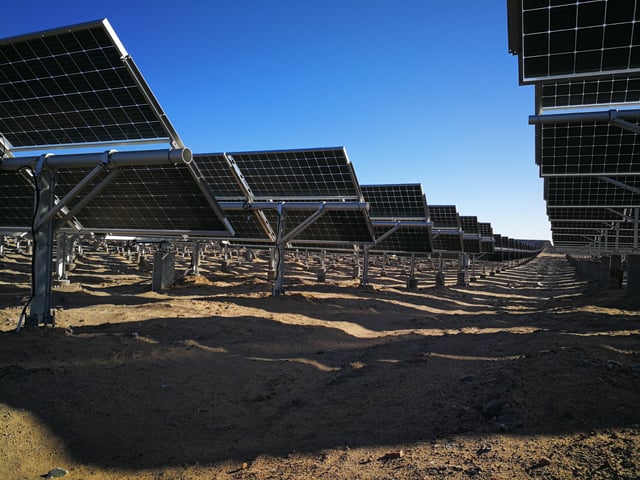 'Silicon Module Super League' (SMSL) member LONGi Solar, subsidiary of LONGi Green Energy, the leading integrated monocrystalline PV manufacturer has set a new P-type mono bifacial 'shingled' cell formatted module conversion efficiency record of 20.66%.
The China General Certification Center (CGC) was said to have validated the conversion efficiency record.
Dr. Lv Jun, Vice President of LONGi Solar said, "This breakthrough in module conversion efficiency further confirmed the development potential of monocrystalline PERC. We firmly believe this will completely replace mainstream products in the next three years and effectively improve PV system's power generation efficiency and reliability, which in turn reduce LCOE and brings customers more benefits."
Based on the high conversion efficiency of single-sided PERC, bifacial PERC cells generate power from both the front and rear sides, adding 10%-25% higher yield at a cost similar to single-sided PERC. The shingling of the cells reduces losses between the cells and strings, while connecting ribbons are rear located, adding front side surface area boosting overall module performance.
"Technological innovation is the soul of LONGi," Li Wenxue, President of LONGi Solar said. "Oriented to the market and customers, our module technologies have successfully balanced power and efficiency, and taken into account both costs and benefits. LONGi promotion of monocrystalline modules will bring customers higher return on investments, and contribute to green energy for the world."
In 2018, LONGi Solar has announced three different cell and module records with P-type mono PERC technology, while setting a new record in the PV industry for R&D expenditure, investing USD 175.7 million, 6.77% of revenue in R&D in 2017, according to PV Tech's annual analysis of R&D spending from key PV manufacturers.