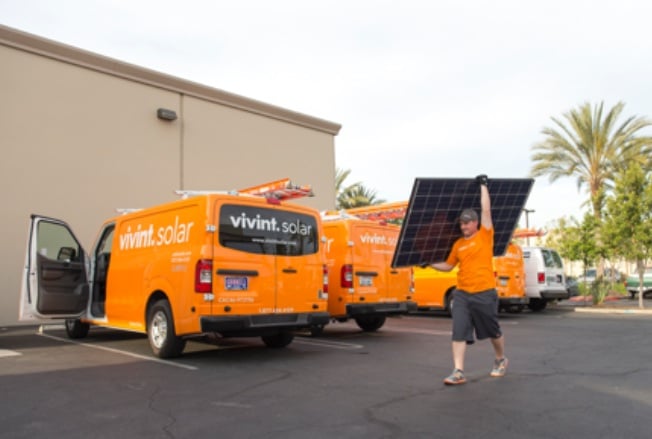 With the major US residential solar installers (Sunrun, SunPower, Vivint Solar and Tesla) having recently reporting second quarter 2019 financial results, PV Tech has taken a closer look at the business and market dynamics shaping up in 2019.

With winter seasonality out of the way, second quarter 2019 financial results tend to be a better benchmark for the year as a whole. The recent IPO of another US installer, Sunnova, will in future be included in the analysis after issuing their initial quarterly results for Q2, soon.
Installations
PV Tech has already noted the major decline in residential rooftop installations for Tesla. However, the decline shown in the chart below looks pronounced in the extreme, compared to that of its public listed rivals.
Having dominated the market, Tesla's Q2 2019 installations fell to a new low of only 29MW, as a result dropping to the bottom of the group in the quarter.
The seasonal Q1 decline was at a higher rate than the rest of the group, while installations made further declines in Q2, in contrast to its rivals that would seem to have increased installations in-line with their previous market positions.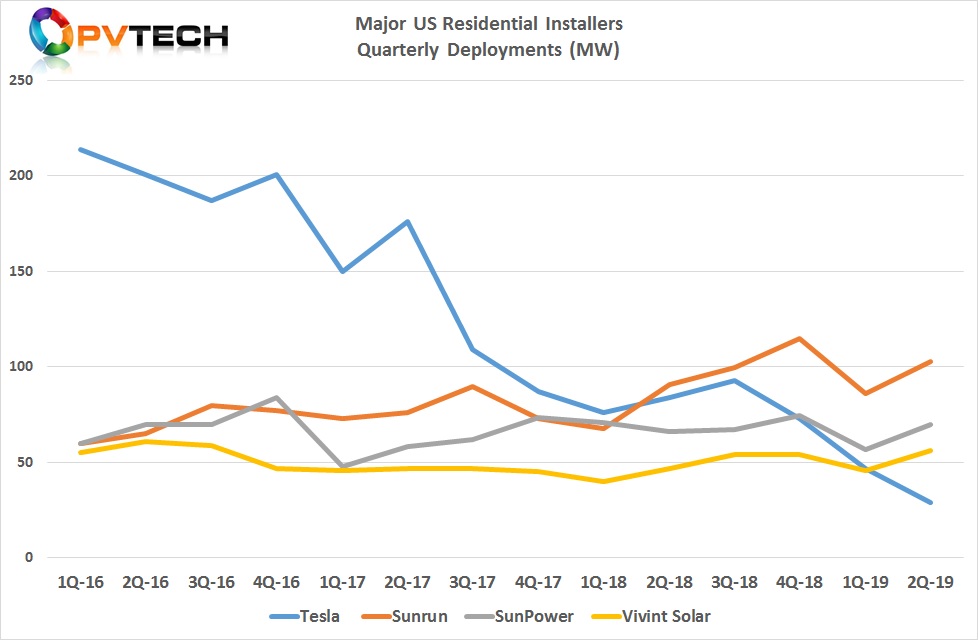 Leading installer since Q2 2018, Sunrun had continued its momentum, having installed 91MW in that quarter, increasing to 103MW in Q2 2019, a 13% increase year-on-year.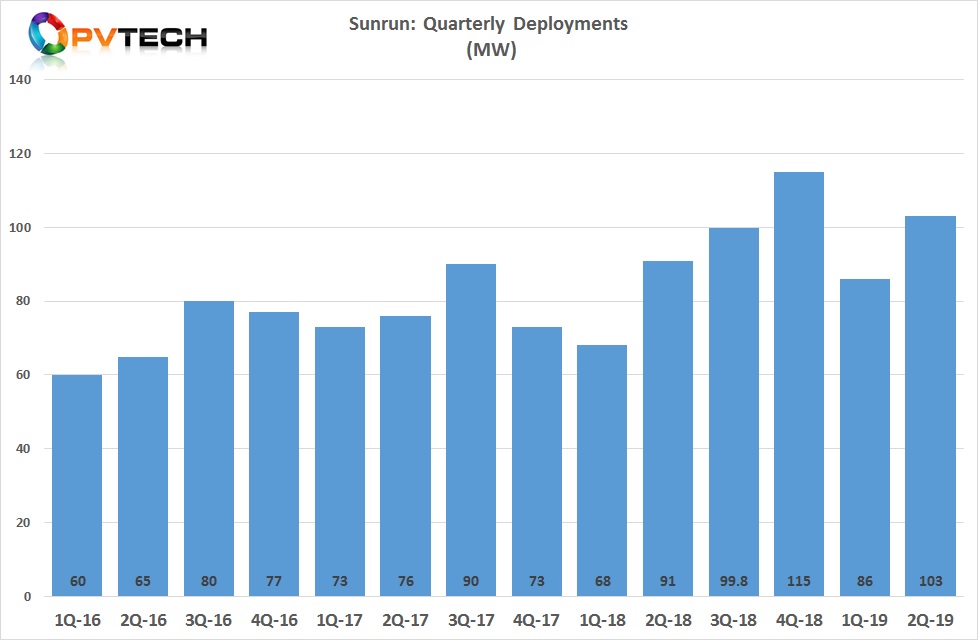 Sunpower installed 70MW in Q2 2019, up from 66.4MW in the prior year period, a 6% increase year-on-year.
Vivint Solar had installed 47MW in Q2 2018, increasing to 56MW in Q2 2019, a 20% increase year-on-year.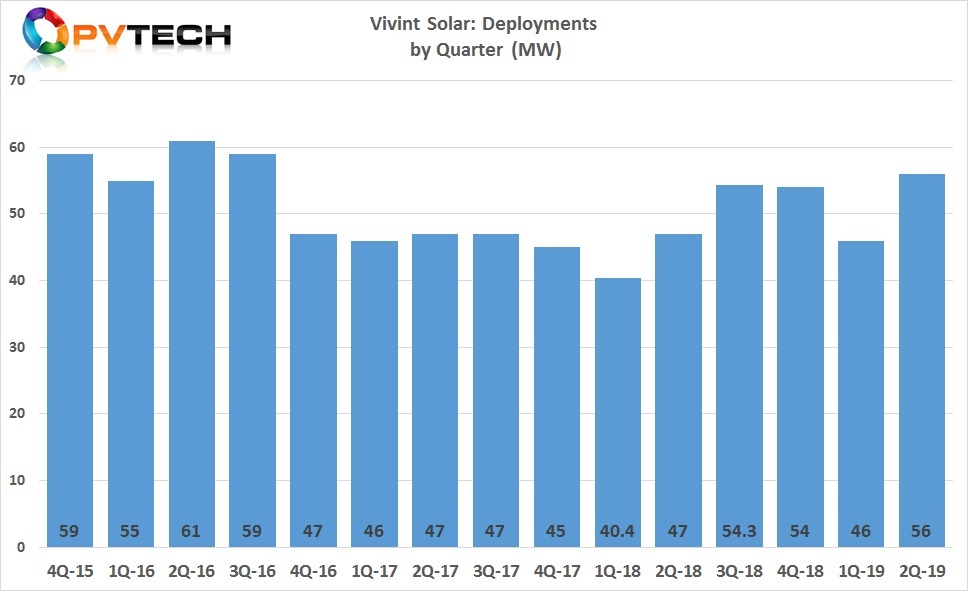 In the year-on-year analysis, Vivint Solar has experienced the highest growth in the reporting quarter, followed by Sunrun and SunPower. In contrast, Tesla's installs declined 66%.
Revenue
On a quarterly revenue basis. Tesla remains markedly ahead of the pack, due increasingly to energy storage deployments across the utility, commercial and residential markets. The company does not breakout PV and energy storage revenues but the installs for both are separated and clearly the majority of revenue has become storage based.
Due to the higher energy storage deployments, Tesla's Energy division revenue reached US$368.2 million, up 13% quarter-on-quarter but down 2% from the prior year period.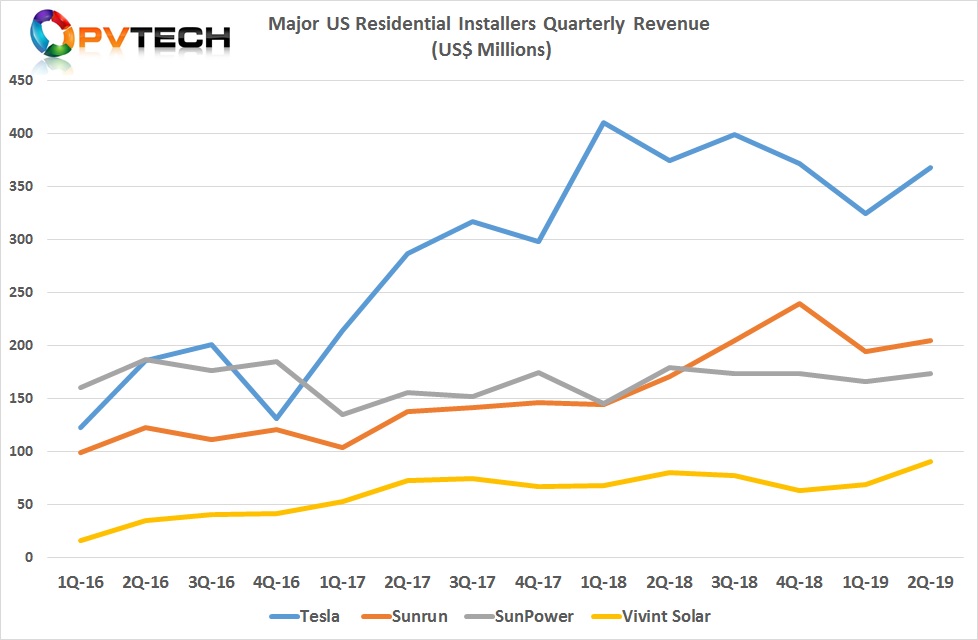 With Sunrun leading PV installs, although energy storage installs are also gaining momentum (not yet broken-out separately) but accounted for over 10% of revenue in Q2.
Total revenue reached US$204 million in the second quarter, up from US$170.5 million in the prior year period, almost 20% higher on a year-on-year basis.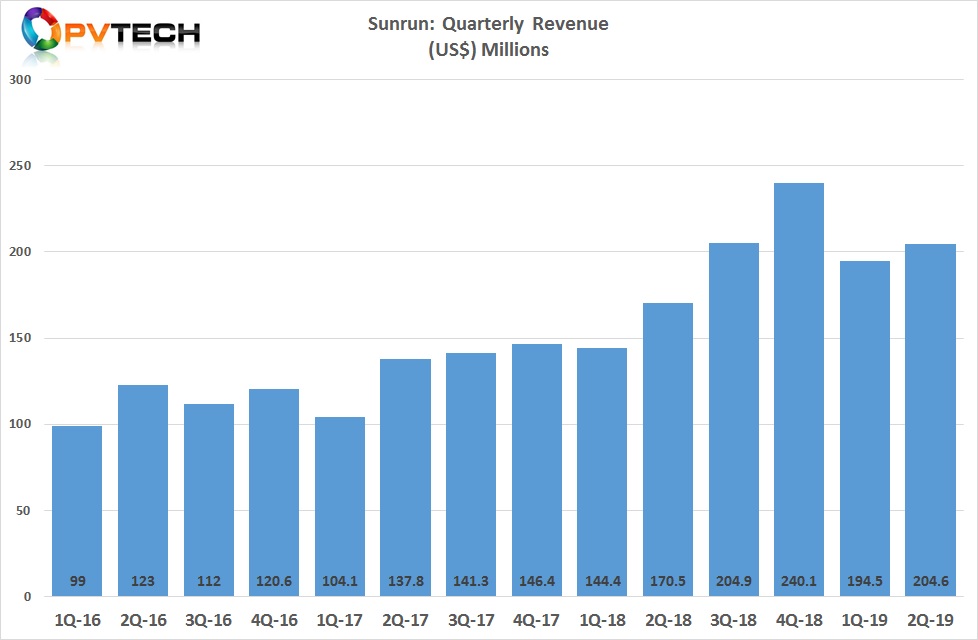 SunPower reported residential unit revenue of US$174 million in Q2 2019, compared to US$179.9 million in the prior year period. Revenue has been relatively flat for SunPower over the last 12 months, due to manufacturing capacity constraints and product mix.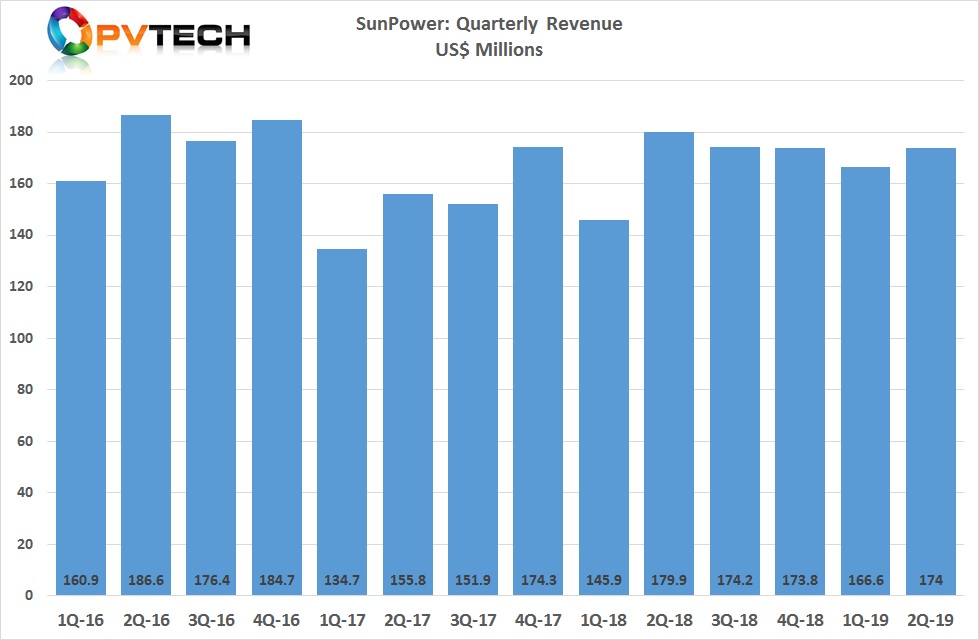 However, SunPower will have around 250MW of IBC cell/module capacity with it's A Series modules in production by year-end, doubling existing capacity for its next-gen technology that is being deployed for US installs after gaining exclusion from recent US import duties. This supplements 350MW to 400MW of X-Series production per year.
With Vivint Solar's recent growth momentum, revenue reached US$90.8 million in Q2 2019, up from US$80.8 million in the prior year period.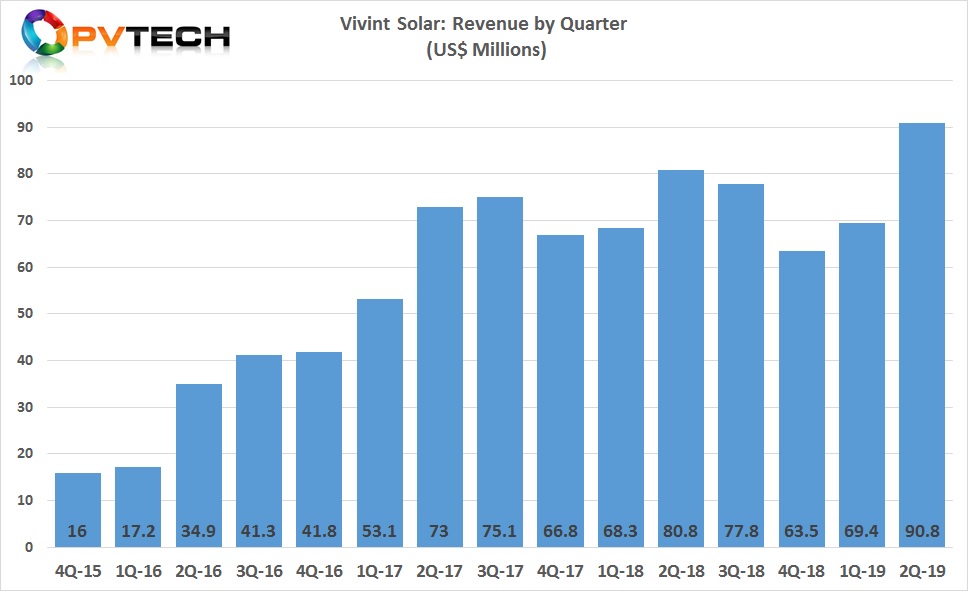 Guidance
Sunrun said that it expected more than 20% annual growth in orders for Q3, and 15% growth for the full-year.
Vivint Solar said it expected installation volume to be between 62MW to 65MW and reiterated 15% or greater revenue growth for the full year.
SunPower guided Q3 residential deployments to be in the range of 70MW to 80MW and full-year deployments in the range of 270MW to 300MW.
Tesla did not provide guidance metrics for its Energy division.