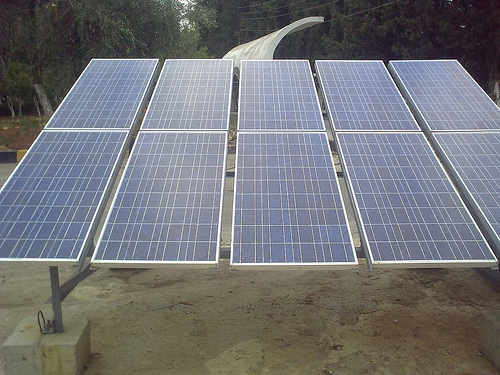 Abh Dhabi's renewable energy firm Masdar has launched four utility-scale clean energy projects as well as thousands of residential solar systems in remote areas across Egypt.
The projects are in collaboration with Masdar's Special Projects unit, and collectively will generate 30MW of clean energy, enough to power 25,800 homes and displace 42,700 tonnes of CO2 annually.
The plants were strategically created with Egypt's tourism sector in mind, ensuring that the financial hub of the region is fortified by efficient and reliable energy, according to Masdar: Marsa Alam (6MW), Shalateen (5MW), Abu Ramad (2MW) and Halayeb (1MW).
In a further addition to Masdar's recent ventures, the company completed three PV-diesel hybrid plants in Al Farafra, Abu Minqar and Darb Al Arbaeen – all part of Egypt's least populated govenorate Al Wadi Al Jadeed Govenorate in December 2015. A 14MW project comprised of four of those hybrid plants was completed just on Tuesday, in the govenorate of the Red Sea.
Some 7,000 solar systems have also been installed in homes, schools, clinics and other residential amenities – furthering the company's mission statement to develop an energy efficient, renewable future. The off-grid applications have two solar panels and two storage systems that can provide capacity for up to two days. This announcement closely follows Masdar's public partnership with Chinese rechargeable battery, electric transport and clean energy company BYD.
"These projects demonstrate how renewable energy can help countries meet a broad array of strategic aims – from empowering local communities, to strengthening energy security, to driving economic development," said Masdar's CEO Mohammad Jameel Al Ramahi. "Energy is truly the backbone of development, and I am proud that Masdar can support Egypt's strategic development aims as well as the critical Global Goal of delivering sustainable energy for all."
These projects are in addition to the new 767kW solar project in Vanuatu that the company inaugurated earlier last month, and the 20% stake in the 100MW Shams-1 concentrated solar power (CSP) plant in the United Arab Emirates Masdar bought from Spanish renewables giant Abengoa.
The latest ventures into Egypt come at a welcome time for the country, which has been going through a major power deficit, that reached its peak two years ago. Since then, Egypt has been pursuing more renewable solutions, with a goal for clean energy to account for 20% of its total power generation.