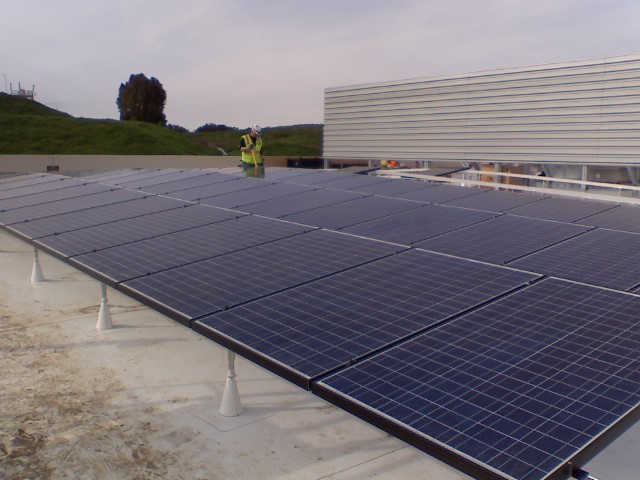 The top 10 states in India have accounted for 90% of the country's solar pipeline and installations, according to Mercom Capital Group.
India has also installed over 9GW of large-scale solar capacity and boasts a PV pipeline of 14GW as of December 2016, the consultancy said in a report. This contrasts with figures from another consultancy Bridge to India, which recently announced that India had surpassed 10GW of deployment.
Mercom said the 10 frontrunner Indian states are Tamil Nadu, Rajasthan, Gujarat, Andhra Pradesh, Telangana, Madhya Pradesh, Punjab, Karnataka, Maharashtra, and Uttar Pradesh.
Tamil Nadu leads all other Indian states with 1.5GW of PV generation capacity. In order to meet the state renewable purchase obligation (RPO), the Tamil Nadu Generation and Distribution Company (TANGEDCO) recently auctioned 500MW worth of solar. the state currently boasts close to 485MW of solar under various stages of development.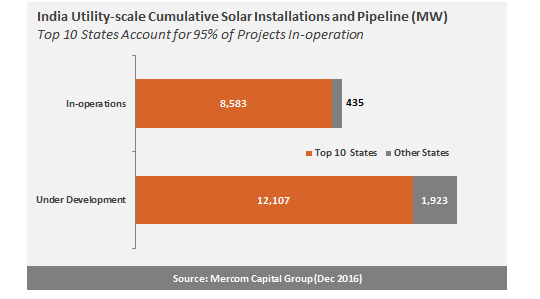 While Rajasthan stood as the top PV generating state in India for some time, it slipped down to second as installation activity slowed down within the state in 2016. The state has 1.3GW of solar in operation with a project pipeline of 1.2GW. The state of Gujarat has 1.1GW of solar in operation and 300MW under development.
Andhra Pradesh stands as the state with the most solar parks — boasting 1,009MW of PV in operation and close to 1.5GW under development. Telangana ranks fifth with 1,006MW in operation and 2.4GW under development.
Rapid implementation of policies and programs has led to a growing solar market in Madhya Pradesh. Currently, the state has 861MW of solar in operation and 722MW under development. The mostly agricultural state of Punjab ranks seventh with 569MW in operation and a pipeline of 453MW.
Karnataka, the eighth ranked state, has the largest pipeline at 3.3GW, while Maharashtra, the most industrialized state in India, stands in at ninth overall with a project pipeline of 957MW.
While the development of PV projects in the state of Uttar Pradesh has been slow, the state ranks 10th overall in the country with 241MW of capacity in operation, along with a pipeline of 696MW.