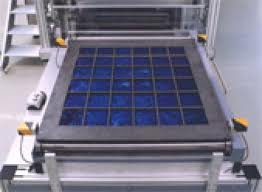 Governor of the Brazilian state of Piaui, Wellington Dias, has met with Switzerland-based PV manufacturing equipment supplier Meyer Burger to discuss the setting up of a solar module factory in the municipality of Paulistana, Piaui, in Northeast Brazil.
The Piaui government the factory would be financed "100%" by German investors, while Meyer Burger already has German partners to progress its Piaui activities.
The undisclosed German stakeholders were said to be interested in the growing PV market in Brazil and are planning to combine their manufacturing bases beyond Europe.
Dias said: "We are hitting a schedule of actions that depend on federal, state and municipal governments and we are committed, from January, to progress with these steps to make possible this important undertaking for Piauí and Brazil."
The Brazilian Development Bank BNDES offers financing to PV players that follow a progressive nationalisation plan for equipment manufacturing including a level of local content compliance. For example, since 2014, to qualify for funding, all modules used in projects must have be sourced locally.