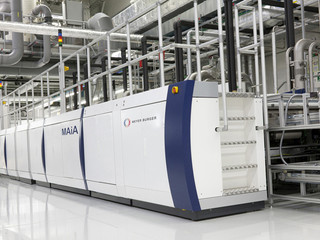 Leading PV manufacturing equipment supplier Meyer Burger said that it had received follow-on orders from two customers based in Asia for its PERC (Passivated Emitter Rear Cell) upgrade technology totalling around CHF 80 million (US$82.4 million).
The company noted that the new follow-on orders from the two customers for its MAiA 2.1 PERC cell technology platform combined with previous orders from the same companies accounted for more than 7GW of PERC capacity valued at around CHF 120 million (US$123.4 million).
Meyer Burger said that around one third of the equipment ordered was the upgrade of existing cell production capacity to PERC, while the remaining two thirds were for new cell production capacity.
Hans Brändle, CEO of Meyer Burger Technology Ltd, stated: "The increase of about 1% in cell efficiency seems like a small step but it is very significant for the PV industry enabling further reductions in the cost per Watt (Wp). The fact that two leading PV manufacturers have already ordered a total of more than 7 GW of MB PERC in 2017 clearly demonstrates that technology drives the photovoltaic industry. We are proud to be the trusted technology partner for the leaders in the PV industry."
Meyer Burger said that the orders would be delivered and commissioning of the equipment would occur in the second half of 2017. The company also said that it would increase production capacity for MAiA 2.1 equipment, albeit on a temporary basis to meet customer requirements.