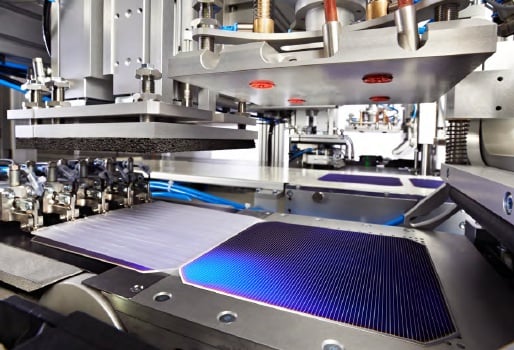 Leading PV manufacturing equipment supplier Meyer Burger Technology announced a major restructuring plan to become more flexible to market dynamics by lowering its operating cost base by CHF 50 million per annum and reducing its workforce by around 16% by the end of 2016.
Meyer Burger said that the latest restructuring included a focus on strengthening its strategic technology units with a focus on high-end solar user markets.
The company also plans to boost its global service business with a focus on key customers and applications.
Meyer Burger's 'Technology and Production Centers' would also be further optimised via capacity adjustments in Asia. R&D as well as its worldwide sales and service organisation and certain parts of its product portfolio would also be streamlined.
As a result of the streamlining, Meyer Burger said that around 250 jobs would be lost with around 33% of the job losses at its facilities in Thun, Switzerland. Some of the job losses are expected to be made through early retirement schemes, according to the company.
Peter Pauli, CEO of Meyer Burger said, "The improvements we achieved during the first half of 2016 in terms of our sales markets but also with respect to our operating results have been very encouraging. However, we must lift our company into sustainable profitability on the net earnings level as well.
We want to align Meyer Burger for the future and become leaner, increasingly flexible and even more focussed than before on the high-end user markets in the photovoltaic industry. This unfortunately leads to far-reaching measures within our organisational structure. These decisions are not easy to take. The structural programme creates the conditions for Meyer Burger to increase its operating profitability and to continue benefitting from its strong market position," added Pauli.
Previous restructuring during the solar industry's first major downturn in 2011 through the end of 2013 had resulted in Meyer Burger reducing headcount and other operating expenses (opex) by over 36% from CHF 330 million in 2011 to CHF 210 million in fiscal year 2015.
The latest restructuring moves are intended to reduce opex by about CHF 50 million per annum.
The company expects to incur restructuring charges of CHF 3 to 4 million and would be charged as one-off costs to its 2016 financial statements.
PV Tech has already highlighted that the upstream solar industry has entered into its second period of major overcapacity in comparison to downstream end-market demand. As a result, average sales prices of polysilicon, wafers, cells and modules have started a steep decline since the end of the second quarter of 2016.
This was mainly due to a rush in China to build PV power plants ahead of a FiT reduction at the end of June. Around 20GW of installations took place, causing a sudden fall in demand, while manufacturing expansions continued in China and South East Asia.
A growing list of companies in both the upstream and downstream sectors have initiated workforce reductions that started in August, 2016 with 1,200 job losses at SunPower, primarily related to its module assembly plant in the Philippines.
In September alone, workforce reductions have been reported for SolarWorld, Motech Industries, Canadian Solar, Enphase Energy, Verengo Solar and TS Solatech totalling around 1,000 job losses.
Including SunPower's and Meyer Burger's workforce reductions, solar industry job losses have surpassed 2,500 since August, 2016.