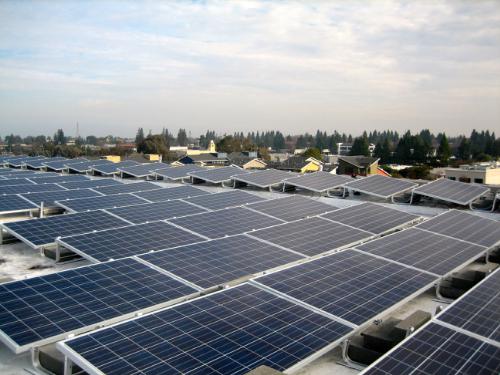 NRG Energy and MGM Resorts International have announced the completed expansion of the 'US' largest rooftop solar array'.
Located on top of the Mandalay Bay Convention Center in Las Vegas, Nevada, the expanded PV array has over 26,000 PV panels and produces a combined 8.3MW dc of power – a new national record for rooftop installations, according to the companies. At full production, the project provides 25% of the power demand of the entire Mandalay Bay Resort & Casino campus.
It is projected that the expanded PV installation will displace around 8,400 metric tonnes of CO2 per year — the equivalent of taking more than 1,700 cars off the road. Since completion of the first phase in 2014, the project has helped offer pricing stability for MGM Resorts, while reducing the amount of energy drawn from the southern Nevada grid during peak energy demand.
Cindy Ortega, senior vice president and chief sustainability officer of MGM Resorts International, added: "MGM Resorts International has a long history of integrating environmentally responsible practices throughout our operations to help preserve the planet's limited resources. Our continued partnership with NRG is a source of pride and inspires our desire to continually implement innovative solutions that promote renewable energy."
Chuck Bowling, president and COO of Mandalay Bay Resort & Casino, added: "The expansion of our rooftop solar installation at Mandalay Bay significantly advances our resort's commitment to being a leading sustainable destination for conferences and conventions. Utilizing energy produced from a renewable resource is a cornerstone of our comprehensive strategy of sustainable operations."
The expanded installation uses technology from Ten K Solar. Ten K's REFLECT system is comprised of 4,644 Modules, 180 inverters and a fully integrated Ten K racking system with no roof penetrations.
NRG owns and operates the project for MGM Resorts at Mandalay Bay Resort and Casino. As part of a 25-year power purchase agreement (PPA), Mandalay Bay Resort will purchase all the electricity generated by both solar arrays.