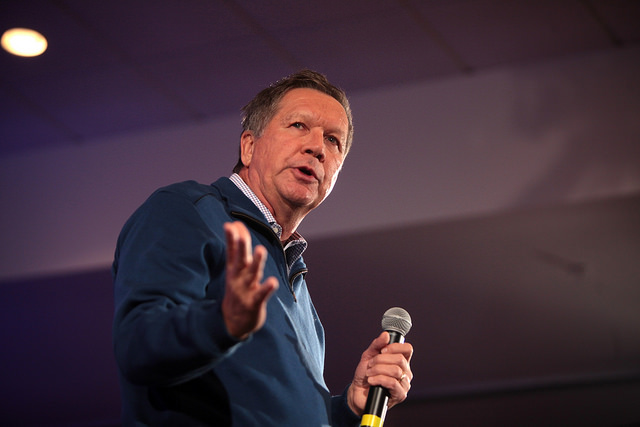 The fate of Ohio's clean energy lies solely in the hands of governor John Kasich who will now decide whether to approve or veto a new bill that would allow utilities to continue ignoring state renewable energy mandates for the next two years.
This week, the Ohio General Assembly passed bill HB 554 that makes compliance with existing state clean energy standards voluntary for utilities until 2019.
The state's renewable portfolio standard (RPS) calls for 25% of electricity to be derived from advanced energy sources – with at least half of those being renewables – by 2025. Two years ago however, Ohio became the first and only state to date to impose a freeze on these mandates for public utilities.
While Kasich signed the 2014 bill that called for the two year policy freeze, he also indicated his intent to veto any extension and let the freeze expire this month.
Response to the bill was mixed. Ohio, with a considerably smaller mandate than most states at just 12.5% by 2025 is not big on wind and solar, favouring natural gas instead. Therefore, supporters of the bill maintain that little will change if the mandates continue to be frozen and further that it would be a good thing to do away with the uncertainty created by voluntary targets. Opponents of the bill argue that making the targets voluntary is as good as eradicating them altogether as well as endangering around 25,000 jobs and diverting attention away from the state's nascent market.
The bill was opposed by clean energy advocates and more than a hundred businesses and organisations, including the Ohio Advanced Energy Economy (AEE), which recently urged lawmakers to reinstate the targets.
"Ohio is losing its competitive advantage, pushing businesses to neighbouring states. Uncertainty prevents businesses that employ 100,000 Ohioans from developing long-term investment strategies within the state," said Ted Ford, president of Ohio AEE, in a statement. "Continuing the freeze without understanding the impacts it will have on Ohio's competitiveness and reputation is a mistake."
"The legislature has failed the people of Ohio by rushing through this fatally flawed bill," said Trish Demeter at the Ohio Environmental Council. "We urge governor Kasich to follow through on his promise to veto anything that extends the freeze on clean energy."
On the other hand, senator Bill Seitz, who supported the bill, questioned why renewable energy industries required more 'special treatment' after receiving tax break in the form of federal tax credits.
"What type of greedy hog needs mandates on top of subsidies?" he asked.
A decision by Kasich to either approve the bill and extend the freeze or let the freeze expire this month is not likely to be imminent. If Kasich vetoes the bill, the current standards will resume and be fully enforceable for all public utilities next year.
Changes to HB 554 are accepted 55-34. It now goes to Gov. Kasich for approval #OhioHouseSession pic.twitter.com/qwP3P1TP8D

— Ohio House GOP (@OHRGOPCaucus) 9 December 2016