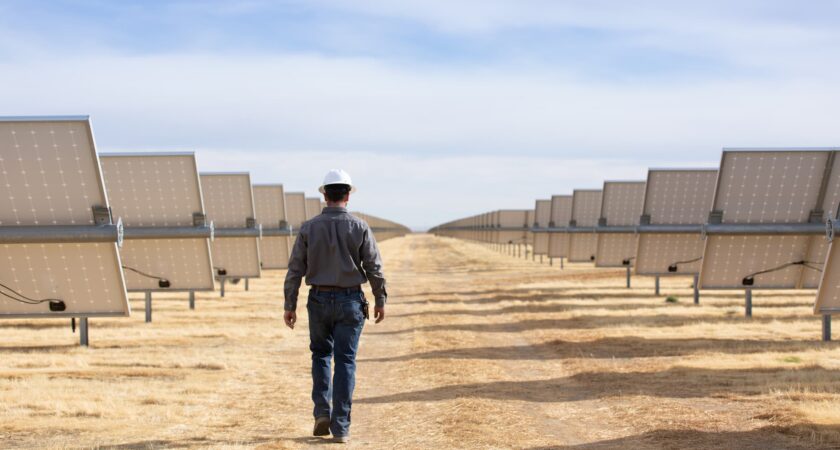 Asset owners believing they can perform solar operations and maintenance (O&M) in-house is the main competitive threat to solar O&M provider, NovaSource, one of the firm's co-founders has told PV Tech Premium. As a result, the Arizona-headquartered company is using new capital injection to make a play for new technology options including artificial intelligence to offer a unique service, whilst also looking to grow both at home and abroad.
Last August, OMERS Private Equity acquired a minority stake in NovaSource Power, bringing in capital that can be used to invest in the organic growth of the company to keep up with the rapid growth of the solar industry at large.
Troy Lauterbach, co-founder of NovaSource Power Services, says that the new financing gives a balance sheet freedom that would allow the company to scale up without being paranoid about every dollar invested needing an immediate return.
The firm is also looking at scaling up in foreign markets that have sustained growth, with a large push for Europe in 2023. It is already active in Italy and France, but it is aiming to expand in Germany and Spain.
"We'll look at the right inorganic opportunities to enter that space," says Lauterbach. "We think that's more efficient in the long run. We've got the playbook we already operate under. We just need to have the platform to tie that up."
Lauterbach has not seen much change in US solar pipeline development since the introduction of the Inflation Reduction Act (IRA), but the industry knows this will come, he says. Given that the US market accounts for around 85% of the company's revenue base today, the international expansion is an opportunistic move to create new cash cows on top of its existing base in America.
The third use of the new capital will be to invest in technology platforms and other services to add to the company's core services. The aim is to attract asset owners through the provision of a solid financial guarantee and holistic offering that an owner couldn't provide itself.
"Our biggest competitive threat today is not the market participants that we compete against for owners and business," claims Lauterbach. "It's owners who believe they can do what we do as well as we can do and cut us out of the equation entirely."
At present, there is a low barrier to entry, meaning that asset owners are unaware of what it takes to do O&M successfully, says Lauterbach, adding: "Until we create a higher standard, that threat always exists there."
NovaSource said it became the world's largest solar O&M provider in April 2021 after it acquired First Solar's O&M arm. Lauterbach says that from this market leadership position, the aim is to expand and create a capability that is too hard to replicate. Companies have achieved such dominance in wind and traditional power generation before, but while it's early days for solar, NovaSource is positioning itself as a brand to capture that role.
Heliolytics acquisition
Last January, NovaSource acquired aerial inspections and site data firm Heliolytics, an example of the aforementioned play for new technologies to give the firm a unique O&M offering.
Believing Heliolytics only participates in a small part of the revenue stream that it could in the future, NovaSource has conceptualised a new offering combining the two company names into Novalytics. This body will create value from the swathes of historical operational data that NovaSource already has from many years in the field and which has yet to be used to its full potential.
Novalytics will then aim to create value for owners and developers as well as original equipment manufacturers (OEMs) and module manufacturers, based on that data. Efforts are being made to monetise this, perhaps as a subscription-based service. Lauterbach said it could potentially act as a "de facto source of truth for anything you needed to know", which no one provides at present in solar PV.
Negative value warranty
Lauterbach says the company tries to get in front of developers and long-term owners before the equipment procurement process so that they can compare real-world data to make informed decisions to avoid poor technology or unsatisfactory warranty support service.
"Every warranty in the industry right now has negative value associated with it," claims Lauterbach. "The amount of energy you lose in waiting for that warranty to be serviced is consistently greater than the value you're getting from saving money on that service. The finance community won't let the owners void those warranties because everything was underwritten based on that."
Lauterbach also claims that all of NovaSource's plants see a significant boost in performance once the warranty is over on year six, because the firm suddenly has freedom of operation that it should have had from the beginning. So, the company is telling clients to include terms allowing such operations when equipment is procured.
Emerging technology
NovaSource's biggest cost is its labour pool, so it is always aiming to make it as efficient as possible. New technology developments should allow sites to be operated in a different way in the future, whether that be telecommunications integrated into pieces of equipment, mobile equipment or drones that can roam around the site, feeding back data, or ground-based robotics technology, says Lauterbach. The firm can also focus on making sure deployed technology works as expected.
"There's a lot of retrofit opportunities out there where we can chase poor performing technology, upgrade it, integrate it," he adds. "So, a lot of our strategy in the future will be based around the total lifecycle of the asset and how to create value in year 10, like the asset is the PPA. How do we maximise the value of that PPA through the technology?"
Artificial intelligence
Part of the Novalytics platform includes AI mapping and mirroring of peer-to-peer performance of technology on the same site. This can involve creating a virtual inverter based on the conditions to flag problems or how to perform better.
For this, the company introduced SunStreams which remotely and automatically monitors the performance of the smaller elements of a PV plant such as combiner boxes, strings, and trackers.
"That model is constantly being calibrated and there's more and more opportunity for scale and growth," says Lauterbach. "That's why we hire a bunch of data scientists. We have four or five doctorate-level data scientists on our staff. This is what they do. The interesting thing about O&M: it typically has the stigma of being underskilled – people that just go out to turn wrenches and do things like that. We think there's so much intelligence and IP to be developed in this space."
He added that the OMERS investment will again support this data and AI push.
Challenges
While skill and talent level of labour is a problem for the company – just as it is industry-wide – another major challenge is dependence on OEMs for solutions during the warranty period.
"If you look at traditional power, if you look at the wind industry, the OEMs are one of the sources of supply for aftermarket, break-fix equipment. Those other industries have secondary and tertiary sources that have been developed outside of the OEMs. So right now, the [solar] industry is held hostage to that single source."
As a result, part of NovaSource's strategy is to develop those secondary supply chain sources.
"We should be able to get it faster, cheaper. We should be able to manage it in-house," adds Lauterbach. "So while that's a constraint today, we see it as also the biggest opportunity for us to add value in the future."