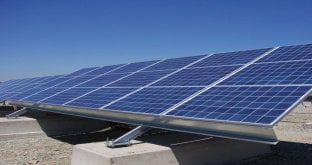 Brazilian renewable energy company Omega Geração has signed off on an agreement to acquire a 50% interest in the 312MW Pirapora solar complex in the Brazilian state of Minas Gerais.
As part of the deal, Canadian Solar and EDF will continue to hold stakes of 30% and 20%, respectively, in the PV projects. The value of Omega's transaction is estimated at US$283.6 million.
Pirapora stands as Omega's first PV investment, and once completed, the installation will account for 25% of the company's installed renewable-energy capacity.
Antonio Augusto Torres de Bastos Filho, CEO of Omega, said: "We are proud to partner with a world-class player like EDF Renewables and believe this to be the first step in a long-term partnership. In addition, we strengthened our relationship with Canadian Solar, one of the world leaders in solar energy and supplier of photovoltaic modules installed in Pirapora, opening doors for future opportunities in solar energy generation in the country.
"With Pirapora, we will add to the portfolio an asset that meets our high quality standards and makes our cash flow even more predictable due to diversification of region and energy source. We are also happy with the expansion of investments in Minas Gerais, a state where Omega started its history 10 years ago with the development of the Pipoca hydroelectric plant ."
Once the transaction officially closes, both Omega and EDF will managed the Pirapora site together. Once completed, the project will be comprised of 11 PV plants each with a power-purchase agreement of 20 years.