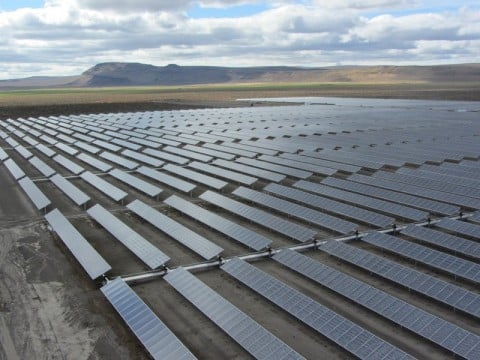 UPDATED: Oregon-based utility Portland General Electric Company (PGE) has issued a request for proposals (RfP) seeking 100 average megawatts (MWa) of renewable energy capacity.
Conrad Eustis, director of Retail Technology Strategy at PGE, said that 1MWa is equivalent to 8,760MWh – adding: "Thus to get 10MWa from rooftop solar in our service area you would need about 91MW of rooftop solar installations, or 62MW of solar with single-axis tracking, or about 50MW of solar with single-axis tracking if installed in Eastern Oregon (but then you'll need a transmission path)."
Projects must be a minimum of 10MW in size and can use a range of technologies including geothermal, biomass, biogas, solar, wind and hydroelectric power. Bids can also be structured in a variety of ways, including power purchase agreements (PPAs) or proposals for facilities that PGE would own and operate.
PGE shared the RfP in draft form with potential bidders and stakeholders earlier this year, and on 16 May received final approval from Oregon Public Utility Commission to move forward with the competitive bidding process.
"We are committed to reducing our greenhouse gas emissions," said Maria Pope, PGE's president and CEO. "Continuing to add renewable resources to our mix while keeping electricity affordable for our customers is key to that effort."
Portland and the entire county of Multnomah have pledged to transition to 100% renewable energy by 2050.
Article updated to clarify that RfP is for 100 average megawatts.