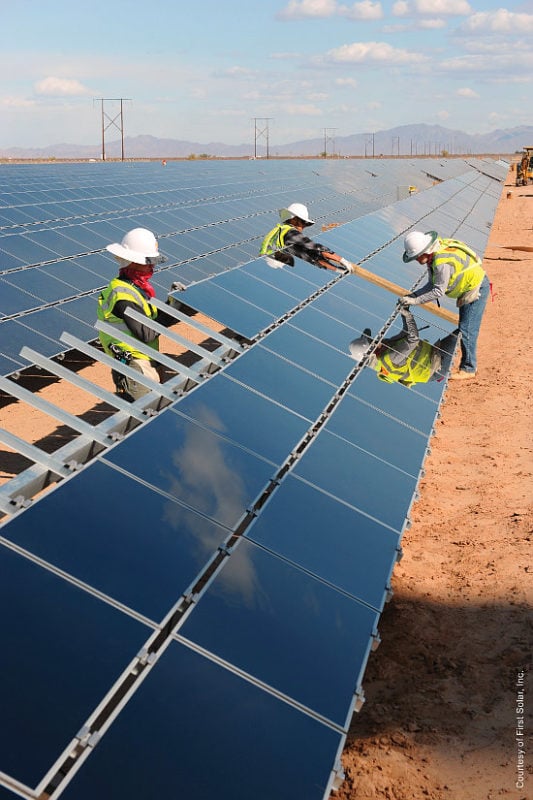 Representatives from First Solar, Origis Energy and other organizations gathered together to celebrate the start of construction on what will be the largest PV project developed in Georgia.
Once completed, the GA Solar 4 project, located in Twiggs County, Georgia, will have an installed generation capacity of 200MW.
Standing as the largest infrastructure project in Twiggs County, the installation will create 400 construction jobs and ongoing tax revenues for the area.
Johan Vanhee, Origis Energy's managing director of business development and operations, said: "GA Solar 4 will make a significant contribution to Georgia. Twiggs County leaders have worked closely with First Solar to make this project a reality. It will make a very strong positive difference in the area's economic growth and long-term tax base. We thank all members of the team for their contributions to this solar milestone."
Once completed — Origis will operate the plant, while First Solar will develop the installation. First Solar will provide over 500,000 of its Series 6 thin film solar modules on 809 hectares near Warner Robins, GA. The installation is expected to be completed in December 2019.
Omar Aboudaher, regional director of project development for First Solar, added: "This project is a direct result of the Georgia Public Service Commission's visionary efforts to expand solar in the state. We are more hopeful today that the GA Solar 4 project is a stepping stone to the greater expansion of solar energy in the state. The success of this project could not have been possible without Georgia Power's vision and the tireless efforts of Twiggs County."
Energy generated by the project will be sold to Georgia Power through the utility's Renewable Energy Development Initiative (REDI) Program, benefiting all Georgia Power customers.