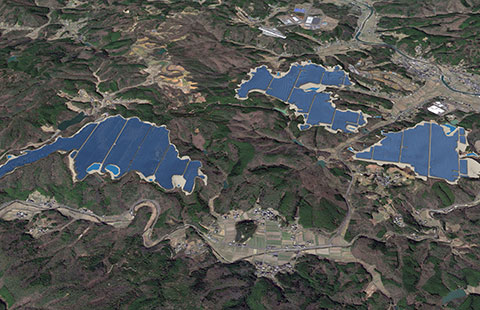 Pacifico Energy has started construction on what will be the largest solar PV project in Japan, standing at 257.7MW on land that was previously destined to become a golf course.
Chugoku Electric Power Company will purchase power generated by the Sakuto Mega-solar Project, which is located at Mimasaka City, Okayama Prefecture, on the proposed site of the Sakuto St. Valentine Resort and the former site of the Peninsula Golf Club's Yunogo Course.
Pacifico received certification for the project on 16 March 2015 and expects to start commercial operation in September 2019.
EPC contractor and finance details have not been disclosed.
This week Japan's Ministry of Economy, Trade and Industry (METI) estimated that roughly 27.7GW of renewable energy projects are likely to be stripped of their feed-in tariffs (FiT). These projects had received certification before July last year, but failed to meet a 1 April deadline this year to secure grid access. METI's action was the result of multiple companies, often new to solar, coming into take advantage of generous FiT rates but then stalling as they waited for equipment costs to come down.
Pacifico Energy has been developing solar power generation projects in Japan since 2012 and has three completed projects totalling 131MW in Okayama and Miyagi.
Pacifico also has a 96.2MW plant under construction in Miyazaki Prefecture since March 2015, for which commercial operation is expected in Q2 next year.
Kyushu Electric Power Company will purchase power generated from the Hosoe Mega Solar Project, Toyo Engineering Corp is EPC contractor and project finance was provided by Bank of Tokyo-Mitsubishi UFJ and 12 syndication banks.