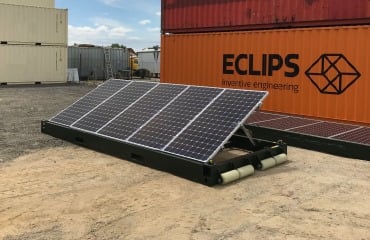 An Australian engineering firm is looking to displace diesel generators with a containerised 'pop-up' solar system.
ECLIPS Engineering is testing a redeployable system dubbed Container Roll Out Solar System (CROSS). It has recently been awarded A$289,725 by the Australian Renewable Energy Agency (ARENA) to continuing development and testing.
It is hoped that the nature of the system will open up new applications for solar within market segments that include defence, disaster recovery, construction and temporary network support.
"One of our early objectives was to provide rapidly deployable utility-scale PV generators to improve the self-sufficiency of Defence's deployed forward operating bases," said Shaun Moore, managing director of ECLIPS and an Australian Army veteran. "Diesel consumption related to the provision of electricity can account for up to 70% of deployed forces' fuel usage and is a significant cost driver. More importantly, deploying CROSS to forward operating bases also reduces the frequency of convoys for fuel resupply, which reduces the threat to soldiers in contested environments.
"These same logistics efficiencies and benefits are transferable to commercial and utility customers in remote areas of Australia," he added.
The system will come in two configurations, 20ft and 40ft, 2,175W and 4,350W.
ARENA CEO Ivan Frischnecht said the system could have a number of applications.
"These renewable options can reduce some of the barriers to entry for potential renewable power users in remote locations, including short project durations and where power systems need to be periodically relocated. Renewable energy can provide an emissions-free, silent energy system that could replace diesel generators in the long run," he said.