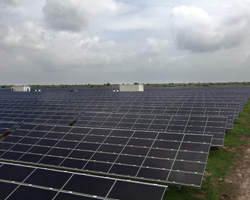 The eastern Indian state of Jharkhand has awarded letters of intent (LOIs) to the winners of projects of more than 25MW capacity each from its 1.2GW solar PV auction, in what was seen as a positive step for developers.
The Jharkhand Renewable Energy Development Agency (JREDA) handed out the LOIs on 23 May to developers Renew Power (500MW), OPG (99MW), Suzlon (150MW), SunEdison (150MW), Adani (50MW) and Acme (50MW).
Jasmeet Khurana, associate director, consulting at Bridge to India told PV Tech: "It is a positive step in the sense that we expected them to delay, because the auction itself was very ambitious for a state like Jharkhand."
Khurana said if they do go ahead and sign the power purchase agreements again without delay that will be "good for the developers".
There have been delays in the processes following the awarding of capacity after major solar auctions in various Indian states, particularly in Telangana, but the news from Jharkhand as well as letters of approval (LOAs) for over a Gigawatt of capacity going out in Karnataka over the last week, will be welcomed by PV developers.
Jharkhand's auction in March saw significant contrasts in bids received for the smaller-scale sub-25MW category when compared to the larger utility-scale segment. Category 1, for projects up to 25MW capacity, saw bids ranging from roughly INR5.29-7.95/kWh (US$0.07), whereas Category 2, for projects of 26-500MW, received bids in the range of INR5.08-5.48/kWh.
Back in May, Khurana explained the threat of curtailment of solar power in India in the years to come and he cited Jharkhand as potentially the most extreme case, because the average day time power demand is less than 1GW but the state has already tendered 1.2GW of solar projects.