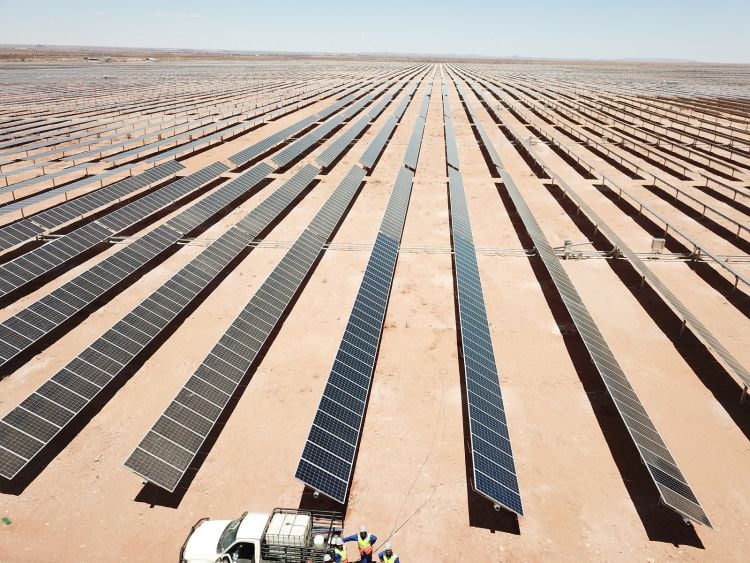 In January the South African government released an amendment to its energy action plan that lowered the local content requirements of solar modules deployed on government-backed schemes from 100% to 30%. The move was unsurprising to many, and may speak to the overwhelming rise of private projects in the country's PV sector.
The aim of the change was to deploy the 975MW of solar capacity awarded in the last round of the Renewable Energy Independent Power Producers Procurement Programme (REIPPPP) more quickly and contribute to short-term reductions in load shedding.
South Africa's grid is often problematic at best, with national operator Eskom warning visitors to its website of daily outages. Additionally, much of the grid is increasingly taken up by private sector projects, rather than those awarded by REIPPPP. The government said last month that there was a 9GW pipeline of over 100 private renewables projects waiting to be deployed, a tenfold increase on the projects awaiting connection from REIPPPP.
Frank Spencer from the South African Photovoltaic Industry Association said of the reduced local content requirement: "The reduction was required. Ultimately, 100% wasn't ever going to be achievable.
"It still means the local manufacturers can supply some product into the projects, but it was never going to be the case that they could do all of the supply."
The REIPPPP was launched in 2011 and has awarded 6.3GW of renewable energy capacity to date. As supply chains have become constrained and the demand for solar modules has only increased globally, lowering local content requirements makes sense in terms of effective deployment of the REIPPPP projects but also perhaps speaks to an ageing-out of the programme.
Its initial goal was to drive private investment in renewable energy projects and diversify the country's generation profile. It did, but now the private sector has begun to move faster than the public, mopping up grid capacity as it goes.
"The South African market is pivoted quite heavily towards private sector renewables, and that wave of private sector projects is not going to slow down," said Spencer.
"I think that the contentious topic at the moment is, what is the right balance for grid access, and who gets the grid? The private sector is literally mopping up the grid for the tsunami of private projects that are coming."
Just recently, Norwegian developer Scatec announced the decision to sell a minority stake in its 258MW South African project to finance further growth in the country, and an agreement was reached between Canadian Solar and IPP SOLA Group to supply 256MW of modules for South African projects.
Also, a growing push for investors to focus on PV development in frontier markets was highlighted at the recent Solar Finance & Investment Europe conference in London, where South Africa was singled out alongside Brazil as a market that has proven ripe for private investment.
"My personal view is that REIPPPP in its current form is dead," Spencer said, "Almost every developer I'm talking to, none of them are developing for REIPPPP anymore. They all developing for the private sector."
Who gets the grid, then? Outages are a consistent problem facing the country's energy sector – Skinner said it's the most significant of all and that installing and upgrading interconnection infrastructure can take years.
South Africa's energy utility Eskom requires that REIPPPP projects go through a specific approval process, which currently operates on a mostly first-come-first-served basis, Spencer said, without the need to prove that you have a fully viable project ready to go.
"What happened in bid window six was that between the CELs (cost estimate letters) being issued and the BQs (budget quotes) being accepted, basically all the grid got taken up by the private sector."
It seems not that REIPPPP has failed, but rather – unsurprisingly – that the independent, private developments are able to move faster and more effectively than government-tendered ones. The announcement that reduced the local content requirements by 70% also removed environmental constraints around deploying solar PV in low- or medium-impact areas and introduced a mandate for grid connections to be granted within six months.
Solar is going to be the main solution to load shedding outages, "without a doubt", said Spencer. "I think that I think the real exciting thing is that the exponential growth rate of solar in South Africa is not going to slow down. There's over 10GW of projects that the big private players want to build in the next couple of years, and they're only just arriving now.
"The key missing piece going into the future is going to be investment into transmission. That's the part that isn't yet solutioned properly in South Africa."