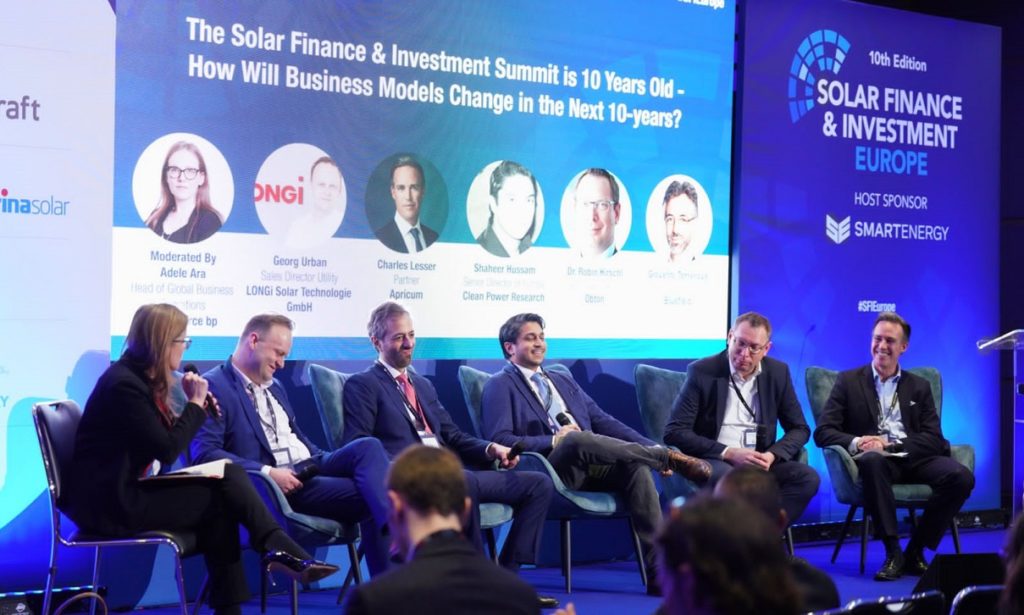 The solar industry of the future could see frontier markets become core countries for investment while developers may explore more decentralised projects to overcome land challenges.
They were two of the key takeaways from a panel discussion at the Solar Finance & Investment Europe event, hosted by PV Tech publisher Solar Media in London last week. With the conference in its 10th year, panellists explored how solar business models will change in the next decade.
"It's entirely plausible, if not necessary, to have increased capacity growth you need to think of frontier markets as your core markets," said Shaheer Hussam, senior director of Europe at software company Clean Power Research.
He pointed to countries that have experienced significant solar growth such as South Africa and Egypt that were perhaps not expected to be so strong 10 years ago.
Recent solar financing announcements in emerging markets include a collaboration between the European Investment Bank and Allianz Global Investors to mobilise US$100 million to a fund focused on renewables projects in the Middle East, North Africa, Eastern Europe and Central Asia.
Hussam said that for the solar industry to achieve its long-term goals, policy must be rethought to overcome issues such as permitting and interconnection bottlenecks while efforts should be made to address skills shortages.
"It's not just semi-skilled labour or skilled labour, like installers, but actually at the top tier," Hussam said, adding that there needs to be a talent pipeline to support PV research and development.
With the number of solar jobs across the EU set to at least double by 2030, the EU Solar Energy Strategy recognises that there is already a lack of skilled workers, with PV installers in markets such as Spain, Germany and Italy flagging challenges when finding trained crews.
Given the soaring levels of solar deployment in Europe in the last year, PV manufacturer LONGi Solar has increased its resources in the continent to meet demand, according to Georg Urban, the company's European sales director for its utility business.
With LONGi in competition with companies that are increasing operations in Europe, such as Tesla and Microsoft, to secure the best talent, Urban said: "There's a battle of engineers, and that's definitely a shortage in the European market." He added that manufacturers like LONGi should think outside the box to bring people directly from university to the company.
The recruitment and retention challenge was revealed in research published last year that suggested renewable energy companies are at risk of a talent exodus as professionals consider alternative sectors to boost their career prospects.
The panel discussion turned to challenges when securing land for new power projects. While the industry is working towards a more distributed and decentralised energy system, there is an underlying assumption that land will be available, said Charles Lesser, partner at advisory firm Apricum. "The reality is, depending on where you are working, that quite often land is actually a finite resource."
Given climate change and the impact of desertification in parts of Africa and other regions, Lesser asked whether that makes the case for the solar industry to build more centralised infrastructure in desert areas rather than on arable land. He said: "Actually we could see greater centralisation, not necessarily in the energy systems, but within the solar part of the energy industry."
This shift is perhaps best illustrated by installations currently under development such as the Morocco – UK Power Project, which could include 7GW of PV and 5GW/20GWh of battery storage in Morocco that would be connected to the UK via high-voltage direct current cables. Similarly, developer Sun Cable – which recently went into administration – is planning to connect up to 20GWp of solar generation in Australia to Singapore via 4,200km of subsea cables.
While recognising land challenges, Giovanni Terranova, managing partner at investment firm Bluefield Partners, said that the impact of the energy crisis could have led to a change in the perception of solar among the public. "My gut feeling is that people now they understand the need so there will be less opposition to land usage than it was before because of the current prices," he said, adding that there could be a change in mindset "from not in my backyard to yes on my rooftop".