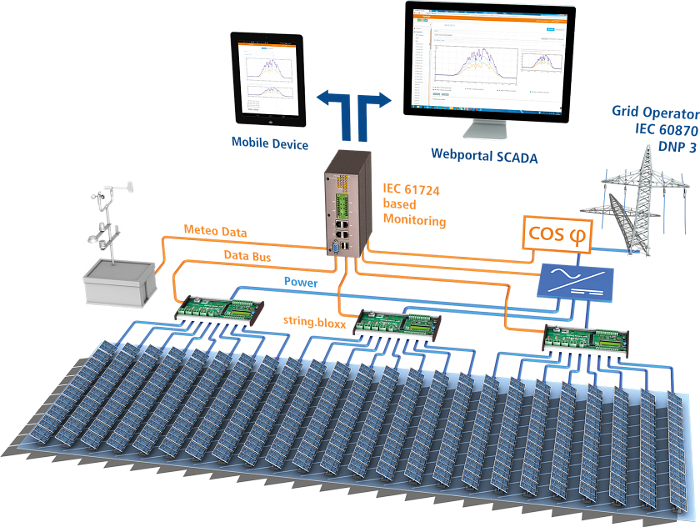 Gantner Instruments has launched a new solution for monitoring PV power plants at the string level. The 'string.bloxx All-in-one' system recognises design and production errors with high resolution down to the PV module level.
Problem
In large solar systems monitoring and troubleshooting has become more and more complex. Each operator is interested in finding errors in PV modules, strings, or a group as quickly as possible as they can reduce the amount of energy produced and the life of the system. The need for accurate PV testing to maximize the yield, reduce the risks and deliver supportive functions to contribute to grid stability is required.
Solution
Used in medium and large PV systems, design and production errors are recognised on the DC side for each PV string, regardless of the inverter deployed. Using DC shunts (vs. Hall Effect sensors) the string.bloxx provides current measurements typically 10 times more accurately and is not susceptible to temperature variance. This equates to higher accuracy measurements and better understanding of true system performance. In addition, string voltage (up to 1000V) and DC power on every string can be continuously monitored ensuring maximum system productivity. Continuous measurement of both cabinet and panel temperatures, along with overvoltage monitoring and main switch control are claimed to improve system diagnostics. This accurate measurement is inverter independent and gives feedback about losses due to inverter malfunction, soiling, shading and PV Module degradation. The string.bloxx communication uses industry standard Modbus protocols for easy and fast integration and reliable data exchange with the data logger. For longer communication distances fiber optic technology is used. The All-In-One Solution improves your Project ROI and offers increased local content. 1500 VDC system voltages also available.
Applications
PV power plants.
Platform
The new monitoring solution combines DC measurement, fuses, overvoltage protection and communication, leading to an improved ROI (Return on Investment) and a cost reduction claimed to be by as much as 30% compared with standard concepts. The significant reduction of interfaces leads to reduced risk and faster plant installation time. The intelligent data loggers are designed for the precise detection of analog and digital measurement and state variables. They allow the acquisition, flexible storage, reduction, and transmission of data to higher level systems. Data transfer is possible by cable via modem or Ethernet (LAN) or wireless via GPRS/UMTS modem (WLAN). 1500 VDC system voltages are also available.
Availability
Currently available.