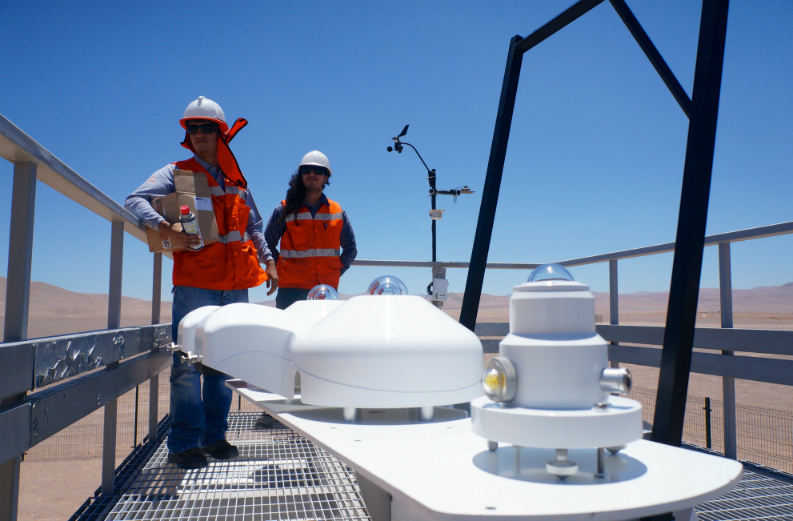 Kipp & Zonen is launching a new solar radiation measurement solution at Intersolar Europe 2016. The 'RaZON+' is said to be an all-in-one system that accurately measures both direct normal irradiance (DNI) and diffuse horizontal irradiance (DHI) from the sun and sky, enabling it to provide very reliable values of global horizontal solar irradiance (GHI) and sunshine duration. This new and affordable system is claimed to help solar energy projects, PV as well as CSP, to prospect for new locations, calculate performance ratios, maximise operating efficiency, schedule maintenance and monitor plant performance; all with a minimal soiling effect.
Problem
Obtaining accurate and consistent solar radiation measurements in unattended in remote locations ahead of potential site selection for PV power plant projects remains challenging due to the chances of pyranometer soiling.
Solution
RaZON+ uses a new and unique design of integrated Smart pyrheliometer and shaded Smart pyranometer with quartz diffuser that both meet ISO 9060 requirements. The innovative features of the pyrheliometer minimise the effects of soiling when operated unattended in remote locations, without compromising the high accuracy of the instrument. RaZON+ measures the diffuse horizontal solar irradiance with a shaded Smart pyranometer mounted on top of the housing. Kipp & Zonen chooses to measure DNI and DHI and calculate GHI, as this minimises the effect of thermal offsets in the pyranometer and provides an accurate and reliable measurement with a much lower uncertainty. RaZON+ capabilities can easily be extended with the connection of a compact weather station or other 'Modbus' sensors.
Applications
Solar radiation measurement.
Platform
RaZON+ uses its GPS receiver to track the sun from dawn to dusk and automatically stores measurement data from the integrated pyrheliometer and shaded pyranometer. Integrated data logger and the Smart radiometers with internal temperature correction, accurate stored and real time data, is available. The information is accessible via Ethernet and RS485 ports and includes DNI, DHI, GHI, sunshine duration, kWh/m2, sun position, GPS time and system status.vRaZON+ offers a complete web interface with data, graphs and status information, which can also be checked on the spot with a smartphone, tablet or laptop via its integrated Wi-Fi connection.
Availability
June 2016 onwards.