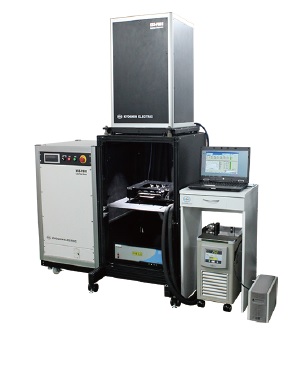 Kyoshin Electric Co (KOPEL) has introduced a high-speed, highly accurate, and highly reproducible solar cell IV measurement system. The KSX-3000H can be used for a wide variety of high-efficiency solar cell architectures including PERC (Passivated Emitter Rear Cell) and heterojunction (HJ).
Problem
High-efficiency solar cells tend to have higher voltage (capacitance) than conventional cells, which can result in extended time for the solar cell to respond to light and voltage at MPP (maximum power point), potentially leading to incorrect measurements. Cell testing in volume production is also increasing, requiring fast and accurate measurements inline.
Solution
The KSX-3000H system consists of Class AAA+ solar simulator with better than 0.2% temporal instability, 10% spectral match, and 1.5% spatial non-uniformity that operates at high-speed with accurate measurement without any compensation. The cell setter ensures stable probing and is equipped with temperature control and software that can complete high-speed data processing for high-efficiency cell measurement during continuous or pulsed light exposure. High-efficiency cell measurement uses Photo & Dark Analysis (KOPEL Method) that has been developed in cooperation with AIST, and this test method can measure HJT / HIT cells that have high hysteresis. The KSX-3000H is applicable to both R&D and volume production lines. The system can keep the IV measurement time within 1 second including the data transmission. The throughput for measurement and selection can be as high as 3,600 cells /h (if the sorter speed allows). Performance of the existing cell production lines, therefore could be upgraded. Not only for normal crystalline silicon or PERC, the production lines for high-efficiency cells such as HJT / HIT can be also upgraded. It is also possible to use our IV tester only with already existing solar simulator.
Applications
The KSX-3000H can be used in R&D and volume production solar cell lines.
Platform
The KSX-3000H shares the same light source as the KSX-1000 but uses an improved IV measuring unit and software. It provides all the benefits of the KSX-1000, such as high measurement accuracy, low maintenance cost, and high throughput. It is generally believed that a very long pulse (300 ms or longer) is needed to measure HJ or similar high-efficiency cells. The IV data using a 50-ms pulse shows very good agreement with the IV data under continuous light and 1000-ms long sweep time; the deviation is only 0.2-0.3%. A chiller unit and a vacuum pump are provided as options for more accurate measurement. The KSX-1000 can also be upgraded to the KSX-3000H simply by replacing the IV measuring unit and software.
Availability
Currently available.