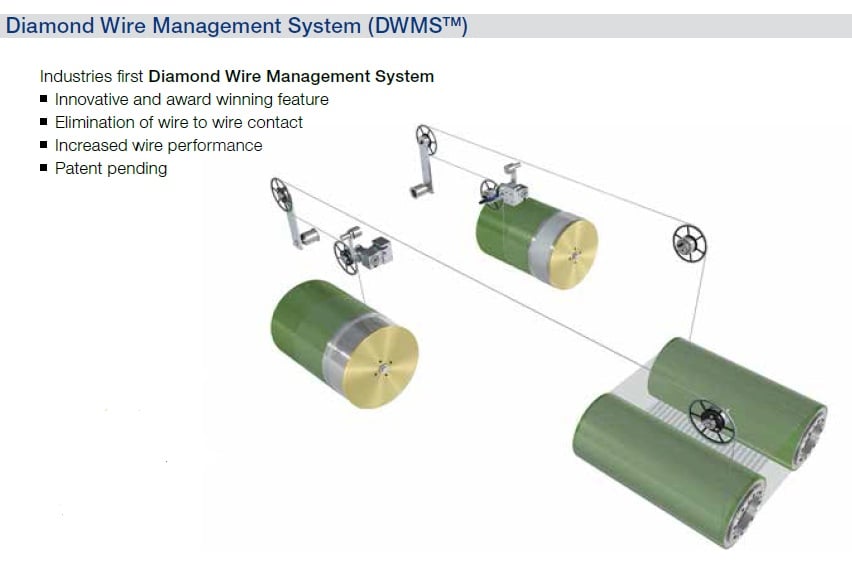 Meyer Burger has introduced the DW288 Series 3 diamond wire cutting tool that has been specially designed for use with extremely thin wires.
Problem
As regards kerf loss, the general rule is: the thinner the wire, the better the material yield and the greater the output. However, thinner wires pose new challenges for solar suppliers. They can twist or break all too easily, particularly at high speeds. It is therefore vital that the machine control system and cutting processes are properly coordinated.
Solution
The DW288 Series 3 is said to be already used to manufacture wafers just 145 µm thick with a Total Thickness Variation (TTV) of only 10 µm, compared to today's standard TTV of up to 30 µm, which would be far too high for such thin wafers. The low TTV is said to be due an optimized geometry with narrow axis distance, alongside specially developed cutting processes. With high-efficiency cell-coating technologies such as heterojunction, the trend is increasingly towards the thinnest possible wafers.
Applications
Next-generation ultra-thin monocrystalline wafers for heterojunction solar cells and other advanced cell architectures.
Platform
DW288 Series 3 is claimed to have an unmatched wire speed of 30 m/s, which enables higher feed rates. Additional output is made possible by a loading length that has been enlarged to 650mm. A special wire tensioning system rapidly regulates any fluctuations, even at the highest speeds and accelerations, while ultra-light pulleys keep fluctuations in the wire tension within narrow limits. On a specially designed working spool, the wire is wound side by side in a single layer. This has enabled Meyer Burger to eliminate any wire-to-wire contact and to boost the performance of the wire by more than 50%. Optimized axis distance and a special high-speed cutting process ensure that the wire is less prone to bowing. This allows further speeding up of the cutting process. In addition, process-based user guidance via touch screen controlling facilitates more intuitive and rapid operation, which in turn reduces downtime between cuts. Overall, throughput is claimed to have almost been doubled compared to conventional technologies.
Availability
Currently available.
Covering the latest technology and manufacturing developments, attend the inaugural PV CellTech technical conference being held in Kuala Lumpur, Malaysia between 16 – 17 March, 2016. More details here.