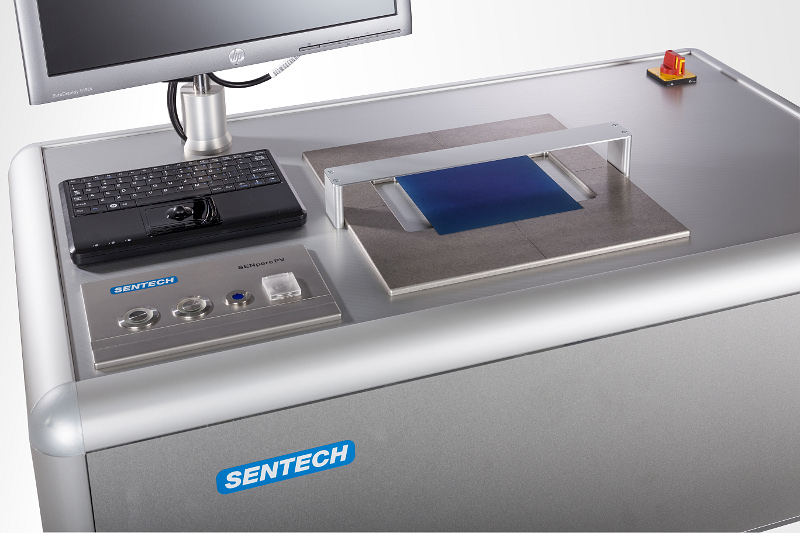 SENTECH Instruments has designed the SENperc PV for the measurement of Al2O3/SiNx layer stacks and single films for the passivation of PERC (Passivated Emitter Rear Cell) solar cells. The stability of the deposition process is monitored over the long-term thereby the maintenance intervals of the deposition tools can be optimized.
Problem
Due to the backside of PERC cells are poorly reflective, standard ellipsometry techniques cannot be applied to characterize the Al2O3/SiNx layers for deposition quality control by solar cell manufacturers. The special measurement set-up needs a highly sensitive detection unit with a special correction for the depolarization of light scattering effects, and an easy to operate hard- and software suited for QC in the production line. Additionally, manufacturers of solar cells need to prove the quality of cells to their customers. Therefore, an appropriate documentation of the manufacturing process is also needed.
Solution
To make the quality control for PERC cells easier and more efficient, the SENperc system comes with recipe based push-button operation and industrial user interface. The PERC solar cell is placed with the deposited backside on the sample table. The wafers ID is entered and the measurement begins. No sample alignment is required. Thickness and refractive index are measured and saved to the SQL database. Statistical process control (SPC) is applied to evaluate the deposition process of the PERC solar cells. Preset ranges are applied for yield analysis. Direct and long-term feedback is provided to the operator for immediate intervention. The SQL database is permanently accessible locally as well as via LAN to support cell tracking and yield analysis.
Applications
Measuring thickness and refractive index of Al2O3 and SiNx films on backside of PERC solar cells.
Platform
The compact design of the SENperc PV combined with push-button operation and data access via LAN make the system an ideal solution for quality control of deposition processes of PERC cell manufacturing.
Availability
Currently available.